The funeral for Jason's maternal grandmother, Catherine McFeron, is in Portland today. She passed last week at 94. Her life was rich and full, filled with plot twists and not a small amount of tragedy. Jason flew home alone for the funeral; I remained in Florence with the kids. There will be a service followed by lunch in her honor at her favorite local restaurant.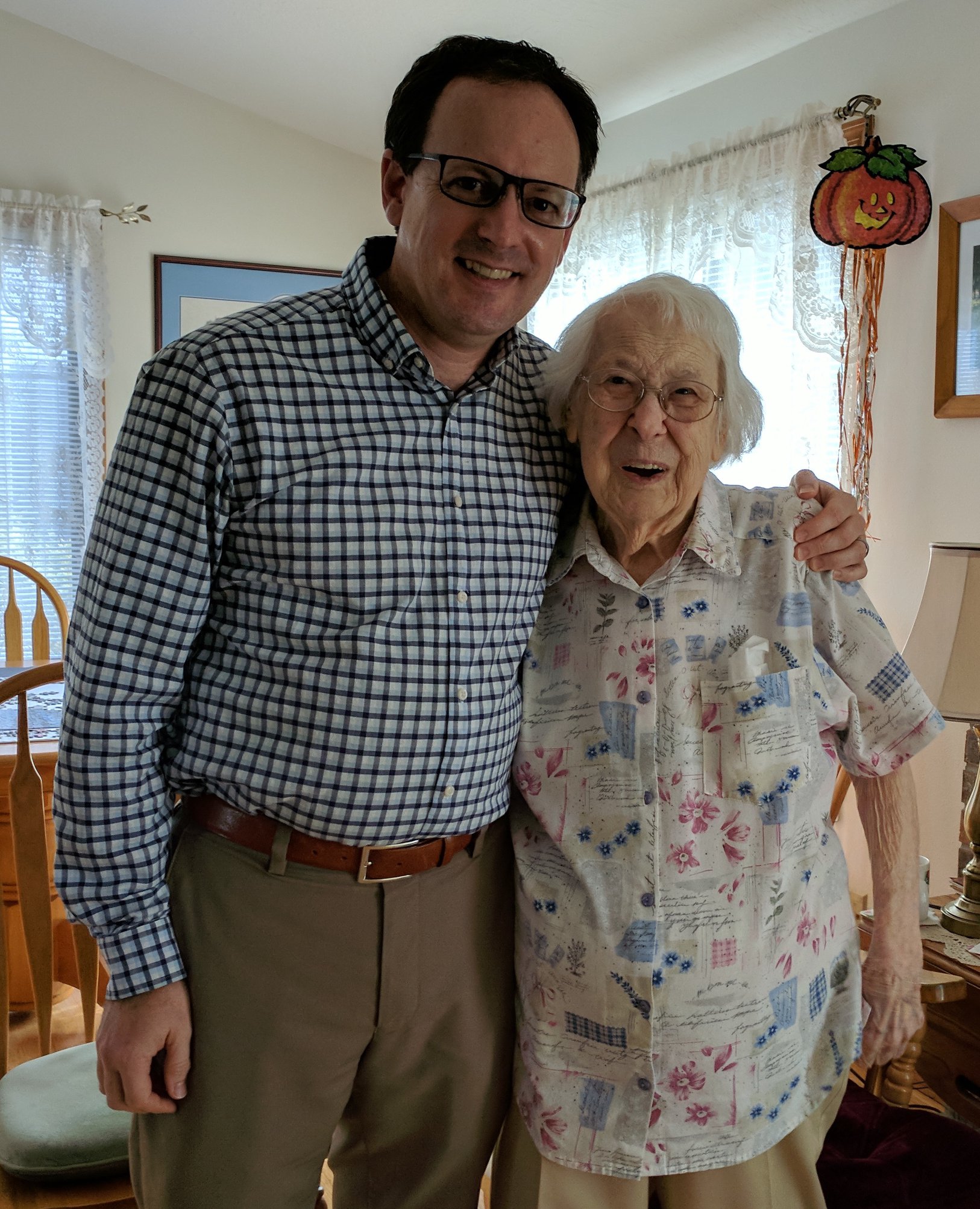 In our house we have had much age-appropriate discourse about how she crossed the rainbow bridge to join everyone else who she loved who already crossed. We haven't really discussed the rainbow bridge since we had to put down Bill, our decrepit senior cat, in 2015, so sick that the vet had to come to our house with an assistant and clear poisons and a needle. One morning the following week, Victor said in a grocery store, "I want to pet Bill! I wish he was still here with us," and somewhere around the hotdog bun section of the aisle, I began to cry. That same week on the way to preschool, he asserted loudly that he wanted to cross the rainbow bridge, too. "No! You don't!" My vehemence surprised me. I quickly tempered and said more calmly, "Not anytime soon. We'll all cross that bridge eventually. Hopefully when we are older. Much, much older."
At that time in my parenting life, when Eleanor was barely one year old and my memories of our early losses and the struggle to make new people were still fresh in mind, the veil that divides life and the afterlife still felt too thin, too inconsequential, which is great if you want to start a psychic friends network but less great if you would like to feel, even for a day, that your loved ones won't suddenly slip on some mortal ice patch and slide right out of your life. I suppose the Talmudic scholars would have something to say about that. I always remember a certain parable, where one rabbi says to the other, as they turn out the lights in the library, "See you tomorrow." And the other rabbi cries, "How can you say such a thing? It is only by the grace of God that any of us will wake up to greet a new day!" This has always stuck with me. We just don't know how much time we'll get. Our mortal coil is cursed with a massive blind spot.
When Jason and I met, in 2003, we each had a maternal grandmother. I had (and still have) Lempi (b. 1921), he had Catherine (b. 1924). I first met Catherine on her eightieth birthday, in the first week of August 2004. Jason and I had a car packed with my things and we were snaking down from Seattle to Oklahoma to begin our lives together. His parents had made a party in the back yard, and many, many friends and family came. She loved the fuss, but was realistic. "Oh, you know," she said, "eighty." She had light hair and smart eyes. She was always listening. Even if you thought she was not listening, later on she would mention what she'd heard in the conversation. Catherine reminded me in many ways of Lempi.
She lived in a small apartment with his aunt Sandy in Milwaukie, a Buick LeSabre with low miles parked outside in the asphalt lot. Her living room was full of pictures of her family, the children, grandchildren, and great-grands, many of them still local to the area, not so far-flung as Jason and his brother. If she knew we were coming to Milwaukie, she would go to the store and buy giant, three-pound blocks of Tillamook sharp cheddar, Jason's stateside favorite, pushing it into his hands toward the end of our visit. (In Italy, it is parmigiano DOCG all the way.)
I harbored a special appreciation for her sizable teapot collection, mostly ceramic, special editions in bright colors, arranged on a shelf of shadow boxes mounted to the wall of her modest dining room. Jason told me how the Bank of Grandma had loaned him money from time to time, and his carefully administered payment plans with her. She was a survivor of the Great Depression. She'd help you, but responsibly, and you'd have to help yourself in the bargain. I urged Jason to pay off his Grandma Loans as expediently as possible. "My God," I said, "she's older. Don't let her slip away feeling like you failed to meet your obligations." He thought she liked getting the checks from him on a regular basis, gave her something to look forward to in the mail; I thought she'd like to be paid back.
I knew well the stories of her tragedies, how she lost her husband to an early and misdiagnosed cardiac, two of her three sons buried. Most of her siblings in her large family died in that decade after met her, and her daughter Sandy passed in 2012 – her constant companion and roommate, this loss was especially hard. She was not ebullient, but she was kind. She sent us paper Lifesaver books at Christmas, a little cash tucked inside. She could also rattle off auctioneer-style any one of the family recipes she knew well, particularly cream puffs and her famous light cheesecake, baked in layers in a spongiform pan. Jason prepares this recipe annually, sometimes twice a year, with all the care of a new seminarian setting an altar, and it is always delicious. (Tricks: hand-roll graham crackers into crumbs for homemade crust; full-fat Philadelphia cream cheese; top layer gently sweetened sour cream.)
The memory of Catherine I appreciate most was an afternoon in Sellwood when Victor was a newborn. We stopped in a deli for soup and sandwiches, opting for an outside table in the pleasant shade. Lunch was busy and the line was long. Jason was ordering for us. I held Victor until he slept, and then placed him in his carrier, clipping it into his stroller. Catherine regaled me with stories of labor and delivery in Portland in the 1940s, calmly chatting with me and welcoming me into a family of mothers. Who bathed the babies. Hospital windows and shared rooms. What doctors and nurses were like then. How newborns made her tired, too. I was grateful for her charm, and the yarns, taking my mind off my sleep deprivation, my lumpy postpartum belly, and milk-leaking breasts. When Jason came out with the soup and thick sandwiches, he asked if we were doing ok. He glanced down at a sleeping baby Victor, named for Catherine's beloved husband. "We are just fine," I said, smiling. "Oh yes we are fine!" Catherine agreed.
When I was younger I used to think that people were less sad if people they loved were older when they died. Of course it is a tragedy to lose a family member young, as Catherine knew too well. But it is an equally great loss to lose a much older family member, a pillar of the tribe, as Catherine was. She was born and died in Portland, living there her whole life, and her ninety-four years spanned an epic century of history for the city. I am glad I was able to know her in her final years, and see how her matriarch's wry and steady style filtered down to every member of the extended family.
Godspeed, Catherine, with my heartfelt respects from Italy. May your walk across the rainbow bridge be smooth, and may you be reunited with everyone you love in that sweet garden.