Note: this is a recipe of industrial proportions. In lieu of microwave, consider preparing recipe in an old nuclear plant.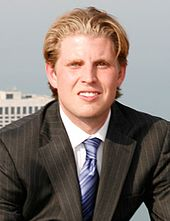 INGREDIENTS
1 bank
3 dumpsters' worth of blank checks
3 dumpsters' worth of dirty checks
3 dumpsters' worth of cashiers' checks
1 trashcan forged checks
1 trashcan signed checks
1 ton elephant bits
½ ton giraffe bits
½ ton rhino bits
1 truckload of hubris

For the seasoning:
1 case of stupidity
10 kegs of day drinking (ask Tiffany)
1 volume of plagiarism
6 reels of misogyny

To taste:
Sibling rivalry
Paid escorts
Drakkar Noir
Early childhood subscription to Penthouse
Inability to grow facial hair
Calf implants
Daddy's country club account number
Pizza Hut pizza
Happy Meal with NO PICKLES.**
1 glossy headshot of Dad
In a very large microwavable container, mix the bank, checks, and bits of big game; set aside. In small microwavable container, microwave hubris uncovered on High about 40 seconds or until completely melted. 
Stir in seasonings, with seasonings to taste, as desired. Pour over financial and animal mixture; stir until checks and big game are all evenly coated.
Microwave uncovered on High 5 to 6 minutes, thoroughly stirring every 2 minutes. Spread on paper towels to cool. Store in airtight container next to glossy headshot of Dad and wait for him to come over. 
Presentation/Garnish: Make enough of this favorite mix to package up as gifts for special friends—it's so good and always a welcome surprise!
**I said NO PICKLES.