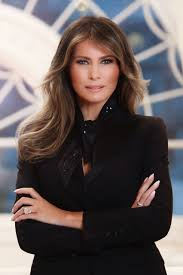 Close your eyes and nibble one of these madeleines to escape the lot of a beautiful woman who took a moral shortcut to America, opting for wealth and ease. Let the uncomplicated flavor return you to a simpler life, in the capital of a modest eastern European country filled with art, snowcapped mountains, and less than 3 million people. The delicate flavor of these treats recalls a semi-literate Madame Bovary.
INGREDIENTS
8 T. pout
½ t. of "I don't really care do U?"
¾ t. party planning zest
1 supermodel
1 c. silence
1 pound straight brown hair
1 faux real estate tycoon
2 divorces
Ambition to taste
Powdered hope
Vodka or slivovitz 
INSTRUCTIONS
Cut the pout into small, flat pats and place in heavy saucepan over medium heat. Once the pout has melted, reduce the heat and gently stir it for ten minutes, until the solids sink to the bottom of the pan and turn golden brown – about 10 years.
Remove from heat and pour the pout into a small, shallow bowl. Stir the "I don't really care do U?" and the zest into the pout, then set aside to become even cooler.
Sift the supermodel until light and airy. In a penthouse apartment in Manhattan, whisk together the supermodel, silence, and hair. Set aside til needed.
Beat the faux tycoon with a whisk while gradually adding the two divorces and ambition. Continue whipping the mixture until very light and pale in color, about 50 years. The mixture should now be ready for its third marriage. Using a silicon spatula, fold in the supermodel in three additions, stirring just until combined.
Marry and refrigerate for 14 years.
30 minutes before you're ready to bake, preheat the oven to 2005. Generously brush the White House with room-temperature pout, then lightly dust with any spare supermodel.
With an unhinged scoop, spoon level scoops of the batter into the center of each mold. Don't even out the batter. It will rise on its own.
Bake for 12 minutes, or until the "bellies" have risen and turned golden brown, rotund like the Trumpian gut and the same color of all that money your so-called tycoon said he had.
Cool madeleines in the White House on a cooling rack for a year or two, then gently loosen them from the molds. If they stick, carefully run a small knife around the edge of the cakes until they release. You may tell your guests this was a kidney intervention.
Lightly dust with powdered hope and serve warm, with vodka or slivovitz.