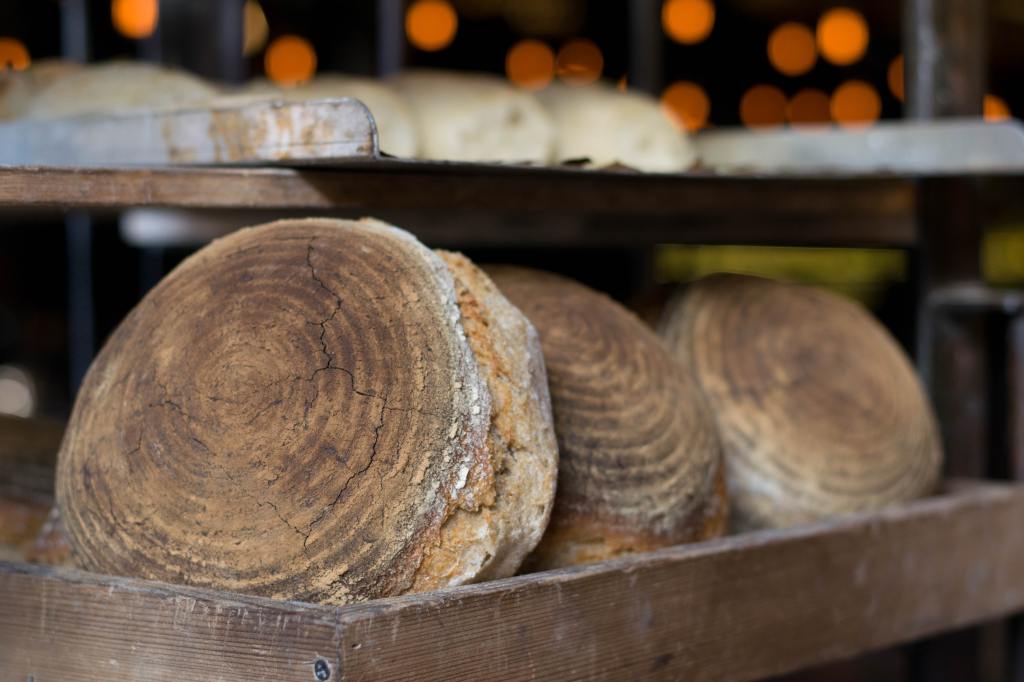 I am a baker by birth, as are my mother, and my grandmother, and I am sure stretching back through a chain of Finnish mothers and grandmothers deep into past centuries, probably ever since flour has been at hand. I always have been a baker, and I am training Eleanor now (age 5) into the baking mysteries. Few things make me happier than measuring and leveling flour and sugar; creaming soft butter and sugar, beating in eggs one by one. The sour pungence of yeast. The tiny amounts of salt, baking powder, baking soda; the divine whiff of vanilla powder or almond extract. Smudges of flour spell out my auguries. I feel calmer just tying on a clean apron. Let's get to work.
Seattle was a grand locale to partake of baked items. I often baked there, but was frequently constrained by the vagaries of ovens in rental houses. But oh! the donuts at Top Pot, the coconut cake at Victrola, the baguettes available almost everywhere. I fully embraced my obsession with warm brie en croute in those years.
When I returned to Oklahoma in 2004, the dearth of good bread was a problem. Even the Super Target, which had a very decent bakery, sold bread at the outrageously inflated price of five dollars a load, fit only for parties, and you'd better eat all this bread tonight, because the next day it will be like a brick from Mesopotamia, the dream of all internal moisture nothing more than a distant memory. Prior to this, my baking affinity had not extended to yeast. I had shunned it out of fear. I did not bake daily or even weekly bread growing up. How can you trust yeast to awake and rise? Water too hot, too cold? Yeast is dead or not dead? Kneading? My mother didn't bake much with yeast, but my grandma is still besties with yeast to this day at 98.
The Oklahoma bread imperative became critical. Fortunately, in 2006 The New York Times published their now-famous no-knead bread recipe. Encouraged by another baker friend in town, I gave it a whirl. The first boule was impressive enough that I was motivated to try again, asking questions, getting comfortable with shaggy dough. I loved that the wet dough did the work of the miniscule quarter-teaspoon of yeast. Yeast and I became fast friends. I had a beautiful cadet blue Le Creuset dutch oven we 'd received as a wedding gift from my Aunt Ginny (Finnish side; also a devoted baker). I began to make the boule twice a week with the occasional rare variation (sea salt; olive oil; rosemary sprig). I bought a backup Dutch ove, in black enamel with a cream interior, taller than my Le Creuset, but equally charming. This went on for a decade, even through pregnancies and babies, with a year break while we were in Arezzo, when Victor was one.
When we found out in 2016 that we were moving to Florence and had to sort our housewares for storage versus shipment, the Le Creuset was set aside first. "Why are you doing that? There is bread in Italy!" Jason exclaimed. "No salt in it, gross." I threw in our red cast-iron stovetop panini press. "Those things together weigh twenty-five pounds!" Jason cried. "They're going," I responded firmly. And yet, in the Great Sort prior to moving , somehow the Dutch ovens went into storage in Spokane (I hope). The panini maker made it to Italy, and we use it for steaks.
I have not needed to make the boules again until last month. With the quarantine and our shopping schedule, both Jason and I began really wishing for a fresh loaf, like before. I dug my recipe back out, but yeast is apparently sold out across the planet, and so, like everyone else who is looking for yeast, I began a starter and named her Izzy to quiet fanfare. The Izzy loaf was fresh but dense. Her cinnamon rolls were superb, but it is not practical to eat cinnamon rolls seven days a week, even under the current circumstances. I started to talk to Jason about my need for a cast-iron Dutch oven. We asked around in the palazzo, but no disused Dutch oven was available. Then, one day, on a grocery run, Jason came home and said, "You're going to have to reimagine the shape of your bread." He pulled out the item he bought at our hardware store. "They said this is the thing you make bread in." The thing looked like a cat coffin or a storage container for cremains. It was made of rolled copper topped by a thrice-perforated sliding lid. "When I told them why I needed a Dutch over, they would not sell me one for bread baking. This is the thing they were willing to sell me for your stated purpose." I played with the cat coffin for awhile. It had cost twenty-four euros. It was somber and looked like something that has been in use in Italy for the past three thousand years. I'm not one to argue with historic expertise, especially when it comes to Italians and food. I was keen to use it, but Izzy was not establishing an active cycle. She seemed fizzy and unreliable, and frankly drunk on hooch even though I fed her often twice a day.
Then, without warning, I was slipped two blocks of fresh Italian yeast at the Easter egg hunt in our palazzo garden on Sunday morning (don't worry, all the kids have been quarantined together for a month now). Not quite in an egg, but two generous blocks into my straw basket. "I ordered too many from Esselunga home delivery," Maria whispered. "Here, take them. But stir it up with warm water, and give it a little sugar to get started. When it gets nice and foamy, mix up your recipe." This is like getting a brick of dope in the clink. I was super excited. I carefully tucked them away, out of the sun, and as soon as I got upstairs I got to work on my favorite recipe.
Normally I am opposed to sugar as yeast turbo, but the small block looked pasty and frankly kind of weak compared to the rusty fish food pellets of Fleischmann's yeast familiar to me from the U.S. I dissolved the bit of yeast in water, wondering if I should add a little more, and then erred on the side of abundance. Fine, I threw in a teaspoon of sugar too. No bubbles No foam. I stirred again, and again. What was this yeast? Finally one lone bubble emerged, but it was hard to tell if it formed only because I was stirring. In the end I mixed my shaggy loaf and covered it. That dough took off like no dough I have ever seen before. It increased more quickly than a contagion in a state that refuses to quarantine due to negative economic impact. The following day I preheated our oven with the box on the maximum setting (250C), and shoveled the shaggy dough into it. It was hard to slide that lid back on when the whole contraption was hot, but I managed to do so without burning myself. And, in the end, the loaf turned out gorgeous, cracking, with a well-structured crumb, so I would term that a success. It made fantastic tomato bruschetta.
I'll be using the bread baking box again.