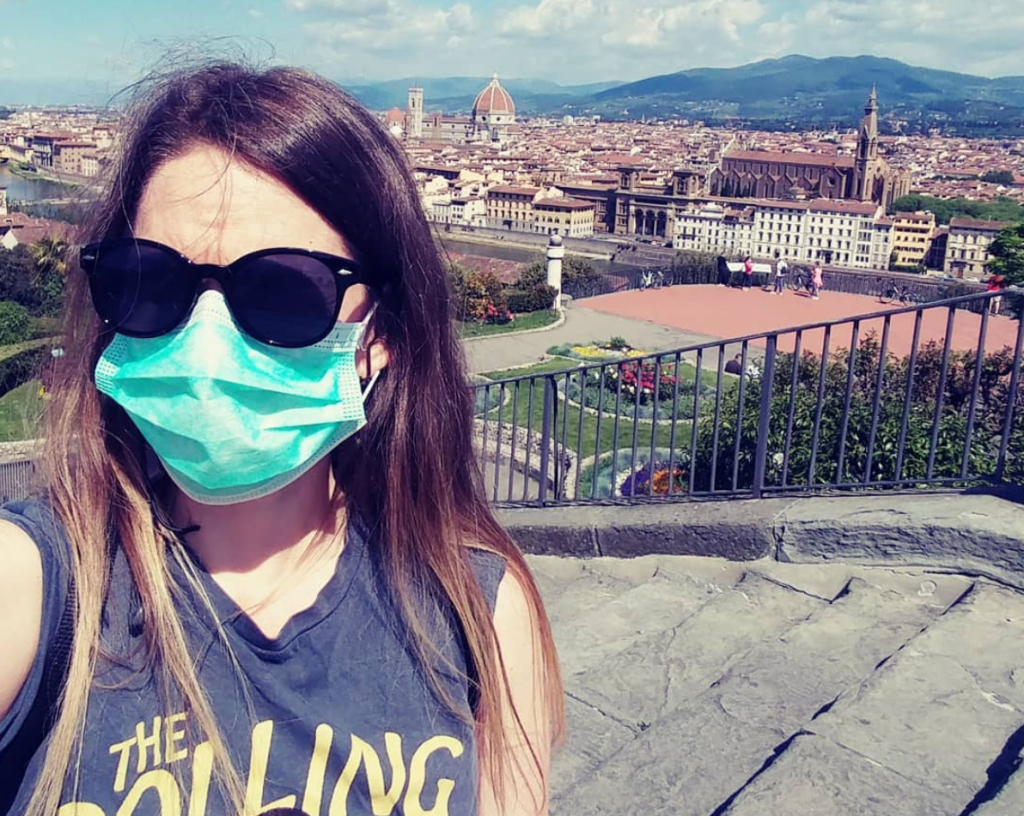 I finally got out this morning for my first walk since before March 4. In the past two months, my walks, when I managed to grab them, consisted of a quick step to the trash and recycling bins, or a brief turn around our piazza.
Before I describe this weekend, however, a few words. To all you persons who have been broadcasting and enjoying all your fresh air and time in nature while in social isolation – that has not at all been our experience. Our address is central Florence, ZTL. Yes, we love where we live. No, we did not know when choosing it that we would enter into a pandemic while living here. Would we have liked to have been in a large villa with its own massive orchards and gardens? Well, yes; who wouldn't? But what you trade off for fresh air is social company, and our palazzo is very accogliente – meaning welcoming. We're here with two other families, both with young children (seven kids total in the building), and two couples without children. We have shared space in the garden; toasted an anniversary and enjoyed impromptu aperos together while our children inspected turtles, poked things with sticks, or made art. So that has been priceless. I want to say also here that sedentary quarantine is terrible for lower back health. Both Jason and I feel it.
The city made its own allowance for outside time before the nation modestly reopens tomorrow – our rules relaxed on May 1, but there was a lot of confusion about it. We went nowhere on Friday. Saturday dawned warm and bright. We promised the kids we would go out on two bikes, each parent toting a child on a seat behind. We would ride on the bike path along the Arno! or go to the Viale! We'd ride through empty piazze, hooting and hollering like released POWs. This was gonna be so great, guys! Jason went outside to pump up the tires. We located out helmets, donned our mascherine. Jason and Vic rode up behind Eleanor and me. My bike was faltering and could not really advance forward without sounding like a steam piston. "Mommy, your bike is breathing!" called Eleanor from her little buckled seat behind me. And indeed, the wheel turned about 75% of the time, but in the last quarter of the turn heaved a sigh and a rasp. "Wheel's out of true," Jason quickly diagnosed, leaning down from his bike, Victor still behind, to try to adjust the spokes and fender with his hands. No luck. Zoooom sigh rasp. Zoooom sigh rasp. "Mommy! we're going fast and then slow!" yelled Eleanor. I gritted my teeth. "You go ahead," I said. "Yeah, wouldn't trust that wheel, sorry." Jason winced. "Someone must have backed into it, it is whacked. We'll be back in a bit." Jason and Vic pedaled ahead down Via della Colonna. Eleanor and I U-turned in the street to head back. For a moment the steel wheel seemed to be straightening itself. But that was clearly just my imagination as we were pedaling on the Earth's surface and not the Sun. Eleanor helped me chain my bike to a rack in the sight-line of the carabiniere who patrol the synagogue. No bike shops open until Monday morning. We settled for a walk around the piazza. Vic and Jason caught up to us on the corner, Jason trotted behind Eleanor on her bike, and I walked a fussy Vic around the piazza one more time with me.
Verdict: Not super restful. My internal sigh and rasp matched my bike's for the rest of the evening.
This morning Jason said, "You go." It was his regular morning appointment with the kids to sweep and mop our linty apartment. The day was sunny again, so after breakfast, I charged my phone and hands-free, tied on my orange tennis shoes, and headed out to Spanish hits of the nineties. Between the mask, headphones, and sunglasses, I looked ready to rob a bank or worse. I briefly felt like a tourist, forgetting where to go, but then cell memory kicked in, and I paced up to the viale, along the bike path, over the Ponte San Niccolò, and found the tower. Up the ramps. People were everywhere. Most were masked and looking safe, but a good quarter of the relative crowd was not masked, in spite of close passings. I was appalled, but determined to breathe the fresh air for as long as I felt like. I kept to a selection of oblique left turns with views over the olive groves of the Villa Bardini, past couples sitting in the grass talking, families on bikes, grandparents walking, and soon enough found myself on the top of Piazzale Michelangelo with about a hundred other locals, mostly masked but many not, all of us admiring the view of Firenze centro from that high vantage point. I walked around the piazza, then slowly headed back down the way I came. That same couple was still having a maskless picnic amongst the daisies. Good for them. I thought of languorous garden picnics I've had in my life, thankful for those memories.
I made my way down the Arno (again, insane pedestrian and bike traffic) and across the Ponte alle Grazie, back up the other lungarno, turning left into one of my favorite tiny streets: Via delle Casine. In my parallel life as a set scout, I am choosing this iron-grilled and green-gardened quartiere for a period film set in 1885 Florence, with many bustles and teams of horses harnessed to phaetons. The bells of Santa Croce began to toll the noon hour. A young man in front of me, no mask, sneezed and wiped his nose on his arm. I crossed the street, coming back through Le Carcere's corridors, across the back alley of Piazza Annigoni where benches were populated by local ne'er-do-wells (bottled Heineken) and laughing undergraduate students tossing their long locks (prosecco). I stepped back in to our palazzo and undid my mask, pushing my sunglasses to the top of my head. A hundred minutes, about 90 seconds for every day we've been penned up in the quarantine purdah.
Verdict: A lovely walk, minus breathing through the mask (which I never took off), and the apocalypse feel of everyone masked in the sparkling sunshine. I am pleased to report that Florence has lost none of her charm, and in fact, might be even greener, lovelier, more flowered than before. However, if I were a bookie making numbers, I would say phase this will last about two to three weeks, because the rate of infection will surely go up after days like this. Still, I will go out as much as I can as much as it is possible, like this until circumstances change. And we will work on getting my lamed bike repaired subito.