GlobalMoxie acknowledges the many paths to an international life. For some, the international life represents a departure from what has come before. Others were born to it, and stayed on the path in pursuit of an ever-deeper connection and understanding of the grand world we live in.
Stephanie was born to it; a global nomad at heart, raised in a multicultural Hawai'i, she was one of a few students in her school who enrolled in Spanish, rather than Chinese or Japanese. Hawai'i: the volcanic melting pot of all cultures, tourists from everywhere, everyone from everywhere.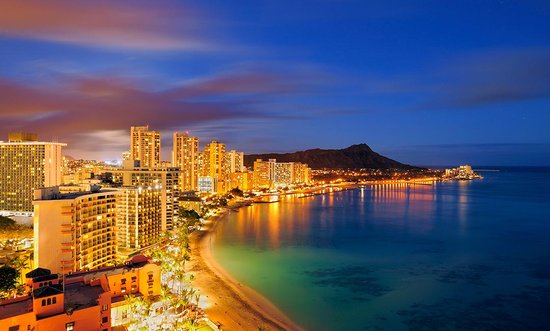 Honolulu, HI
Fourteen seems to be a threshold age for many with respect to GlobalMoxie; for Stephanie, it was the year she went abroad on her own – to Salamanca's storied plazas, sunshine, and Spanish language school. It was exhilarating.
Salamanca's Plaza Mayor/
Fast forward a few years to her final years at Brown. German was the language of that chapter, and Stephanie studied abroad in Vienna. Vienna! Such a city. Yet, as sometimes happens, she and Viennese culture weren't a natural fit. The Austrians could not "place" her as an Asian-American, and she sensed that this was unsettling to them. Vienna was beautiful, but not quite her sachertorte. She'd taken an intensive Italian course before leaving for study abroad, and found herself soon enough on the overnight train from Vienna to Venice. She emerged from Venezia Santa Lucia the day after La Fenice had burned to the ground. The scene was operatic. Italy bewitched her. She returned again, and again, and again. After she returned to Brown to complete her degree, she got her Italian on.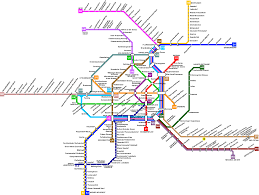 Vienna U-bahn map
The path of GlobalMoxie meanders. Colorado beckoned. She relocated to Breckenridge to ski and write – finding a job with the Summit County Daily News. Ski enthusiasts might recall that the World Cup was at Vail that year. An interview with Alberto Tomba, which she decided to conduct at the last minute in Italian, got her her the scoop, leading to minor local fame and recognition, and a teaching position at Colorado Mountain College.
These two turning points – in Salamanca and Colorado – were key. Things seemed to line up.
And she moved back to Italy. This time, Perugia, for a year at l'Universita per Stranieri. She vowed to stay in Italy – to absorb Italy – to live, eat, and breathe the language and culture. She maintained her career in journalism by freelance writing for Bloomberg New Services and Italy Daily, an insert of the International Herald Tribune.By the end of that year, she decided she would return to the United States to begin a graduate degree in Italian. And so it was that she moved to the the San Francisco Bay, and earned her PhD in Italian from UC-Berkeley.
Stephanie is now faculty at the University of Oklahoma's Italian program. She's returning to Oklahoma this summer after a semester in Athens, writing about immigration and global mobility.
Says Stephanie, "The question now is, 'where are you between?', not 'where are you from,' or 'where are you going. We carry our homes with us." 
Her distilled guidance for aspirant global nomads? "Don't believe in fear-centered messages from media, movies, and stereotypes. As humans, we are decent and good. Interesting and empathic people are doing good things in the world. Everything is relative. Take the time to learn about the relativity. Do you want to leave this world a better place than you found it? How can I contribute to society? As humans, what connects us? Why are we so awful to one another? And where are the moments of grace and humanity? There are out there."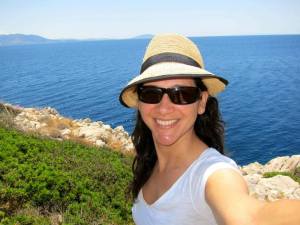 Stephanie on the coast of Greece