I had the day off yesterday and spent it with Ellen about town.
Before my adventure began, though, I ran into Francesca, the owner of the palazzo, coming down the stairs with an armload of feather pillows. "Do you want to see the piano nobile?"she asked. Of course I immediately trotted downstairs with her to admire the frescos, tapestry, and furniture of 1860. It is like a mini Downton Abbey. If you want to come to Florence and get the full effect, it is highly recommended.
Jason reserved a spa day for me close by at a day spa. But it did not start until noon, so in the morning we went to Zecchi to trade out some art supplies for Ellen's husband Marc. Just walking around the packed narrow aisles of Zecchi makes me itch for a brush and some oils, and an old sock.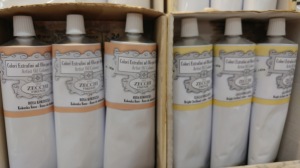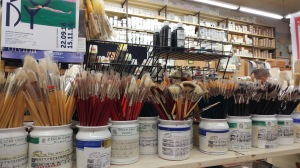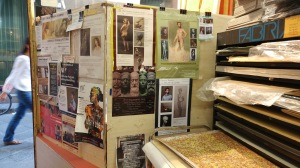 We made our move on Zara for some kid clothes, then headed to Scudiero for coffee and pastry before the spa appointment.
The spa's owner is a Turk, and his Turkish bath proves it. Wow. Steamy marble, hot hot hot. Perfect. Maybe I prefer a bagno turco over a sauna. Give me vapor any day.
I had an appointment for a massage and my person was a young woman from Naples who spoke beautiful Spanish, and explained the long history of the Bourbon kings in the Kingdom of Two Sicilies. She also gratified me with amusing language explanations, at my request:
Quindi = entonces
Comunque = something like Spanish aún, todavía, de todas formas, de todos modos, de todas maneras. She was a little fuzzy on this. "It is a particle of continuation," she said. "Or a topic change when you want to continue talking.
Ormai. We spent a good half hour on ormai. She presented examples in Italian involving the 9/11 attacks, a missed train, and prepared pasta. As best as I can tell it means "already." Mixed with "unfortunately."
Magari. "It's too bad we don't have it in English," I said. "It's close to if only or I wish! Said in the way that conveys it will never happen."
I also learned many things that southerners think about Florence, none of them surprising. It is, however, against city ordinance to hang your laundry outside the external windows facing the street in Florence.
Ellen met me at the spa, having monopolized the bagno turco herself for some time at to good result. We headed out to grab crêpes and go (again) to Tiger for Eleanor's hair bits. We also hit a small boutique close to the duomo called Echo where I picked up a few transitional Italian pieces to further help my wardrobe situation. Then to Piazza dei Ciompi for a spritz.
We came home to two sleeping little girls so made use of the time to get all those little things done that require thought and concentration that can be so hard to accomplish with littles afoot in the house.
Our new helper, Chanusha, made us espresso. By this time I was feeling insanely spoilt. So I tempered my euphoria by checking on pre-debate online to gauge the general feeling. Eeek. Looks like a train wreck from here. Good thing the salubrious effects of my massage were still in effect.
(Don't worry – our Washington state ballots are complete and en route as we speak via email.)