We've got an old friend in town and on the scene with us – Amy, whom I have now known for almost a quarter century.
She and I have shadowed one another's lives like Scandinavian-crazed doppelgangers, through undergraduate study abroad programs (she went first to Clermont-Ferrand, France, I to Santiago de Compostela; we both took a second longer jaunt in Strasbourg, she the year before I did), nonprofit immigration advocacy careers, international student services and SEVIS wrangling, and now software.
We've never been in the same place at the same time, but always seem to be just coming or going from wherever the other one has been most recently. We also share the improbable personal history and connection with central Oklahoma, and even OU, seen through the lens of wanderings both global and domestic. I am not a little jealous of her five years living in Stockholm. So, we have a lot to talk about and laugh over.
She's with us through early next week, and even though Victor keeps asking, "Is Amy still here?" I am pretty sure he means to add "… so she can play Legos with me." Amy understands the finer things and arrived laden with Legos, luxury tea, Burt's Bees personal care items, and Vermont maple syrup, like the fair trader of the Hanseatic league that she is. Additionally,she is helping us to ensure that we are amply provisioned at all times with Kinder Surprise Eggs, fegato, and vino sfuso.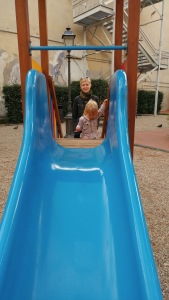 Auntie Amy shadowing Eleanor in Piazza Dei Ciompi
Another expat mama, a friend of Ellen's, also found me last week for coffee – we hit up Nabucco on Reparata, one of Ellen's regular caffeine haunts. Lizzy's got kids close to Victor and Eleanor in age, and seems to be into all kinds of interesting endeavors here in town, notably a restaurant on Via Zenobia. She's been back and forth multiple times, and is a fount of friendly energy. Friend of Ellen ftw.
Finally, there is a charming Dutch couple who has children in Scolopi almost exactly the same age as V&E. Kim stopped me as I was telling Victor to stay in the waiting place by Eleanor's hallway while I took her street shoes off and asked if I needed a coffee. Ma certo! I exclaimed. Let me just drop off the bigger one … don't leave! So we headed to Caffe Cavour, which is pretty much an annex of Scolopi, and quickly shared personal bio notes. Her husband is in the international NGO circuit and works in Firenze for UNICEF – prior to this, they were in Rome for four years. But most happily for me we share a Spanish connection – she and her husband met on an Erasmus program in Granada years ago. I appreciate expats in Italy with a similarly strong Spanish background. On the one hand, it helps make sense of everything; on the other hand, it can be a false lighthouse of knowledge and direction. There is so much affinity between Spain and Italy, and shared history, and faith, but enough that differs between Rome and Hispannia that finding the places in between and filling those gaps can feel like an Australian doubles tennis match of confidence versus knowledge and ignorance. Also, in moneyed, historic, touristed Firenze, Spain feels like light years away, rather than a relatively short flight.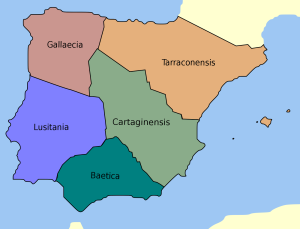 Roman Spain: Diocletian era