What do you like to do when you find yourself in a new place?
Do you like to see beautiful things? Meet locals? Meet fellow travellers? Go to museums? Eat food you've never tried before, or try local versions of food you know that expand your foodwareness? Have a buon bicchiere di vino?


Let's talk about what is good, and pleasing, and tasty.
Amy, one of my oldest friends, has been in town for the past week and a half. She is a savvy and intrepid traveller. Together, between working hours and family time and kid care, we have examined and reexamined the short list of local and fantastic things to enjoy in Florence, with or without your host (Monica) – save the one activity that absolutely MUST be undertaken with me in company.
I'm going to link these so everyone can bookmark. Hey, maybe if I review a few of these in TripAdvisor, they'll send me another baseball cap. That I will never wear in Italy. Unless it is bedazzeled. But enough about bling.
Dinner at Trattoria Cesarino. I've been here twice in the past week, once with Amy and once with Jason, and once so long ago with Tommy and Courtney (probably in 2005) that I can't even remember. It's a block from us on Niccolini. The place is warm, bustling, and welcoming; the food, honest, localvore, and very reasonably priced. Two can eat like royalty for 50-60E. The owners and staff make you feel like a regular even when you're not. Just call ahead for a reservation, even same day. Italians know about this place, and WHAT! It is #50 of 2000+ restaurants on Trip Advisor? Makes sense. The secret is out. Cesarino delivers.
Lunch or dinner at Enoteca Pitti Gola e Cantina. I've been here multiple times now, and Edo and his staff excel at the welcome and the luxury of premium Italian food and wine. The menu is accessible, but you know what? This is a clean, well-lighted place where, like Hemingway, you  might prefer to place yourself in the hands of the owner. He won't steer you wrong. Just let him pick the wine and plates. He's so pleased at the wine list and menu he's assembled, and with reason. Sit inside and bask in jazz and Montalcino, sit outside in the shadow of the Pitti's hulking rusticated stone wall and sip your Brunellescho.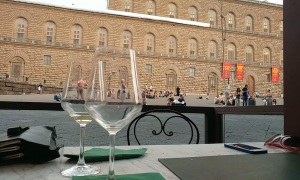 Pitti view from outside table.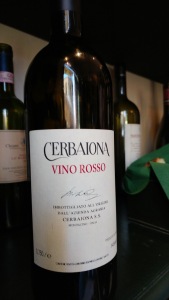 Wow. Just.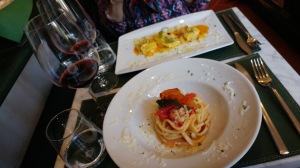 Our primi, before we inhaled them.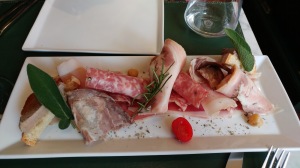 A plate of local specialities to start.
I'll be taking you to Flying Tiger just for amusement's sake, and probably because I need something from there on any given day.
Massage at Silathai in Oltrarno. Amy and I both agreed it was the best massage either of us had ever had in our lives, and we have probably had 500 massages between the two of us. Ok maybe 400. A lot, anyway. I love a good massage and believe in its restorative properties. Silathai is a Thai jewel in the Oltrarno crown. If you come to Florence, you'll probably have just gotten off a plane, or been walking around for days. You'll need a massage. Get it here. YOU MUST TAKE ME WITH YOU.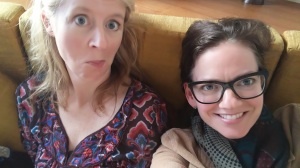 Post massaggio
Snacks. You'll need fresh snacks. If you're with me, we're probably going to
La Loggia dei Albizi.
Also consider
Robiglio
on Via dei Servi (conveniently located close to FT) or Caffe Cavour.
Gelato at Medici on Beccaria for sure. Prepare for this one. You'll be changed forever.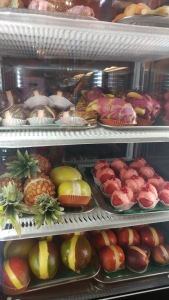 Frozen confections worthy of a Medici wedding.
We'll be getting small cups of heaven though.
If you've been away from the US for some time, or if you are not a Yank, we are headed to
Mama's Bakery
 in the Oltrarno. Bagels, cupcakes, and muffin tops await, lined up in neat glass cases. Whipped cream cheese, everyone, and shmears with chives and herbs. Probably some brownies in there too. Friendly for lingering as well, with none of the HOV coffee lane feeling that my favorite Italian caffes can emanate. Happy
yelpers
agree…
I'll keep adding and mentioning my favorite places in Florence as they become clear to me. No talk here of large museums, long lines, or crowds. Just the experiences you need to fill in those gaps if you are interested in seeing a human side of Florence, because the crowds around the tourist hubs most definitely fail to deliver on that point!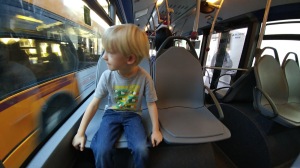 Need to take a bus? Your local ATAF tourist representative, 
Victor, will be happy to discuss routes and numbers with you, 
or accompany you as needed to your final destination. 
Return collection by appointment only.