A couple of weeks ago I posted about music – specifically, singing and choir.
I did attend a dinner for newcomers (along with some old Florence hands) that Friday at the rectory of of St. James Episcopal, which was a hilarious and delightful experience in itself, after a Katherine Mansfield fashion. All I could think of was the material that I could mine from the dinner, after the fashion of In a German Pension, one of my favorite short story collections of all time.
At the end of the dinner the priest's wife (Episcopalians, remember) Dottie walked me out to my bike. On the way out, I said, I would really like to sing in a choir. She immediately brightened and promised to put me in touch with Liz the choirmistress. I asked if I would have to audition? Because I was a bit rusty. Oh, no, she assured me. It is a ministry – we turn no one away. Liz will work with you. She promised to forward my email address to Liz, and I rode home in the dark Florence evening with a literal song in my heart.
Of course the next day I felt impatient about my choir prospects and so I found the choirmistress's contact information on the website, and emailed her (copying Dottie of course – never one to miff the priest's wife.) Liz quickly wrote me back to explain basic information, and shared a folder with me full of sheet music for the following Sunday.
Well, this was exciting. I promptly reviewed the music and, with my friend YouTube, practiced last week. Some Saint Saens ("Oratorio"), and two standbys, "A Prayer of St. Richard of Chichester" and "Dona Nobis Pacem." Rehearsal at 9:45, mass at 11.
Jason was in Poland for four days with 80 Gonzaga students, and I had cleverly arranged for a former student of ours and overall lovely person to stay with us for part of the time he was away. On Sunday morning, I attired myself in the most respectable cold-weather Episcopal outfit I could muster (black tights, black boots, denim mini, black sweater, peacoat) and pedaled my way to St. James, which is on the other side of the main train station, Santa Maria Novella. Every time I ride that way I wind up in the tangled roundabouts surrounding the station with city buses and coaches circling with me, which is a bit terrifying.
Church was quiet. I couldn't figure out how to get in with my bike (many iron gates), but then saw that one gate had been propped open with a rock, and slipped in. I chained my red Bianchi to the wall next to the rectory, where it had been for dinner the week before. An earlier mass had begun at 9 that I did not wish to interrupt, so I walked around and admired the property. It was a gorgeous, clear morning, with a Rafaellian blue sky rolled out above.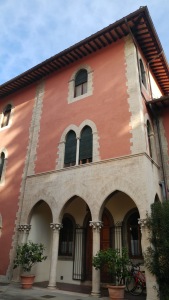 Rectory. Can you spot my red bike?
I eventually found a side door that said "push – church office" and followed the instructions, feeling a bit like Alice in Episcopaland. On the stairwell I encountered an older woman, and asked her where choir practice was. "Upstairs of course!" she answered brightly. "It's my first time," I said. She showed me the way.
The 9 am mass had apparently emptied out fast; the sanctuary was deserted. I stood around feeling awkward as the priest chatted with a parishioner. A quiet Japanese woman came after me. I sat in the pew for awhile. I got up and walked around and took note of the many plaques set into the walls and floors – a number of US Consuls, assorted long-term expats, J. Pierpont Morgan.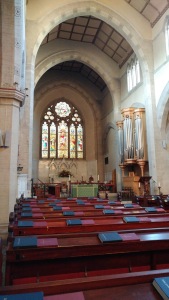 Eventually the other choristers trickled in. It was a small group, very international, of varying ages. The choirmistress Liz was all high-end business and very chic. Her husband anchored the bass section. The Japanese woman held forth for the sopranos, along with Liz and an American named Joan, who was very Yonkers. An American with a gorgeous tenor. A younger Italian, slightly jumpy but very musical. An Englishwoman named Claire (of course) kept to my side and filled me in when Liz was unable to. It was all very organized and professional; I was quickly handed a binder, and a hymnal. I'm sure I'll know more later, but was told that some – many – of the choir members are professional musicians. I believe it. I think all the anglophone women had Italian husbands (not that I was keeping track but it was either evident or stated.)
"Where's Timothy?" Liz asked.
"He can't make it today – he'll come for mass but can't rehearse."
There was some eye-rolling and grumbling. Claire pursed her lips and said she would fill me in later – "but it's quite a story."
Our accompanist played a Steinway grand whose notes filled the sanctuary. (The Steinway said "Steinweg" on it, which made me wonder if the brand name is localized for the US?) When he struck the first key I felt chills – and happy. I tried to acquit my vocal duties admirably. It did feel every bit a 26 year interval since I last sang in a choir, in 1989. Claire kept up an amusing patter in quiet tones at my side. Joan shared facts about grocery shopping on Sunday, and Fiesole. Liz seemed to stay close to me as we went through each piece for the first time, perhaps trying to gauge my ability to find a note or keep pitch or carry a tune. Fair enough – there was no audition, but it had to sound good. I sang in the alto section for the Saint Saens, and was assigned to the melody for the other two.
We filed up into the choir stall to further practice and make sure everyone knew where to be. The Willis organ made the Steinway grand seem, in comparison, like the small plastic Winnie-the-Pooh piano that Victor played with when he was one.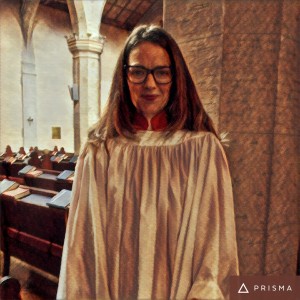 Rehearsal concluded (after we practiced everything, sectioned and resectioned – Liz was efficient and knew exactly what needed to happen). I was swept back to the vestry for a choir robe and, following a brief physical scrutiny by Liz, was handed a hanger labeled "Christina" with two robes. I put on the long-sleeved red robe with the mandarin collar and buttoned up, feeling like a cardinal imposter, perhaps Black Joan herself just prior to the vote. On went the voluminous white robe. I was glad for the extra layers in the November chill of the stone church.
Claire explained a bit more about the mass and what would happen. "Don't worry," I said. "I'm Episcopalian. I know the songbook, and the liturgy." She smiled at me.
Timothy jogged in wearing a track suit. A small murmur and grumble went up, but everyone was glad to see him. He looked a bit to me like he'd just come out of a time machine that originated in 1994. "He's British Italian. Such an interesting story on that one,
" Claire stage whispered to me again. I watched a Timothy quickly donned his robes, over his bright blue tracksuit and trainers. He sported a rather britpop haircut, like a lost Gallagher brother. I made a mental note to diplomatically extract the interesting story.
Mass clicked along rather quickly. The choir remained in the stall for the entirety, except after Communion when we sang from the pews with the Steinway. The music was, indeed, beautiful.
After, we put our robes on the hangers and placed them in the wardrobe, and everyone quickly dispersed to their Sunday. Liz seemed like I would be welcome to come back again as she explained what was happening with the choir on December 4 and December 18. Hand bells are involved, which is amusing. We'll also be leading lessons and carols, which is a favorite tradition of mine.
No one in that choir seemed new to Florence – well, especially not the Italians. But the Americans were all a bit older than I and all seemed to have moved here in the mid-70s, and the same for the Brits.
When I got home, the kids were happily playing with Shelby, and Eleanor told me she wanted to go to church with me next time.
I really enjoyed my choir Sunday. Best part: you get to sing EVEN MORE with EVEN MORE special music. Also, really nice people.
More to come.
Straight up art, literature, and music, everyone. Facebook fast is in full effect.