The church bells have been ringing out frequently all day in Florence, calling the faithful to the mass of All Saints – the national Festa di Tutti i Santi, which far eclipses the Anglo-commercial Hallowe'en in cultural importance.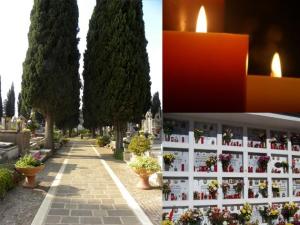 It's a national holiday along the lines of New Year's Day in the U.S. Everything official is closed; a few small stores remain open. Because it is Florence, the hawkers of tourist catnip such as leather bits and scarves have not retired. Plus, they're almost never Italian anyway.
The kids think it is fantastic that it is a holiday from school today. "We don't get Hallowe'en off in the U.S.," Victor said. No, my love, we don't but this is actually a completely separate holiday on November 1, when Italians give thanks for all the saints that ever were, in any format, from the greats, like John and Peter, to the familial on the following day, November 2, like our ancestors both close and distant.
The Screti family dinner we were invited to last night was lovely. We were immediately handed prosecco pours. A wide variety of exuberant Italian grandchildren were busily playing chase, foosball, and Legos in the loggia. Maria, the youngest daughter, said that when they all gather, just the family, they are 23 for dinner. I also learned that the apartment we live in was once the teenage abode of her and her brothers when they were all teenagers in liceo in Florence. From the modest kitchen flowed a stream of squash soup and croutons, creamy risotto and simple penne, meatballs, chickpeas and carrots and french fries, followed by a huge spread of sweets after, sponge cake and fruit compote and fresh whipped cream and a selection of pastries that looked like it emptied out an entire local case.
Victor latched on to the Legos and we didn't really see much more of him. The scene was not very conducive to our kids' appetites as they took in all that was happening around them.
I met one of the sons-in-law who had inexplicably been to Enid a few years back with a friend. His eyes widened when I told him where we'd moved from. Everyone was very gracious about my Italian, which comes out much more fluidly when I am less inhibited, for reasons such as illness and a splash of prosecco. Sometimes a lack of preoccupation can easily be interpreted as a confidence. This is a secret of gathering years.
So sick. We now know said illness is a sinus infection and bronchitis. I have joked that returning to Europe from the U.S., it always takes me some time to adjust to the healthcare here (for the better) as I am certain that all Americans have Post-Traumatic American Healthcare System Survivor Syndrome (PTAHSSS). Symptoms of this syndrome include, but are not limited to, minimizing symptoms of illness to delay treatment because it is too confusing or too expensive to access, or both; delaying medical attention for the same foregoing reasons; stressing out about the cost of medical care and prioritizing cost of care over loss of days to illness; asking repeatedly about co-pays and feeling they are a deterrent to accessing care; worrying that sneaking costs are included in the medical visit.
Finally, after almost three weeks of being ill, on Sunday, the day of Eleanor's birthday party, I could not take it any more. My head was on fire; my nose burned, my cheeks ached. I posted a climbing fever. I hadn't been so ill in some time. I posted to a couple of Facebook groups about how to get medical attention on a holiday weekend, and a Sunday to boot. I remembered my positive, but expensive, experience in Paris three years ago, which put me out a cool couple hundred euro for a UTI and a basic antibiotic. (We're not in the Italian healthcare system yet… the wheels of bureaucracy turn slowly for an immigrant.) I panicked when people started posting links for doctors that go to the five-star hotels in town.
I missed Dottoressa Gaggia in Arezzo something fierce! She was so great and always available. Oooooh Florence and transition …. I was in tears.
After the party I begged Jason to help get me to a doctor.
"Just go to the doctor," he said.
"By myself, with this delirious fever?" I asked. "I won't be able to explain myself."
"Just play the dumb tourist," he said. "Or, we all go."
I cringed to think of all four of us in a poliambulatorio. We each began frantically texting our short list of regular sitters.
There is one.
She soon responded to Jason and said she could come with her daughter.
We set out on foot to the poliambulatorio (urgent care) on Via della Pergola. A very Italian experience ensued. The 800-year-old hospital was fully renovated and full of priceless art. A few custodians floated around. A handful of obvious patients were departing after their appointments. The bar was closed. The way was unclear.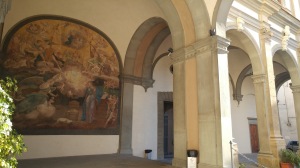 How about some priceless art with your diagnosis.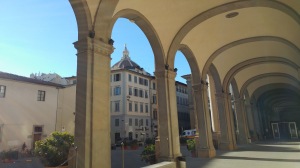 Or a nice view of the Duomo.
We wandered around for awhile while attempting to interpret ambiguous signage, but once we found the poliambulatorio, there sat an avuncular doctor at a desk who motioned us in. No administration whatsoever. There was a nice plaque that said that Folco Portinari, the father of Dante's Beatrice, had founded the original hospital on the site. I thought that that was a nice touch. But I was delirious. Jason said that the claim to origin was more probably spurious.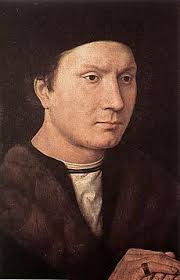 Maybe this guy will see me soon in the clinic.
Hey Folco, come va.
Nope. My guy was much older.
Jason quickly explained how long my symptoms had persisted, and he listened to my chest and pronounced, "Lei ha anche un po' di bronchite." 
He seemed to need no convincing of the
sinus infection after we told him about the fever and snot.
"But listen," Jason said. "She needs antibiotics, but she can't take amoxycillin. She'll have a severe reaction to it; she had to go to the hospital two years ago for it."
"Va bene," he said, and wrote the scrip, which also included our friend the Bentalan, the Italian steroid that is always prescribed, and which Victor took like candy in Arezzo when he was one. Tiny tiny pieces of white pill dissolved in water and which he then drank.
There ensured another very Italian exchange about the farmacia we should go to to fill the scrip. "Duomo," the doctor insisted. "Also, you owe 15E."
"Pay here or … at the cassa?" asked Jason.
"Me. I'm the cassa." We paid him.
He sighed and sent us on our way.
"I do not think I could have either found this office, or satisfactorily explained myself to this doctor," I said, blowing my nose again.
I don't remember what Jason responded. I was really out of it and holding back tears.
The farmacia on Piazza del Duomo is not called Farmacia del Duomo, but rather San Antonino. We spent some time consulting Google about this on the piazza. (Literal Americans.) We went in and got our scrip filled right away for about 15E. Everything looked good. Health on the horizon. I went home and promptly started the drugs and began to feel better.
Jason went out a couple of hours later and I thought again to look at the box. It was a brand name, but best to just make sure … WHAT. Ma che! There on the box was very clearly indicated amoxycillin.

Jason was actually out visiting a student for another reason and I began to text him frantically. "They gave me amoxycillin," I texted. "I can't take it. I already took one!" I texted him pictures of the box and the scrip. Fooled by name brand in large font!
He soon sped home on his bike and returned to the farmacia with the opened box of amoxycillin. They did not want to exchange it at first, but he stood there until they gave him a small box of zithromax. God bless my stubborn husband. He credited the fact that he waited until the farmacia matron came out, because the younger woman in no way was going to go over the scrip of a doctor to provide a replacement that he had not specified.
Now truly on the mend, and the right meds. But what a health-hole I fell into! Foiled again by PTAHSSS. I'll remember this for next time I am sick… takes years to rewrite this terrible learned behavior that we have come to view as "just the way things are" in America, but hopefully I can speed it up a bit in Italy.