The castles in Slovenia are incredibly family-friendly. They all have heating, Pergo floors, and ramps, plus new and modern exhibits that are courteously labeled bilingually in Slovenian and English. They are not expensive to visit and both content and woo seems geared to small children. (Looks like I have conveniently and quickly forgotten the Murder Hole incident.) 
We headed up to Ljubljana castle yesterday via a shiny new funicular and skated around quickly to see the watchtower.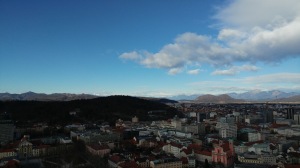 View into Alps from castle tower.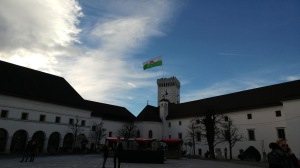 Castle courtyard.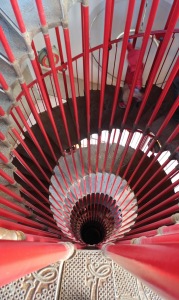 Tower stair. Spot Victor yet?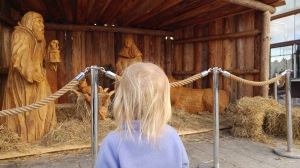 Eleanor admiring the castle's wooden nativity.
Ljubljana is full of holiday spirit and the Christmas market stalls are out in force, well lit and stuffed with chocolates, soaps, local felt, and wooden items.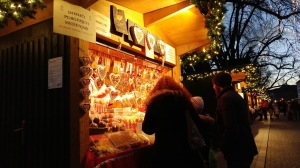 My favorite booth: full of decorated candy and gingerbread.
We've been liberally enjoying mulled wine and kielbasa and french fries. Yesterday while snarfing said menu, Victor abruptly announced, "I have a wiggly tooth." Sure enough, our firstborn's first milk tooth is on its way out, with a second one close behind. I guess baby teeth are FIFO because they are coming out in the order they came in. I think. 2012 was a long time ago.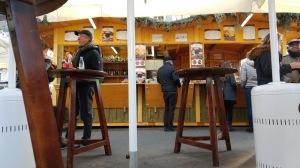 Site of momentous family announcement.
Last night we tried to make the 5pm electric train, but Eleanor was having none of it as she repeatedly attempted stroller-based swan dives and took off her shoes and socks. Jason took her back to Trnovo while Victor and I attempted to locate the Town Hall. We'd passed it earlier in the day but I forgot that it was across the river. We did ask a mom with a young child where it was, but the directions seemed a little unclear. I didn't catch any reference to a bridge.
Victor and I quickly wound up in a large crowd that was being penned in by a temporary metal fence by Slovenian police (varovanje!) Who was it? Why, Father Frost would be along shortly in a sleigh pulled by Lippizaner horses. But would he? would he? "This is taking too long," Victor moaned. It was getting colder as the wind blew off the river. Hmm a lot of people were here, and very excited. Where was he? We wait for 40 minutes and then folded. I am sure that to many of the people in the crowd a long wait to see a guy in a Father Frost suit was no problem – after all, they did grow up in Tito's Yugoslavia. 
"For me, this wait is no problem," a father told someone behind us in accented English, laughing. But for an American boy of five? Too long. Plus, new Legos at home.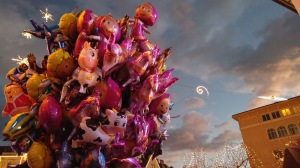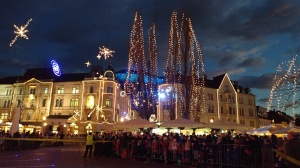 Side note: I feel very self-conscious yelling "Tito!" at Victor – Eleanor's nickname for him, which she has since outgrown, but which still gets trotted out in excitable moments.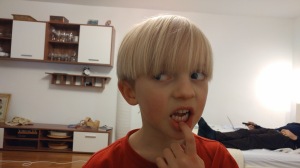 Tito: two loose teeth!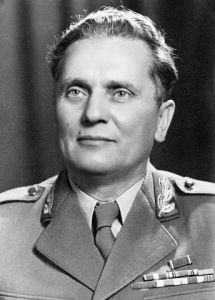 The other Tito, d. 1980.