We are safely home in Florence. I took 40 minutes early Friday morning before our departure to walk around with my artist's eye to see what beauty I might capture before our departure, and another bit to quickly transcribe my overall impression. I can tell that Slovenia, and especially Ljubljana, for me will become like Sicily after 2004 and 2008 – an enthusiastic if unanticipated elevator speech for lukewarm might-be tourists.
[If anyone wants to hear my still-valid Sicily elevator speech, shout out; I've keep it warm for years, and believe it yet.]
As for Ljubljana: go. It is lightly touristed, and a gem. If you are at all a travelly type, if you studied abroad or "done" Europe in the past but somehow missed it, put it on your short list.
[I am not in any way connected with any Slovenian entity, and give these opinions and exhortations freely and without reward or compensation.]
The city is in a flat part of a valley with a river that runs through it, and ample bike paths.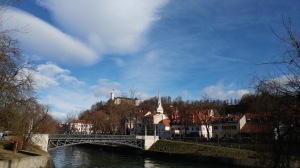 The town is surrounded by snowcapped mountains.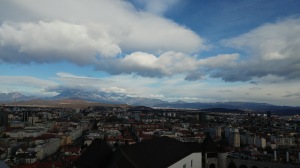 The city is very progressive, full of art, especially bronze sculpture, and recycle bins and open piazze.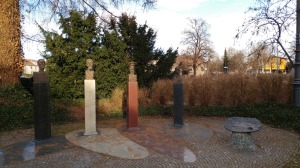 The outdoor cafes serve coffee and espresso in the mornings, beer in the afternoons and evenings, with tons of outdoor seating and blankets at every chair. Many of them look out onto canals or the river.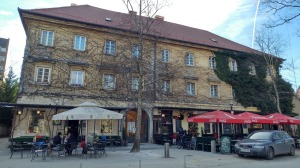 The city really appreciates its outdoor festivals, and even when said air is 20 degrees Fahrenheit, there are still tons of people outside enjoying mulled wine, coffee, and beer and each other.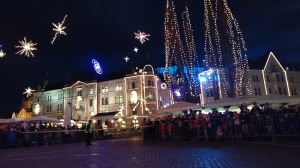 The beer and wine situation is superb.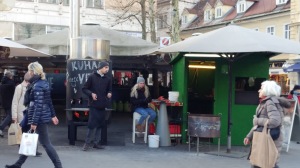 Note huge vat of tapped, mulling wine behind Gluewein hawker. Strasbourg never saw the like.
The music and theatre situation seems omnipresent and easily accessible.
The medieval core remains cobbled yet lined with Hapsburg architecture and fine buildings that truly make you feel as though Gilded Age Vienna were just a stone's throw away.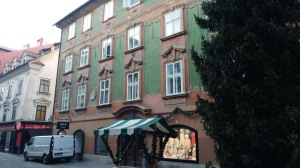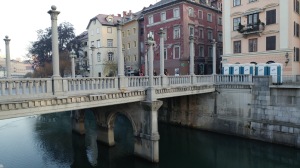 The Slovak and Teuto
nic influence is a welcome change from sunny Italy. The pastries become more yeasty and filled with jam, the pretzels appear everywhere, the beer served in large steins, and the Habsburg onion cupolas glitter over the cityscape.
Did I mention the antique and vintage bookstores?! In another life…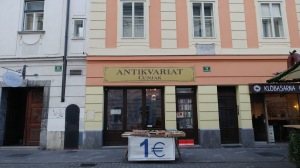 Ljubljana linguistics: I never liked the name on poetic principal as it reminded me rather of Jiffy Lube. Lubricant. Lube. Eck. Tourist literature indicated the name in fact means "most beloved…" hmm ok. Elsewhere in the castle I saw medieval reference to the town called Ludwigana. So which is it?
The Airbnb offerings are plentiful, central, and well priced. I'm posting a positive review of our four-day base next.
Umm if you like Indian food …I can say that Maharajah in town is outstanding.
And if you get sick or worse their healthcare professionals are attentive, efficient, and international.