This week was like one of those days where you have a cold, and, improbably, begin to feel better and better through the afternoon, reaching a state of relative health by the evening. Instead of a slide into worse symptoms, your waking hours have managed to vanquish illness.
I'd say now, looking back, that the week began on a low point, not quite nadir or Pyrrhic victory, but a whole day in the questura waiting in a cold, enormous, dirty hall, although successful in the end, was the toughest day this week.
Tuesday I took my language placement exam, as earlier recounted, and Thursday morning I attended my (drum roll) first official Italian language class of my life. At 43. Yes! A long time coming! may the shortcuts and bumblings cease, and the way forward become clearer. My stuttering deployment of Italian language, after 5 months and more on the ground of the last twelve, had veered into a category I have not been a member of since my ill-fated online dating chapters in the early aughts: funny, but not fun. Amusing to recount, but demoralizing to live.
The professor Franco was a distinguished older gentleman; the other two students, an American and a Russian, both women. 
He asked me a few questions, which I answered, then said, "Mi hanno detto che parli bene italiano."
"It really depends on the situation," I responded.
"Da quando sei a Firenze?"
"Sono in Firenze dal…"
"No! No! No! In Italian we say a for cities, a Torino, a Roma, a Firenze, but IN IN IN Italia, Toscana, Europa…"
The hairs on my forearms stood up.  Ooooh a taskmaster! I love it. Then I thought … WAIT. I know this rule. I learned it for French, I know this. It is the same.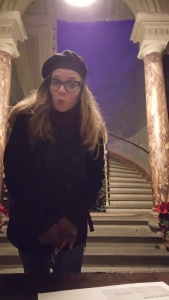 Mais oui mes amis! Je l'ai appris d'autrefois!
I am finally on my way to learning what is the same and what is different.
I realized, sitting in class, that I have simply been starving for consumable language information.
We went on to do 45 minutes of group work on direct object and indirect object pronouns, and my fellow students were neither appreciably more expert nor more novice than am I.
I felt tears of relief. There is a class for me!
This is going to work.
After the break, Franco announced we would do a detatto. which I know well from French as a dictée. I was very excited. I love monastic grammar learning.
Franco reviewed Italian punctuation with us for 15 minutes. Then he read a literary passage after exhorting us to neither touch our pens nor paper. Then he read it all again. Then he wrote it out and we graded it. I did much better than I thought, and got many things right that surprised me, along with transcribing plenty of advanced vocabulary whose meaning was unclear to me.
The class concluded. I went up to Franco. "Grazie, Franco. Mi ha veramente piaciuto; sembra un livello ottimo per me."
He agreed.
The staff also agreed that it was the right class, so I am all enrolled. Tuesday and Thursday mornings with Franco, a type of instructor with whom I am very comfortable, I have learned much from his type before. Plus two agreeable classmates to learn from and chuckle with.
I could not be happier.
I'm in a language class for the first time … what year is this?
This is going to work out.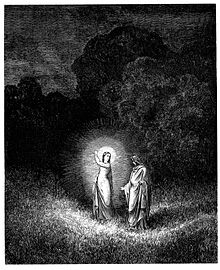 I will now show you the way to correctly employing indirect and direct object pronouns together in the same sentence.
Follow me.
I also headed to IBS yesterday (the unfortunately named International Bookstore), which in another interesting spatial-historical twist I realized is in fact the bookstore we hung out at all the time in 2005, NOT Feltrinelli! It is hard still sometimes for me to spatially place the elements of the now-pedestrianized Piazza del Duomo. I selected an Italian dictionary (monolingual), a grammar (also), and a couple of books for Eleanor. Jason promptly approved of, and them appropriated, the Pimpa book that prominently featured Dante.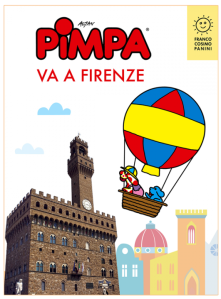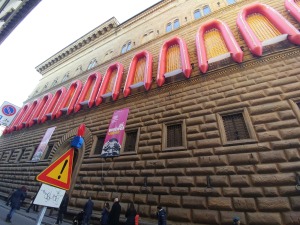 Palazzo Strozzi, last of the Ai Weiwei exhibit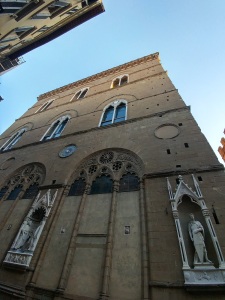 Orsanmichele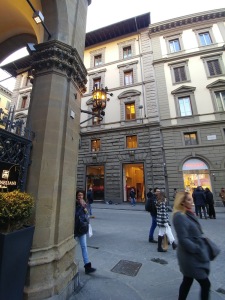 Zara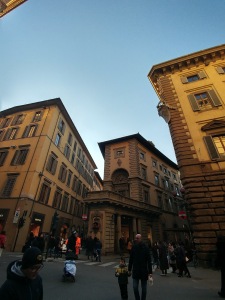 Cos
  As a plus, taking a class in the space where I have rented office space means that the teaching staff I see every day will now see me even on a day when I am not taking class. Lorenzo stopped by after a few times to ask me how it was going, and to review my placement level with me.
"Va bene che finalmente imparo il… direct object."
"Ma! Per che non dici oggetto diretto!?"
"Ma ho sentito la parola…" And so it goes.
I think they're all tickled that their corporate space squatter has transformed also into a student. My life on Repubblica further integrates.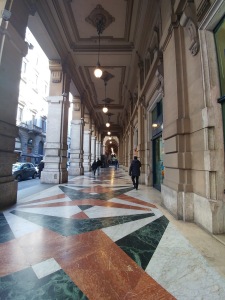 Repubblica arcades
On Friday, Jason and I went together to the ASL – the office for the Sanitaria Locale. The ASL is also the referral office for their NHS, so many people were clearly waiting to see a physician or to talk to an official about scheduling a surgery or a hearing aid appointment or something similar. A few physicians were in and out. It was like an aggregate administrative staff for all the doctor's offices in town, because, from my experience, Italian doctors do not maintain separate administrative staff in their offices. You just walk into the office and there's the doctor, ready to see you. No multiple levels of checking in, verifying, copay, nurse assistant, nurse, doctor …
Believe me. After my doctor and hospital and referral experiences from 2009-2014, I know whereof I speak.
I was braced for a long wait as we experienced on Monday (7 hours total), but our number was quickly called. We (okay mostly Jason) spoke with a hyper competent functionary behind a desk to get me on the Italian NHS, and to change the children's doctor to one closer by.
"Next time, you can come by yourself!" Jason reassured me.
Yes, except I have no situational context for what was discussed, except that we got me an assigned doctor on our block. How civil!
The ASL visit was done in an hour, half of which was talking, and another 15 minutes was finding parking and walking to and from the car in the Oltrarno neighborhood.
Nest steps: Carta d'identità. Italian driver's license as a long-term goal … Residenza, I think? Making certain progress.
I really love being more legit, if incrementally more so.
Side note. I avoided the Friday news about the inauguration. I read my Facebook newsfeed, and stuck to the Guardian mobile app for summaries. I'm so grateful for the millions of people who marched in the 600+ cities yesterday, including, as I saw, a ton of friends and family members. My favorite sign, which I would have been glad to carry, is "Super callow, fragile ego, Trump you are atrocious." I hope we unleash and harness a global movement. There was a wan turnout in Firenze,in Piazza della Repubblica, but a robust one in Rome.
 Today I sang my heart out from the St. James choir stall – a little Purcell, a little Mozart – and availed myself of the garden beauty in the rectory beforehand. I am deriving so much joy from this foray…
Belleza.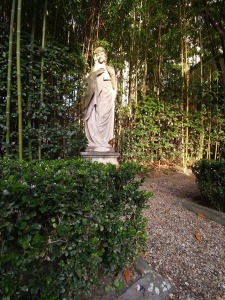 Madonna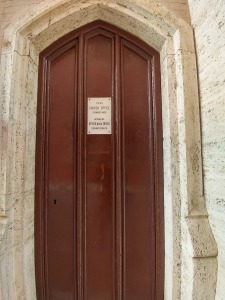 Porta della chiesa
Art and lit will save us.
Seriously people – come visit. Door wide open for friends.