"Lasciate ogni speranza, voi ch'entrate!"

Almost. But not quite.Yesterday was the day we had been anticipating since at least last May: the day that the kids and I were invited to present ourselves to Italian officials to regularize our immigration status. Up to this point, our presence has been tenuous at best: tourist visa overstays trying to not break any laws. The immigration specialist in me has been beyond mortified. I am far too trained and practiced in the principles of U.S. immigration law to be able to easily understand its Italian corollaries.
For my U.S.-immigration-savvy friends in the house, I'll just encapsulate:

We all waived in to Italy in June from the U.S. and spent 3 weeks here
We returned to the Schengen Zone in September within 6 months after our departure.
We came on tourist waivers, the kids and I, while Jason came on the equivalent of an Italian individual L-1A (the U.S. would never permit this intrafamilial conflict in immigrant intent)
We've just been here since then.
Except for my weekend jaunt to the UK, which is a stressful immigration anecdote unto itself.
The kids and I have apparently changed our status from tourist to "family reunification" within Italy and without a valid immigration status from which to do it. The impulse is grateful, but the mind boggles. I've been annoying Jason since last May to help me understand it, but his understanding is also at a loss.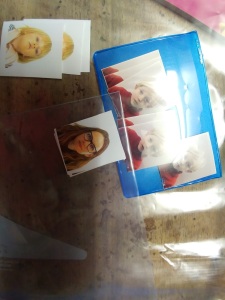 Dependent family kit
Our local attorney, Rossano, met Jason and me at the questura at 9:30. He'd gotten there far earlier to take a number and get in line. He was initially told that insufficient officials were available on that day to accept and review the types of documents in support of the particular process that we were completing, but he persuaded them to permit us to wait. 23B. Remember that.
The questura in Firenze is a huge hall that was, in earlier and literal "horsey" times, the stables for the Fortezza dei Medici just across the viale. It is a beautiful building, bricked but barely heated. Dim lights from high ceilings cast a faint glow to the waiting groups below. Chinese, southeast asians, a latino or two – definitely a Peruvian couple – and more than a smattering of young single sub-saharan men, as well as a couple of tight clusters from the Maghreb. Instructions for the acculturation process were posted in hard copy in 14 languages, many of them amusingly edited by hand by bored petitioners. 
Many small children were present. Although it was not clear at first if we should bring our pair to join the party or not, Rossano the attorney eventually agreed that it would be better to be safe than sorry. Jason and I caught the #17 back to Scolopi to get the kids and take them back with us in a taxi – door to door service is worth any price with Lady E in tow these days.
There were easily 300 applicants on the grounds. The numbers changed with no great speed on the lit signs over the sportelli, or windows. We waited. 
We left to get second breakfast at a local bar. Victor enjoyed a cornetto filled, on the spot, with fresh sweet ricotta. We mowed through their pastry case and then V&E started on the gelato case. I acquiesced to their tasting of kiwi and fondente. This was at about 10:30. We used the bagno and went back.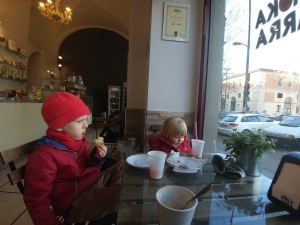 First of four trips.
The B series had inched forward. We waited around a bit more. Victor announced an urgent need to poo (groan), so we headed back to the bar to use the acceptable
bagno.
The employee was very courteous. I cleaned it up in there as best I could, and Vic got down to business. 
Seconds later, we heard Eleanor beating at the door with her tiny fists, laughing. When we opened the door, she announced, "I have poo too!" We did not believe her, assuming instead that she rather wished to smear her mitts all over the ceramic commode.
We quickstepped back out of the Sicilian bar, thanking Benedetta profusely, and a minute later confirmed that Eleanor had indeed in solidarity dropped an impressive load.
We hadn't planned for this as we'd originally thought we were not going to be waiting with the kids, so we didn't have a diaper bag, or what I like to call my "emergency diaper change kit": diaper, scant wipes, in a plastic grocery sack, for when a poo is possible afield but you don't want to schlep out the whole diaper bag in its padded and overanticipating glory. Jason and I scanned the perimeter for a pharmacy or a grocery express. Nothing in the wasteland around the questura and the guardia di finanza. "There's one down there!" Jason shouted over the wind. I spied the bright green plus. 
"We can't all go!" he yelled. 
"I'll take Victor!" I shouted back. Taking Victor firmly by the hand, we made haste down to the nearest pharmacy to purchase the entire set of supplies (diapers, wipes, 'tizer) and met Jason back at the garage where our car was parked. We changed Eleanor in the back seat and headed back into Purgatory.
The kids played hide and seek. Eleanor made sure to touch every grimy surface. The place looked like it had not seen a custodian in months. Vic spilled some juice on the floor, and I promptly cleaned it up with a wipe, since we now had about 150 on hand. It came up immediately black.
Please, let us stay. 
Babies cried. Young single adults looked bored or demoralized. Other parents closed their eyes against the scene. 
We agreed to go out again and wound up in an OVS, perusing the Star Wars knitwear in Victor's size. He picked up some jammies and a long-sleeve t. I got a pair of Royal Stewart plaid fleece slippers. Eleanor got a stuffed cat and a blanket. She was looking tired. Everyone was hungry. It was now 12:30.
We found a strange and unkempt bar staffed by a Chinese mother and daughter. We ordered panini while V&E played with the inactive video slots. The panini tasted like playdough. Rossano was still on scene for us with an eye on the glacial movement of our number series.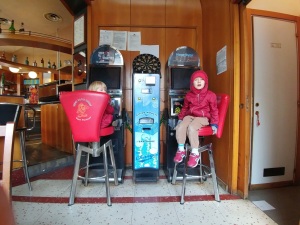 Slots at lunch.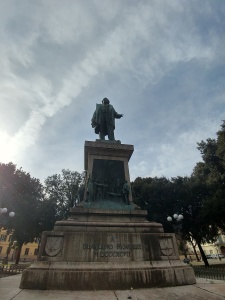 Might as well learn some history while we wait.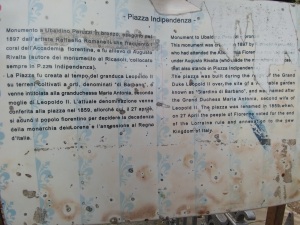 We walked back across Indipendenza for the eighth time and went back to the
questura.
Rossano's patience had not flagged. He held our enormous dossier under his arm and continued to look calmly determined. V&E approached her naptime and a mutual meltdown. Eleanor dragged her new blanket all over the
questura
floor. She tried to wipe down a rail with a kleenex. These things bother her.
Finally, at 2pm, 23B! Yayyyy it felt like the lottery!
We approached the sportello. The official was a competent middle-aged woman with impressive occhiali. Rossano and Jason flooded her with competence and Italian fluency. She sent the dossier back to the back office for the document review. We showed her the children through the plexiglass. She was confused about the many stamps in my passport and my Italian visa history, which was related to her verbally.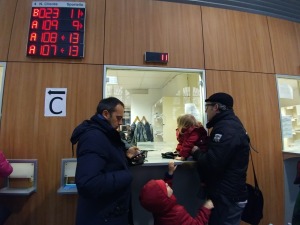 Rossano, Victor, Eleanor, Jason, plus Donna Administrativa
Twenty minutes later, done. We took the kids back to the car and to home, where we begged our babysitter to meet us early at 2:30.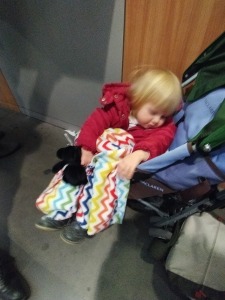 How much longer, mamma?
At this point it was clear that my workday was shot, so I emailed my manager to let him know I was out of pocket, and firmly in the pocket of Italian bureaucracy, for the rest of the day, because, i
ncredibly, I had to return at 3 to wait some more: fingerprints and biometrics. Kids under 6 do not get printed, so they were off the hook. Jason and I returned to Purgatory on our bikes.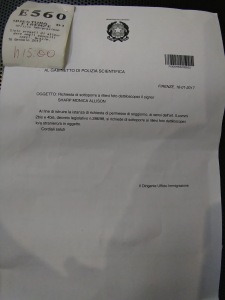 Another fun step. What is this, 1950? So much paper.
Come at 3, but we'll call you at 4. I know this drill. Jason waited with me. The police were taking people back in groups of 10. When it was clear that I was not getting in the first group, we went back to the Sicilian bar for fresh
canoli
and more coffee. We talked to Benedetta some more. She was very sympathetic, and exclaimed that she comes to work at 8, and sees everyone waiting, even in the cold, huddled around the front entrance to get their number.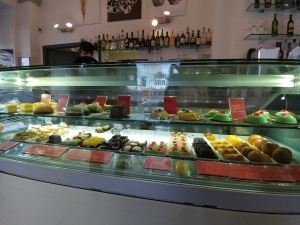 This will help dull the pain.
I was called at four, and Jason exited. Three Chinese people, a young man of indeterminate citizenship but perfect Italian, and a large young woman from Houston all came back with the officer. A Chinese interpreter had wanted to come back with them, but he quickly snapped at her,
"No! Io parlerò cinese!"
I was dubious but he did, in fact, break out some impressive and decently-accented Mandarin as he expertly shifted people toward the biometrics office.
As we entered the office I was the last one in. 
"Chiudo? Chiudo?!" the mezzo-cinese mocked me. "Lady, where are you from? America?" I confirmed. He guffawed to his colleague, did you hear what she said? Chiudo! chiudo! in an exaggerated Alicia Silverstone impression. I am sure I colored. He continued to snicker. 
He and his colleague were both compact and thickly bearded. And bored. And profane. And funny. Every other word out of their mouths was palle, rompe palle, stronzo, etc. They were very professional aside from that, and got the job done efficiently. I gathered the one who did not speak Mandarin was named Tito, like our Vic's nickname. 
When he checked my passport, the Barbados questions and comments came up, as they always do. He continued his patter while he printed me, asking me if I was a student – until he saw my birthdate – and then, after offering his sincere compliments, demanded an explanation of my doings in Firenze. I said I worked full-time remotely in software and that my husband worked for Gonzaga. That got a response. "They send a ton of people here," he said. I agreed. I noted to him that his colleague was neater and more efficient that he, which sparked an amusing exchange. It was true though. My police officer talked a lot, but his stack of completed documents was not neatly arrayed. His friend, on the other hand, at the adjacent desk, had a perfect stack. 
They were both from the south, one from Naples, one from Matera. 
"Where do you think that is!" they asked me. 
Mmmm Puglia? Campagna?  I wondered. I'd heard of it. 
"Nooooo signora, BASILICATA!" 
I felt like I was in a Hemingway short about the Italian front circa 1916.
By 4:30 I was the last one done. The bearded cops shooed me out the door into the cold, where it was now snowing. Seven hours later, I had completed the opaque process (many thanks, Rossano), and headed home on my bike, scarf wrapped around my head like a Slavic milkmaid. My prize? A slip of paper which, in my passport, will serve as proof of my application for a permesso di soggiorno until the actual card arrives, sometime in an unforeseeable month. They'd better accept this as proof in Amsterdam.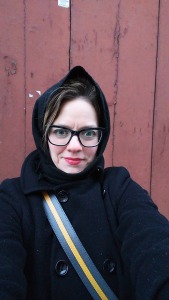 I'm taking a nap.