Thanks to everyone who responded and commented with your suggestions about how I might best address my Italian language issues.
Realizing that I rent office space from a private language school in Firenze, yesterday when I arrived I asked their front desk how I might become a student. Iris and Lara were at the front. I have to say that, at this point, I know all the staff at the Sprachcaffè fairly well, and have puzzled out their names, relative job descriptions, and minor personal histories. They are all always very cordial with me.
A placement exam and rate sheet were whipped out from underneath the counter before I could even finish saying "diventare studentessa." The placement exam was an old-school paper exam of 80 multiple choice questions. I took it back to my desk and completed it. At the top, a single line was reserved for "languages studied." I faithfully listed English, Spanish, French, Latin … Di più…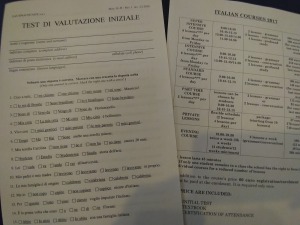 I brought the exam back. The front staff found this turn in events, I think, somewhat interesting. I have been a bit of an anomaly now for four months and more in their salotto. Lara said my exam would be marked, and then Lorenzo, their senior faculty, would meet with me.
The Sprachcaffè is a for-profit school and are clearly accustomed to walk-ins who wish to take placement exams and who must then be quickly placed. Minutes later, Lorenzo materialized and said he would be with me shortly.
"So, here's your exam," he said. I had scored a 40 out of 80, which is about what I feel like most days in Italian. "Have you ever taken Italian?"
"No," I said.
"But you speak Spanish and French? How many years did you take?"
I've long since lost count of how many years I spent in Spanish class, off and on, between 1983 and 2008. "Mmmm quindici anni?" I guessed. "And a masters degree."
"Molto bene," Lorenzo noddied, stroking his chin. "E francese?"
"Tre anni," I said, "e un anno …in Strasburgo… en faisant une maîtrise en letters modernes à l'université là." I lapsed into French.
He looked at me closely. "And never any Italian?"
"Mai," I said.
"This is very interesting. I do not know if we have a class for you."
Oh please have a class for me, I whined internally.
"Because your errors are very random. Some very easy questions you missed, and some very difficult questions you got right."
"My errors all come from Spanish and French," I admitted.
"No, no," Lorenzo exclaimed, "Spanish and French are also your friends in this. Especially French, which is not simply a friend, but a cousin! a brother! twins!"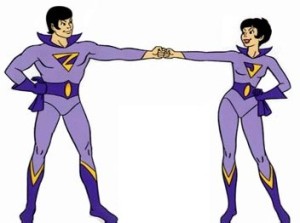 As we continued to talk, he gently pointed out the things that I said in Italian that were borrowed too earnestly from Spanish or French. Loans I did not even realize, because I am usually thinking two steps ahead and grabbing whatever is on the shelves as I barrel down the aisles in Italian. 
It's like I have a jigsaw puzzle in a box, and some random pieces are missing – quite a few, really – and I don't know which ones they are until I build the puzzle. Is it a border piece? A corner piece? Some huge chunk of sky? Who knows. Maybe, as has happened before with us, I have a thrift store puzzle with a picture of a lighthouse on it but it's really a puzzle featuring a horse paddock. That can't be right though. If that were the case, my stealth language would be Mandarin, which is most definitely not the case.
"For example," Lorenzo said, "You say 'dico' a lot, which I know you are taking from the Spanish, 'digo.' But we don't use it like that in Italian?"
"Why not?!" I replied. "It's a great use of dire."
He laughed. "I don't know what an Italian says. We say nothing. We do not feel the need to re-explain ourselves in such a way as the Spanish might."
He looked at me again. "Also, I heard the way you said 'speso.' Your accent is Neapolitan. No one else but Naples says it like this, 'shpeso.'"
"I think it is from German," I replied, coloring.
"No, not German." Lorenzo laughed. "Neapolitan for sure."
Why should I color? I didn't even know what that shpeso sounds like to a native speaker. I am not trying to signal anything by sounding stealth Neapolitan to a Tuscan, although it would explain a bit my Ferrante obsession. Just wait til he hears me say "goodbye," which still comes out of my mouth like a lazy Catanian, "arriverdeeerrrrrrsh…" With a shrug.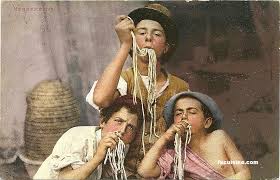 Napolitani, "Mangiamaccheroni"
I am being diagnosed with linguistic tics and regional borrowings I did not even know I had. What else lurks in the Broca's area of my left frontal lobe?
I have no idea why I pronounce "often" that way in Italian. I am an accent and language sponge. It is like the creative spirit versus the internal editor. I just sponge, sponge, sponge, and sort it out later. Or dream about it. Or get frustrated and have bizarre high-level linguistic hearings with my patient husband.
He tapped the table with his pen. "Look," he said. "I recommend a mix of a class setting and an individual lesson. The class will help you see how you are progressing, and the individual lesson will address your, ah, specific needs."
I'll try a class on Thursday around lunch, and schedule a private lesson with Lorenzo for next week, around the same time.
I checked in with Jason about the Neapolitan accent comment. "Sounds about right," he said. "French + Spanish in Italy = Naples."
I am looking forward to getting some of this sorted out. I know it's in there, much of it. But I want to add what is missing, and identify what is useful. I feel like I am conning the Italian people – at moments I know I can be understood, but I cannot stand it when their normally patient brows furrow as I stammer on and continue filling my cart with the linguistic equivalent of Spanish ramen and cheap French crisps. And the occasional paquete de jamón ibérico and foie gras.
I'd like to make peace with the role of Spanish and French in this pageant, and recognize them for when they lead me down a helpful path, and not just when they throw me in a ditch. Today, and mark me, my Italian is like an episode of "American Pickers," those two guys cruising around rural America offering $14 for a metal Coca-Cola sign. It's not like I want to win the Strega prize, or run for public office in Italy. I'd just like to get fingerprinted in Firenze without snark
y Neapolitan police officers making fun of my Italian accent.
I should have referred them to Lorenzo …