Almost six months to the day that we arrived, and nine since we departed Oklahoma, our days and evenings and weekends are approaching something like routine.
Kids are learning in school. Workaday responsibilities are being responsibly acquitted. We're each making new friends in different circles, developing espresso and pranzo and merenda circuits, as Florence slowly begins to give up the edges of her grim (dark, wet) late fall and winter for an increasing amount of sunlight and blue sky.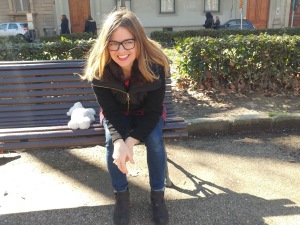 Victor behind the lens at our park.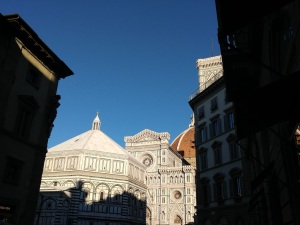 Saturday sunshine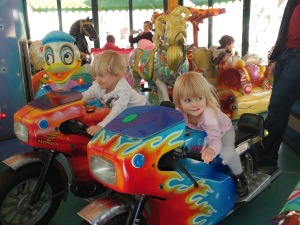 V&E owning the matching choppers on the giostra
The daffodils are in bud.
Lemon trees remain protectively blanketed.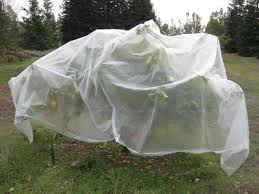 Language class is paying dividends for me, having completed my first month under the tutelage of the well-cultured and determined Franco, whose accent and intonation makes all Italian at least 95% comprehensible to me. This makes me think that the Florentine accent I hear in centro must be something similar to chilango Spanish in the D.F., when I would think, I thought I spoke Spanish – what are they speaking here? I thrive on Franco's immediate and kind corrections, as well as his good-natured patter about etymologies, the nature of organized crime, Italian pension schemes, how to roast a pigeon, and what books any tourist or expat should purchase in Firenze (Pinnocchio, and Pellegrino Altusi's Cucina Toscana.) My salutations have graduated from tesoro to tesorino with the staff at the school, and from signora to cara at Caffe Paszkowski.
I'm learning better routes on my bike (namely, flowing in the correct direction with dense and haphazard, tax-heavy traffic on cobbles and pavers), and have a better feel for how long it takes me to leg it somewhere if I want the exercise (far shorter distances than I might have estimated last summer.)
Jason bought a sleek bike that he's been able to take out for spins on the weekend.
Choir continues to increase my joy in measures greater than I could have anticipated. The crowd at St. James is professional, gifted, and fluid – I just hope they do not kick me out or ask me for my robe back. I got nothin' on these Italian and American and Japanese opera people. It's a privilege to sing next to them. This morning I was in the choirstall to the left of Paolo, Italian husband of Liz the choirmistress, whose warm baritone never misses a note and whose tone give me goosebumps – and whose occasional muttering of "in somma" periodically during the homily had me in quiet stitches.
Our childcare situation is approaching optimal. Chanusha is competent and calm, and we'll be keeping her more or less permanently; we've got a few cheery younger backups for weekends, and Flavia ("Fla fla") is coming with us to Washington this summer. Honestly, I am not even homesick. Seattle is a welcome stop for friends/food/culture, but if it were anywhere else, I'd be begging to stay here instead through the summer months.
We're planning an Easter trip in country to see our friends Manola and Juri, after Jason connected with them outside of Verona on Friday. Hopefully a couple of Dolomites and some fresh air are involved. Family trip to Ireland placed on hold due to scheduling conflicts, but we'll make it to Galway soon enough.
Italy is seeping in to me, in all the best ways.