Reader, step with me back in time 21 years, to this week in Firenze, 1996.
Wait. Let us first visit Venice.
I'd just come off a weekend in Venezia for Carnevale, with friends I'd made in the preceding months in Strasbourg.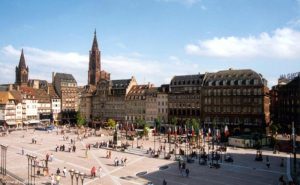 Strasbourg
I do not recall if I had made plans to actually take the train there with the students of Holy Cross, or if I had bumped into them on said train. I am inclined to think the latter because that is how my life tends to work.
We spent two days and one very white night in Venice with a throng of Carnevale-mad tourists, and many fairly drunk American students. My cohort was virtuous, and give also the fact that we'd failed to reserve, or afford, a hotel on the Saturday night before Carnevale, had abstemiously approached our evening plans.
I gaped at the professionally costumed actors, silently bowing and posing for pictures, gliding through the puddles of the piazza like Renaissance phantoms.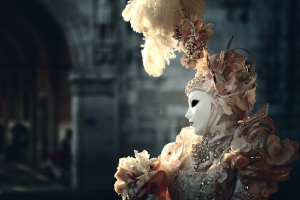 We had slogged across Piazza San Marco many times, through puddles and over boardwalks, craning our necks to hear what we could of a Peter Gabriel concert. We got to know many small campi and their benches.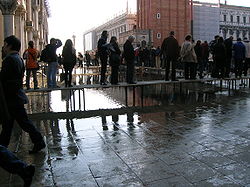 We headed back to Venezia Santa Lucia around dawn, where I famously almost got in a cat fight with a well-soaked American woman about my age, still well in her cups, wearing a wet summer dress, and, incredibly, sandals, and, even more incredibly, holding a half-empty bottle of what must have been Jack. I've never had a perfect public filter (always working on my Bulgarian meeting face), but at that moment the thought that I believed to have whispered to myself had evidently echoed across the wet marble floors of the station.
"Drink much," I said.
She wheeled and looked at me, snapping "What? what did you say? say it again!" I did not. I think my group ushered me elsewhere.
It must have been les vancances d'hiver in France. I seemed to have had between a week and two off school.
From Venice, I went to Bologna to see assorted other friends, all studying there, some new, some old. In Bologna I delighted in the menu and affordable fare, tucking into fresh pizza and developing a taste for olio al peperoncino, which I have to say I do not often see elsewhere in Italy. I spent some time in The Body Shop (oh, the nineties), testing every product. I went to a bookstore an felt very worldly indeed to be purchasing current Spanish language literature in Italy (Isabel Allende). I got some phenomenal writing done that week in Bologna. All creative pistons were firing.
I felt like the city had somehow sprung to life just for me, intersecting with my recently completed degree in Letters and Spanish, Carlos V's crowning as Holy Roman Emperor marked on the floor of the Basilica San Petronio with a marble slab, a perfect anniversary for the contemporary date: February 24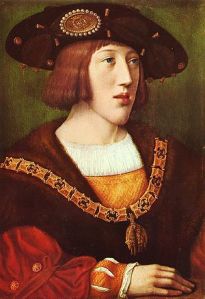 Young Carlos V.
"Dopo aver ricevuto la corona ferrea , il 22 febbraio, nella cappella del Palazzo Pubblico, due giorni dopo, in occasione del suo compleanno, fu incoronato Imperatore da Papa Clemente VII in San Petronio."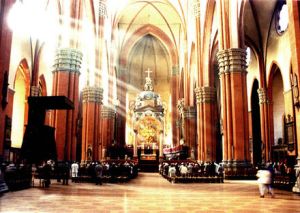 Basilica San Petronio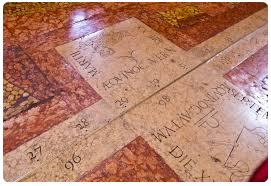 Cassini's Meridian – look it up
Unfortunately, my heels were cooled in Bologna longer than I'd planned, but my ten days in the city of brick and stone and endless arcades endeared me so to it, that to this day I harbor an abiding affection for it.
From Bologna I continued to Firenze. This was to be my first real stay in the city, as I had seen it first at the end of September in 1995 for a few moments on the platform. It was hot. Bodies were packed. The long dowels of tour guides festooned with ribbons poked the air above. So appalled was I by the madding crowd in Santa Maria Novella that my companion Jessica and I promptly agreed, steps from the carriage, to turn around and reboard for Padova.
And so it was five months later that I pulled into Firenze again, this time after a short train ride from Bologna, and some memorable people watching that I still recall.
This time, it was low season. The sky was blue, the air crisp. I was able to traverse the binario without difficulty. I walked to the Oltrarno and checked into the Istituto Gould on Via Maggi, which lived up to all its recommendations: welcoming, clean, safe, affordable.
The following five days were mine, all mine, on my own in Firenze. I got to know the city on her own terms then. After barely tolerating months of Alsatian reserve in Strasbourg, the sunny charm of Italy was a positive relief. I walked around on crisp mornings, finding cafes and gelato. I tarried a day in the Uffizi. I don't really remember much else specific, except crossing the bridge again and again. And the sun. And the nice people.
It's amazing to think that that was all a lifetime ago. I'm thankful for the persistently glowing first impression of Firenze, and even more grateful that even then I had the presence of mind to choose its timing.
*Grammar in title edited following anniversary conversation: "Is Florence the proper noun feminine in gender?" Answer: Probably. "So then the past participle needs to reflect the feminine – even though the direct object pronoun 'ti' carries no marker on gender." Answer: Correct. "I will fix this now."