On Thursday, Jason and I went to favorite hideaway on via dei Benci, Kome, for our customary Japanese lunch: nastro (sushi conveyor) and ramen sets. It was such a perfect day that we pedaled home, I on the back of his bike to pick up mine where it was chained to a rail next to our building on Piazza d'Azeglio.
Let's go get a coffee, he said.
I've been jonesin to try the cafe at the Ospedale degli Innocenti, I replied.
The museum recently reopened after a comprehensive renovation, and the cafe is something that is mentioned as A Thing.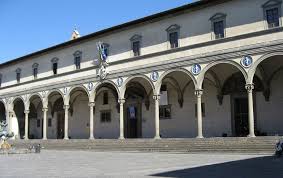 Ospedale degli Innocenti
So we got on our bikes again and rode to Piazza Santissima Annunziata, where the puddles shine after rain in the flagstones like so many scraps of silver. But today was sun, sun, sun.
Annunziata is the next major Piazza over to the west from Azeglio. We know it well. The busses that we take to the childen's school rattle through on a very regular basis in front of the Basilica Santissima Annunziata. The piazza hosts many festivals and markets, although buyer beware of the products being hawked are "prodotti tipici locali" or some such – you'd be better off going to the mercato di Sant'Ambrogio and just buying normal fresh food, minus the twine bow.
We chained our bikes on the piazza and headed up the elevator to the fifth-floor (sixth floor US) cafe. We stepped out into the open loggia from the elevator and beheld a birds-eye view of Firenze that neither of us had ever seen before.
Suddenly it was a sea of terra cotta, of vertiginous towers and steeples that we could not identify. The floating green dome of the Great Synagogue (monikered by Victor as "our Jewish church") waved from the edge of the city, and we were oriented.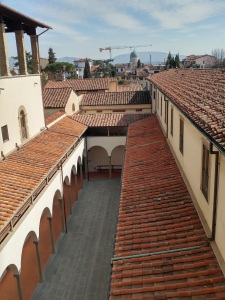 View into the courtyard, Great Synagogue in background
 I paused in front of some lovely archival images of the Ospedale in its working years, Now home to the UNICEF offices, it is children's museum of medieval times from a child's perspective. We have not yet visited the museum, but will do soon.
I paused to reflect on a community that has been looking after its poor and its children since the 15th century, in this very spot. What a history of social responsibility. The rota della fortuna where babies were left is no longer there, but the niche where its wheel turned is marked by a plaque.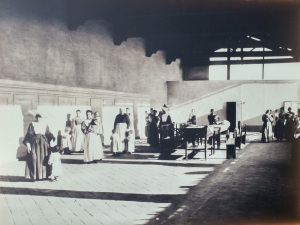 Orphans and nuns.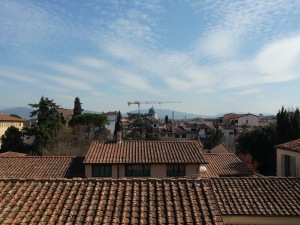 More terra cotta, more Great Synagogue.
We swigged our coffee as people at tables calmly ate lunch atop the terra cotta tiles and agreed it was a locale well worth the effort – and so close to us, positioned as it is on the midpoint between almost all of our points A and B.
The sky that day just wouldn't quit. A high mackerel sky, glowing blue. You can easily see whence the artistic inspiration.
I now have a fairly regular office, the Aula Gialla of the Sprachcaffe. It features a door that closes, two outlets, two desks, and a set of French doors that opens onto the balcony that overlooks Piazza della Repubblica. The situation is fortunate when Opera Karaoke lady or Classical Guitar man is out, less so when Trashcan Percussion goes on and on and on. I am not sure if I should be out there, but Iris is often out there sneaking a smoke.
On that day, I took some pictures of the sky, from my balcony to the right of the Repubblica arch.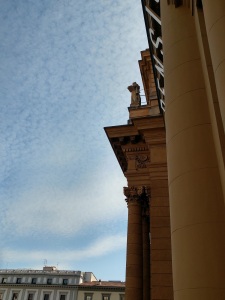 Repubblica arch and statuary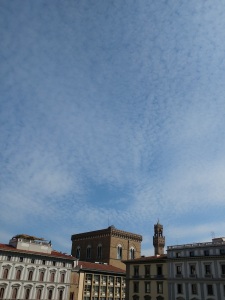 Late winter sky, Orsanmichele, Signoria, looking across Piazza della Repubblica.
Topics next up: Corso d'italiano (a continuazione), Panzano in Chianti.