Firenze in primavera really makes you understand where Botticelli got his inspiration.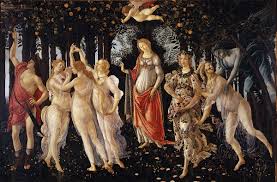 The days turn sunny, the evenings mild. Two weeks ago I watched the leaves come out on the trees bordering Piazza d'Azeglio. One Sunday morning there were just the tiniest of tight light greenish brown buds that you had to squint to see, and by lunchtime, their leafy textiles had rolled out like so many small bolts freshly dyed.
Plus: Eleanor's pronunciation, "primavela." which poetically might translate to "first sail," which I like even more than "first green." We're setting sail for summer.
Piumini have been hung on hangers in the wardrobes of our apartment, waiting for next year, even though many Italians still have not given theirs up. One armadio is so big and old it looks like the gateway to Narnia, but the kids are too small to know about that yet. The thickest scarves and hats and gloves are put away. I'm going to slip the sweaters into some creaky drawers this weekend.
The Mercato Sant'Ambrogio is taking on new energy as the verdura looks happier and happier, and every ortolano on side streets has pushed their plastic crates of produce a few few out onto the flagstones.
I've got a new regular caffe. Far from undiscovered, it is the caffe on the other side of the Roberto Cavalli shop on one of the fancy streets. It's called Giacosa, which translates into "already something," perhaps hinting at their brand optimism before they opened. I was referred to it by our friend Ellen, and the place is always elbow to elbow. I randomly flipped into a guidebook recently and saw it was listed for tourists as the #1 caffe in Firenze. But I suspect the average tourist pokes his head in, and unless made of stern stubborn stuff, is immediately put off by the press of people, the noise, the chaos, the cassa hidden behind the rows of bodies, the Italian requirement to munirsi con il scontrino (get your receipt – gotta prepay) before you ask for anything in that scrum.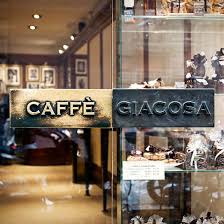 It is not large, and the ceilings are not high, but they have some seating indoors and out that they don't charge extra for. I do not know where they procure their pastry case – I seriously doubt they are baking – but their cornetto integrale alla frutta di bosco is something I think about when I am far away from pastry hour. It doesn't approach the Platonic form of the pastry that I somehow managed to eat at 6 am in the train station in Venice almost exactly four years ago, outbound for Trieste, but it was close.
One of the best things about Giacosa is the people watching is superb. Not many tourists frequent it, and it is full of Italians, nay well-heeled Florentines, who amiably monopolize the leather benches and bistro tables. Impeccably groomed men in blue suits and expensive glasses listening to morose companions and saying repeatedly, "Ma mi dispiace. Non e facile. Che brutto. Mi dispiace." Or an elderly quartet I snooped on last week, sitting in a row and looking around appreciatively (average age: 80) as they enjoyed their morning coffee and cornetti together. Or the grandmother in a huge fur coat, a glittering diamond brooch fastened askance atop her head. I suspect there are quite a few stealth nobility in Firenze, all about 80 now, who recall a Very Different Time.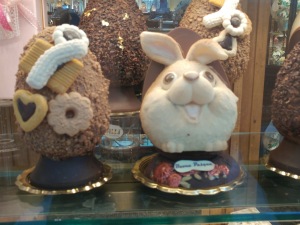 Palm Sunday is this week, and for a while already the fancier caffes and pasticcerie in town have been putting out their fancy eggs. It seems the egg hunt, that most Saxon of pagan rituals, has not spread across Italy. Instead, Italians prefer a huge chocolate egg. Who tortures people by hiding the chocolate and then watching them look for it? Barbarians. Just give me a gigantic gorgeous egg please. Solid chocolate is preferable, artful bunny face ideal. These, from the case in Gilli, the sister bar caffe of my other haunt, the always welcoming Paszkowski.
Jason's program, Gonzaga in Florence, did host a group of children from Victor's school yesterday for Easter activities. It's a fairly international crowd of multilingual, savvy kids, so they were into the Easter card making, and the face painting (I finished a few Princess Jasmines, to great delight), but they were into the egg hunt. Caccia uova! The eggs were hidden in various nooks and crannies of the library, and the children hunted for them in three heats. There was a strict egg audit on: two plastic, one decorative. Some of the eggs were crayons shaped like eggs, which was VERY confusing to little hands. The event was a success – next year they might do it across the street, in the Orto Botanico, which is as I write bursting with effusive color.