Pedaling into centro late this afternoon on my way to sing at St. James for a requiem eucharist. Piazza del duomo is packed. Sun's out today finally – it's been overcast all day – and the tourists are rejoicing with selfie sticks and gelato cones.
I hop off my bike and begin to walk it around behind the apse (still unsuccessfully looking for the marble plaque where the golden ball struck when it was knocked off the dome by a bolt of lightning in 1600), weaving between hastily arranged art knockoffs for sale on the pavers by nervous maghrebs. I heard some live music floating over the crowd, and as I had a spare fifteen minutes to myself before I was due to be at church, I moved toward it.
At Via dei Martelli an older busker was plying his trade, with guitar, amp, and open suitcase for toursts to flip euro coins into. Also, CDs for sale.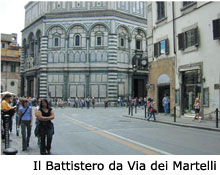 This corner.
He looked a bit like Johnny Depp if Johnny Depp had slept rough for decades as an Italian street musician. But he sounded super. I mean, just superb. So I stood holding my bike and watched him for a bit. Who was this stealth Zucchero? who knew? No one else was really stopping to watch him besides me.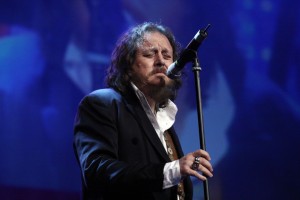 Il Zucchero Vero
A young couple stopped to listen – mid twenties, maybe. The girl was slim with long dark hair; her boyfriend, fashionably coiffed a la 80s with a shave up the back and a mole on his cheek. They both wore white t-shirts. She started filming Zucchero Falso with her phone. I was astonished. The nerve! buy a CD people!
After Zucchero Falso finished his set, the couple approached him. A short conversation took place, and soon the young man was taking the guitar from Zucchero Due and slinging it over his shoulder. Young Zucchero clearly knew what he was doing. He suddenly started owning that mike and the guitar.
But what language was he singing in? Romanian, as best as I could tell. His delighted girlfriend was now filming him. A crowd started to gather. I felt kind of sorry for Zucchero Due. He was a better music man – Romanian Zucchero wasn't bad, but he was not at the level of Zuccero Due – but here was proof, like we needed any, that a handsome young man with mediocre talent will quickly draw a larger crowd than an older master who might could do with a shower and some laundry but who could carry a tune perfectly withut even trying.
By the time Romanian Zucchero finished, about 50 people were standing around to watch him. As he let his last chord finish I let out a little yell for him, startling the Germans to my right on the street.