We've been on such a sagra roll, to everyone's pleasure, that we began late last week to sort out the sagra excursion for Mother's Day. There were a few to choose from, all short drives, and featuring, to briefly review, strawberries, woodland pests, wild bear, and mushrooms. And more fried dough balls.
We took a pass on the fried dough balls – no sense in unnecessary repetition. The strawberry sagra appealed, but was a bit of a drive toward Pisa.
We saw that the woodland pest sagra (la sagra del cacciatore – of the hunter) was being held on its final day in Certaldo, a moderate and scenic drive from Firenze.  Also, Bocaccio's hometown. The die was cast. (For those unfamiliar with Jason's professional specializations, when he is not talking about Dante, he is taking about Boccaccio, Dante's contemporary). I invited our friend and Jason's colleague Aileen, who also maintains a strong professional interest in Boccaccio, and we all agreed to pile into our used station wagon with Victor and Eleanor on Sunday morning at 11 am.
Featured woodland creatures who slip down from the hills and into Italian vegetable gardens often include hare, boar, and deer. This sagra had no deer on the menu, but the other two would be.
We met at 11 am in front of our palazzo. The drive was every bit as fresh and green as anticipated.
Victor lobbed questions from the backseat toward our panel of experts:
Who is in Boccaccio's house now? (A: Petrarch's cat.)
Does the ATAF 1B Boccaccio go all the way to Bocaccio's house? (A: No.)
Where is Boccaccio now? (A: In a marble box in a church we are going to see – what's left of him.)
Eleanor: Panel, panel!
We arrived in Certaldo approximately 15 seconds after Eleanor fell asleep in her carseat, parking in front of a warbling carousel which Victor of course immediately wanted to ride. Rousing Eleanor from her reverie, we made our way to the funicular station to inch up the steep hill to Certaldo's medieval urban hilltop.
The funicular was charming and alarming by turns. Victor liked the automated gates and the ticket turnstile, but everyone was startled by the Blitz-like shrieking alarm, upon liftoff and landing as the car moved up and down, up and down, on its expeditious round trip. It creaked and squeaked and featured a slatted wooden bench along the perimeter of the wall, which reminded me of a Carson McCullers train.
We ground to a creaking stop at the hilltop. The town was of a sort we've often seen in Italy, but which never fails to please – sunny, flagstones underfoot, Roman bricks and romanesque churches; walled up windows evidencing where buildings have been made and remade for centuries.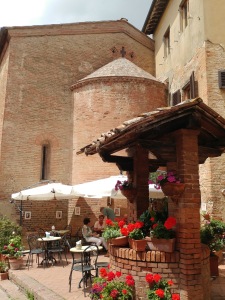 The back of la Chiesa di SS. Jacopo e Filippo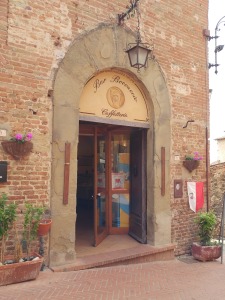 Where Boccaccio swigged his espresso, surely.
We walked up the main street leading to the Palazzo dela Podesta, stickered with ceramic coats of arms, and stopped in at the church of Sts. Jacopo and Filippo, where Boccaccio found his final rest. Victor lit about 5 candles and was careful to not step on the marble slab atop Boccaccio's tomb, but commented on the carved marble pillow under his marble head. Eleanor did tread on the slab a bit, to Victor's hissed horror. Victor begged to light more candles, after he saw that there was a rack of actual candles next to the shine to Beata Giula di Certaldo, but I was out of change. We watched a caretaker dispose of the used tealights and straighten up the iron candle rack, then showed ourselves back out into the mid-spring sun.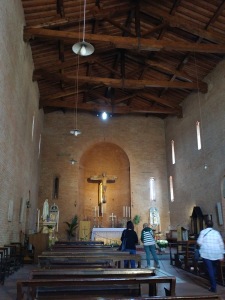 The sanctuary of SS. Jacopo e Filippo
Up at the Palazzo della Podesta we admired a few large paintings of lions which appeared to have been bayoneted (after our year in Arezzo, I am a bt of an expert in enduring wartime damage, but when did these ones happen? Napoleon or Kesselring?), and counted the shields on the outside wall. The medieval prison was not open, to Victor's disappointment, as it was undergoing renovations. Eleanor ran a few cobblestone hills (the same one, numerous times) and we meandered back down the steep street to the funicular station. We saw a portly black and white cat that we claimed was Petrach's, but he quickly disappeared into a shaded alley as we approached.
The line to board the funicular was long, due in part to not one, but two groups of tourists with guides needing to creak their way back down the hillside. I watched the first two trips from the side with the kids. When we got back in to the waiting area, Victor said he hoped that we'd have it to ourselves. Then we saw the Russian bride whom we'd seen up by the palazzo, followed by two photographers. "Oh!" Victor exclaimed. "Pretty people." And she was, a tall, slender redhead with her hair up in a simple cream dress, with a rope of red coral at her neck.
We quickly realized, after a chat with two Italian red Cross nurses who were closing up a booth remaining from a morning festival in the borgo basso (lower town), that we would have to get back in the car to arrive at our sagra.
We pulled into a gravel lot in an industrial area surrounded by fields, and also the site of two large bouncy slides, which the kids immediately wanted to jump on. The people running the sagra were initially perplexed that we had not reserved for Sunday lunch, but it is not the way of Italians to ever refuse food to anyone for any reason if food is at hand. After a short wait we were seated in a hall with about 200 other people. We marked off our choices on a small list that would be familiar to anyone who has ever ordere sushi. And then we waited. And waited.
The wine and bread and water came out.
We waited. The kids were hungry. Eleanor's allergies literally went haywire. Vic disappeared into iPad world.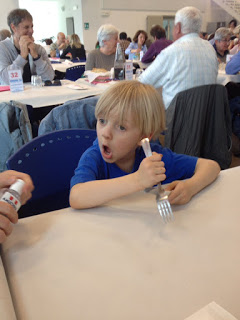 Hungry Victor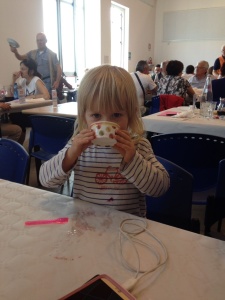 Eleanor successfully moves straight to gelato course.
We waited. And waited.
The nonni must have been tired; the kitchen was swamped.
We waited.
Our pasta finally arrived. It was delicious, but wow. Even by Italian standards it was a long wait, because the nonno apologized and said we'd been too patient.
Jason went to the gelato bar to get the kids their gelato. We were still waiting.
Finally our french fries (standard) and mixed grill (superb) and fried artichokes (ok) came out. We ate them and quickly packed up. Everyone working at the sagra looked exhausted as it was the last Sunday of a three-week fundraiser.
No getting out of town though until the bouncy slides were conquered. Thirty minutes of that, and we were truly on our way home with the two little sweatballs, back to Firenze and the 1B Boccaccio.