Today is May Day, the day of workers and rights. I was working, but took a lunch break with our friend Vicky, late of Washington D.C., now in Firenze since 2015 and here another 2 more. Her daughter is close to Eleanor's age; we've traded birthday parties and tips here and there, and today, a load of books from Celeste's case!
Today we contrived to find ramen, or some form of it, for lunch. But because I was totally off my normal circuit and routine, I was a bit confused. We wound up making a huge circle from our house, to the Duomo, to the Arno, to Santa Croce, and boy, did I get a lot of steps in. I have  an app on my phone – it's not cool, but boy, is it effective. Step step step.
On the early leg of the holiday circuit, we were on Borgo Pinti, passing by
la Chiesa di Santa Maria Maddalena dei Pazzi
. It's not the famous Pazzi chapel of Santa Croce, but it is often enough written up in Hidden Florence or the subject of arty fundraisers or unveilings. I am often speeding past it on my bike of a mid-morning, muttering to myself as I head to Repubblica to take up my rented workspace for the day.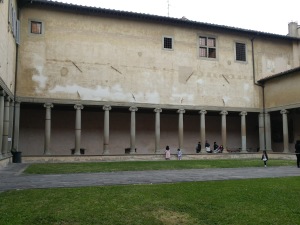 On this cloudy early afternoon, the huge gates were open to reveal an expanse of lawn so green it seemed CGI, with a smattering of lazy tourists seated under the cloister arches, and a group of mostly women all waiving madly puffing censers. 
At first glance we thought it was perhaps an Asian tour group come to use the church for a wedding, but after a few minutes realized that this celebration was wholly indigenous. A priest's voice could be heard droning in the sanctuary behind the open doors. The incense grew ever stronger and thicker in the enclosed courtyard as the women waived their metal censers, quietly joking and laughing.
Finally, a large litter with a statue of the Madonna began to squeeze its way out of the front doors. It was huge, white and gold. We saw it would soon be slowly inching toward the street and so scurried in that direction ourselves. Vicky found a flyer on an old-school bacheca (bulletin board) that indicated this was the Madonna di Giglio. Perhaps a patron image for Firenze?