Florence in spring – a spring that has tended to be wet, and chilly, but bursting forth with cool green spaces. Weeks like this, I feel like I am in plena Galicia, that equally damp northwest corner of Spain which sealed forever my loyalty to the northwest corners of countries (under certain circumstances, northeastern corners also accepted).
I wonder at this subconscious cultural affinity. On the one hand, it definitely puts me at ease and makes me feel more at home and relaxed, which can only be a good thing for an expat. Yet, on the other hand, in a way it also prevents me from fully perceiving my environment as uniquely and particularly Italian. I am sure that 99.99% of people in Firenze today are not walking around saying to themselves, this feels so gallego. Am I perceiving Italy, or simply straining my Italian perceptions through my subjective, autobiographical Spanish filter? There is a depth and poetry to this, and yet I feel like Italy is always a bit at arm's length to me, for this reason – una braccia spagnola.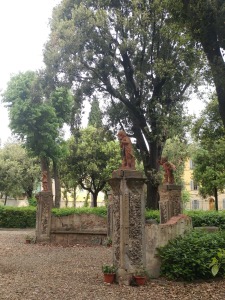 Oh, you know, just our 600 year old garden. A bit neglected, actually.
Gardens are green, gravel damp. Terra cotta statues are brushed darker by the rain. The air is sweet.
Even inside the buildings, like the kids' school, I am whisked back to Spain. The androne (foyer) is dimly lit, and the marble terrazza, though elegant, could use a good scrubbing. Sectional sofas in leather and metal from the 80s are set about in nominally thoughtful ways. The way the front desk person sits there, looking both bored and busy at the same time.
Eleanor and I woke up late and made the mad dash to daycare in less than half an hour, from bouncing out of bed to walking into the classroom. These are the days that I know she is my daughter through and through … quick as a wink that one. (Reminds me of a time that my younger brother Cory told a mutual friend, "Our middle name is fast. I'm Cory Fast Sharp and that's Monica Fast Sharp.")
I stopped in to Caffe Cavour to fortify myself with a macchiatone and a cornetto alla marmellata, then walked home along Via Venezia, which runs along the back of the University of Florence College of Architecture.
I always love their garden, but on this morning, it was especially beautiful, and beckoning.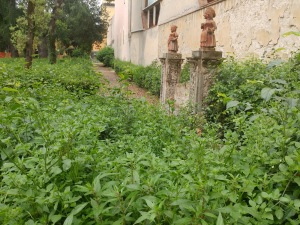 Odd little statues of peasant women.