Some quick updates.
I'm back on Instagram. You can follow me there, if you like, because I take far more pictures than I could ever possibly use in my blog posts, which, due to vagaries of hardware, Google logins, and my daily and weekly routines, prove themselves increasingly difficult to regularly post. Some of my pictures have contextual comments, but most of them speak for themselves, since I am spoiled for beauty in Firenze.
No one's been sick at our house, and I can't remember the last time someone has thrown up on me, which is saying something when you have a two-year-old and a five-year-old traversing the commute between home/preschool/daycare. Caveat: I had a sinus infection two or three weeks ago, which we caught immediately and blasted with steroids and a Z-pack.
We've been in a work-travel lull, which starts again next week as Jason heads to Rome, then Assisi, with the Gonzaga group of summer students. I've taken a page out of Cory and Fran's book (my brother and his wife in SFO) and have been scheduling all manner of birthday parties, open houses, bus rides, and more. Provided, as outlined above, that no one is actively throwing up on me, this will be just fine.
The sagra is on its way tobecoming a standard fixture of our weekends. We'd been to one or two when we lived in Arezzo, four years ago. But now with two kids, they are the sociable family lifesaver. Sagre are a huge thing in Tuscany: part fundraiser, part social event, part excuse to eat a lot, part wondering if those waitstaff aren't maybe breaking some child labor laws, even though they are volunteers?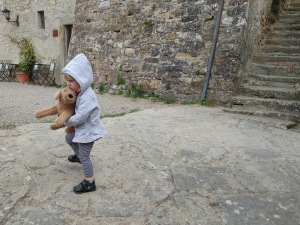 Pre-sagra hunger, before we found Monteloro.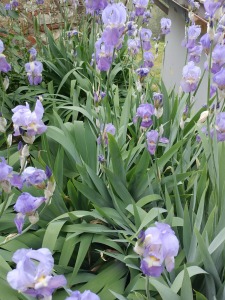 Seasonal irises.
They are often in picturesque locales, and if you're lucky, REALLY picturesque locales that feature an impromptu playground is a fresh-mown pasture, and an outdoor coffee bar, and a mercantino (little market). We have most recently been to the Sagra del Cinghiale (wild boar ragu and stewed meat and whatnot), in Monteloro (insanely perfect, nestled into the hills high above Firenze, and featuring all optimal add-ons).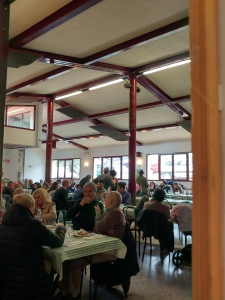 Feasting in Monteloro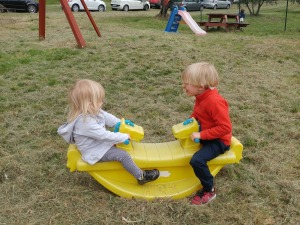 Monteloro playground action.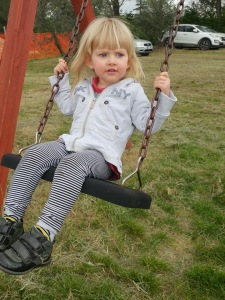 Burning off some more calories after a decadent lunch.
A couple of weeks later, we hit the Sagra della Ficattole (fried dough balls) in Borgo San Lorenzo, which was more rustic but none the less satisfying. We did not understand the menu, and so WAY overordered our fried dough balls. No one so much as said, that is a lot of food for a family your size with kids those ages … is a fifteen-year-old boy joining you soon? But it was all under 40 euros, and who were we to say that their fried dough balls were not super special in some mysterious Italian way?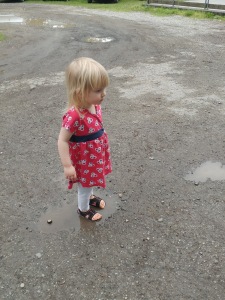 Multiple muddy puddle trips in Borgo San Lorenzo.
After we sat down, they delivered 16 fried dough balls (accompanied by strips of pig larg, ham, and full-fat strachino cheese), and two plates of ravioli, and a plate of grilled ribs and sausage, plus a half-litre of wine…. the waitress did proactively bring us a to-go bag with a knowing smirk.
A grandpa across the aisle at another table watched us closely, then offered us a room at his hotel in Florence. A young couple at our table regarded us sympathetically.
Jason and I took multiple turns running around outside with Eleanor, who found puppy after puppy to coo over. It was a cloudy day and the playground and its surrounding grass was too wet to play in.
Eleanor fell asleep again on the roading winding back down the hills through Vaglia, which Jason knows well from his cycling.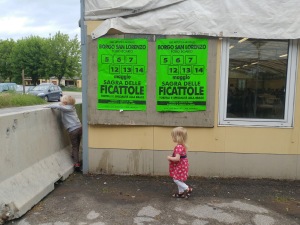 Sagra publicity
Work is going well – I'll be on the ground in Los Angeles in a couple of weeks for work – the NAFSA conference, to be exact, that international education extravaganza.
The Sprachcaffe staff continue to treat me like family. More about that in my next post as I am off the language class hiatus and back in a course again, with a new teacher.