Today I finally got to be the parent to accompany Victor to Mondobimbo, which reasonably sounds like some sort of bordello, but in Italy it is Baby World, which is not at all insulting for boys and girls under the age of ten who want to go to a repurposed-ice-rink-meets-Denver- International-Airport with no air conditioning and lots of stored gardening supplies behind the trampolines, and various other OSHA violations liberally strewn about the place.
It was the birthday of a little girl named Giorgia who is in Victor's class, and a fair number of his classmates showed up to toast her in the ball pit, playing air hockey, and jumping on assorted inflated furnishings.
The Spanish family from his class is leaving Florence early next month for reasons related to Fiorentina's season finish (this is a European football [soccer] thing). The dad, coincidentally also named Victor (I LOVE THIS NAME FOR OUR KID), must now look for coaching work elsewhere as the entire coaching staff has been let go in a fit of fan-fuelled community pique.
The parents are lovely people, outgoing and lively, and I am sad to see them go. But every time I try to talk to them my brain shorts out. It happened again at Mondobimbo with each of the four of them in turn. I think I would like to see a neurologist because there is so much language in my brain at this point that my mind can't keep it straight.
I was explaining to Victor-dad a variety of things about our schedule here, when we moved here, what we think of the school etc., and words were spilling forth from  my mouth, but in alternating sentences between Spanish and Italian, without conscious effort. Like, it is just happening on a software level.
I recognize that Here Is a Spaniard, Engage Spanish, but also the awareness level for You Are In Italy is permanently switched. My brain is not reaching for Spanish in a fumbling way. I know how to explain any of this calmly in either Spanish or Italian: basic conversational discourse.
So I am laying all this out to the catalán football coach, and our conversation is smooth and he is understanding me just fine, until a third message flashes on the marquee of my conscience which says You Idiot What Are You Doing Pick a Lane and Stay In It.
After this linguistic buffet of a conversation that bizarrely also inserted some English here and there, I am running after Victor yelling at him in Mondobimbo in Spanish, ¡Victor! Ya hemos terminado, ¡ven pa'ca porque nos vamos pronto! ¿Me oiste?
The Italian parents are looking at me curiously trying to figure out what just happened, isn't that the American mom, why is she yelling, ¡Victor, mi amor escúchame! like a Spanish lunatic?
The short answer is: I just don't know. I have no idea. I miss my Spanish, receding on the horizon, lost on the Italian sea.
This never happens with French here in Italy. Yet I remember when I was in France as a student in 1995 and 1996, I routinely (and inconveniently) experienced something similar with French and Spanish, happening most often and embarrassingly with prepositions as I subbed out "avec" ("with") for "con" ("with" in Spanish, but "bastard" in French, as in "t'es gros con.") In that year also my Spanish came as quickly in the service of expressing my thoughts, as my native English always does.But alas, Spanish is much more erratically attending me here, when I am able to rouse it from its dreamy lazing and felt impressions tied to gut memories.
My mind has a mind of its own.
In other observations, however, this is great news for my writing. I am 43 and getting real sick of my own thoughts. How wonderful that I can have small chapters where I just can't even control intellectually what goes on upstairs, or in the attic, or the storage unit.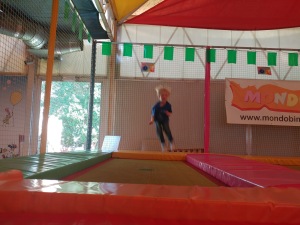 Victor on trampoline, while the part of my brain that controls language is doing something similar.