Midsummer all over Europe retains its pagan flair for fire (bon-, -works) and drink, but in almost every country it was Christianized and renamed St. John's Feast, an homage to our locust-eating, sackcloth-wearing holy hermit.
A quick review of St. John's festivals I know:
In Finland, they'll be wrapping midsummer poles with bright ribbons, matched in the flaxen braids of little girls. Finlandia vodka, and Lapin Kulta.
France – what do they do? They're godless, or maybe I was when I lived there. Ok, quick research shows I was the godless one, and also that it is maybe more of a thing in Paris.
In the UK it is a quarter day. I want to say I have been in the UK for St. Johns, but can't really remember.
In Spain, there will be bonfires on the northern beaches, as nets of pescaditos are brought in to be promptly fritos on huge metal grills and devoured. The wind will blow cold as the night wears on and finally goes truly dark a bit before midnight. Estrella de Galicia and vinho verde.
In Firenze, it is an even bigger celebration, as San Giovanni is their patron saint. Fireworks galore. I fuochi di San Giovanni are set off at 10 pm from Piazzale Michelangelo, and stream over the Arno.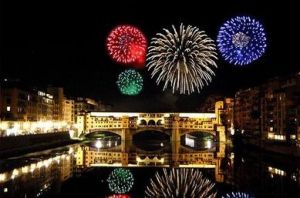 Of course Firenze is languishing in a puddle of humidity and heat under a severe weather advisory, so we have been scrambling to find a place to watch the fireworks from.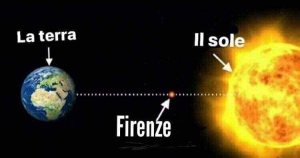 Traffic will be limited, parking impossible, security high. The bridges over the river will all be packed with tourists and locals (and mosquitoes).
It's still going to be hot even at that hour. I know this because our apartment is no longer cooling down after dark. There is no relief from open windows. Only biting bugs borne on stuffy still air.
Enter the Dutch reinforcements, late of Rome, originally from Amsterdam. Our friends from the kids' school, parents of two beautiful and pale little girls who are the same ages as Victor and Eleanor. They live in a house up the Via Bolognese, the old road from Firenze to Bologna with a view high above the city, looking straight down into the valley at a city that suddenly seems cast in miniature.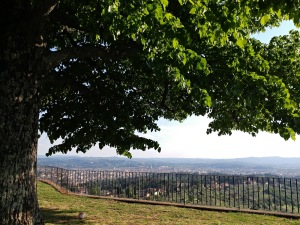 The view from the Dutch estate.
The mom messaged us yesterday to invite us up. JA JA JA we are coming! There will be grilling. Sprinkler running and a trampoline for the kids. Jason's at the store right now buying white wine and beer to chill.