We are in Seattle for a week, staying in a magnificent house-sit, perched high atop the eastern side of Magnolia, facing Queen Anne and the Cascades, with a sweeping view of the horizon, from Mt. Baker and North to Mt. Rainier and the Port of Seattle. This situation was thoughtfully sourced for us by my old friend Ginger, who loves close by in Magnolia, and with whom, when our family was smaller, we would stay in her generous basement apartment.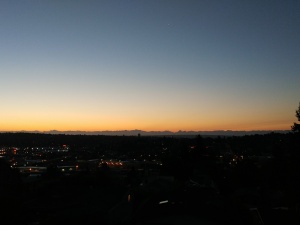 Cascade sunrise
I was never really into Magnolia in the six years I lived in Seattle (reasons: older population, too quiet, far away from everything, you can't get there from here) but it has really grown on me in the last five years since it has been our de facto home base for our jaunts in and out of King County. But, much like Firenze, the reasons I did not take a shine to Magnolia in my twenties are the same reasons that it seems just right in my forties. (Different reasons per each city, but the flip in common.) I appreciate the slow traffic, older people, gentle younger people, parks and quiet side streets. And everyone loves a sweeping view.
My feelings about Seattle were complicated from the start. I moved here nineteen years ago tomorrow, when I was 24, for pretty sketchy reasons – let's call it an April-August relationship, fortified by a ton of art (him) and a fair amount of writing and publishing (me). But I was stubborn and I loved the place, and I made it work. I left Mr. August in 2000, but stayed in Seattle. 
I remember at first how cold the summers seemed, how wet and dark the winters waned. I had just come from another fairly haphazard career and life situation in Manhattan, and fled for the literal greener grass of the Pacific Northwest. Oklahoma's hot summers quickly faded into memory, and 80 degrees felt sweaty to me; the garbage stench of New York became a faintly remembered detail rather than the nasally-stinging assault that I struggled with each day as I walked to the Spring Street station for my subway commute to Midtown.
But Seattle slowly began to reveal her secrets, and I came to know her like a sister. She is the only place that has ever welcomed me with open arms, and who loved me back in the way I wanted to be loved. Thoughtfully, quietly, deeply. Darkly. With rain, and bookstores, and espresso in the winter, and sun, endless water, and ferries in the summer. With art at every corner, and literate conversations to be struck up in public in spades. The Seattle Opera. Seattle Arts and Lectures. Museums everywhere. Freelancing travel writing for magazines. Working at the corporate offices of first Microsoft, and then T-Mobile. The trees that stretched high above ten-story buildings. Ferries lowing in the early morning – I could hear them from where I lived. Weekends on Lummi Island with family. Where I made dear friends, many of whom I am seeing this week.  Where I found professional independence and success based on my merits, without the grimy feeling of an inside network. It was my community, made from scratch.
I left Seattle for a still greater love when I met Jason in 2004. When we first met in 2003, our mutual attraction was exponentially fortified, in a geographically O. Henry way, by an initial conversation that can be summarized something like this:
Me: You're from Portland and you have direct and personal knowledge of living in Norman, Oklahoma? and OU? and Pickard Street?
Him: You're from Oklahoma and you chose Seattle and live there now?
I sobbed on my bed in my apartment as he packed up my boxes for me. I knew I would have mixed feelings about leaving Seattle for the rest of my life. Jason grew up in Portland, and his family is there, and has been there, for generations. I'm not quite so lucky, and had no similar guarantee that I would be able to repeatedly return and be welcomed. He has an enviable confidence that he will always be able to return to Portland. We honestly thought we'd be in Oklahoma a year, turn it around quickly, and come back. He wanted to return to the Pacific Northwest. I had my affinities, my expansive network, my ability to find decent employment, as he puts it, "while wearing pajamas."  
But that was not what life had in store for us. One thing led to another, four years of Faculty in Residence on campus, a year in Arezzo with OUA. Two decent career options on the tracks of our choice. Four pregnancies, two babies, some serious heavy lifting in the newborn months. Sure, we tried every year to come back up north, but it's not always so easy. And as it turned out, it was easier for us in the end to move to Florence last year than it would have been in almost any case to move back to Seattle. Or Portland. San Francisco, in someone's dream. Twelve years had sped by.
I marked countless milestones in Seattle. And it pains me that many of my milestones since then took place not in Seattle, but in Oklahoma. Because, you see, Seattle still loved me back. I wish we had gotten married here, honeymooned here. I especially wish I had been pregnant and had my babies here. I don't know about wanting to be a working mother here, on the commute with daycare, but thousands of families do it. I am sure we could have made it work.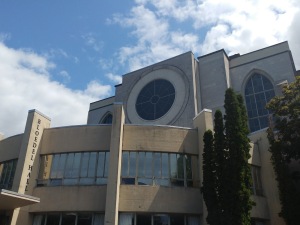 St Mark's Cathedral
I returned to St. Mark's Cathedral, high atop Capitol Hill, for mass yesterday. I was an active member when I lived here, and was confirmed here at Easter vigil in 2001. I had not been back for mass since I moved away; we are typically in town for just a day or two, not a whole week. My Google navigator routed me across Mercer Street, which I would have never taken when I lived here as it is eternally the Mercer Mess. I arrived late, nervous, after mass had begun. I sat in a pew in the middle section, on an aisle, and looked around for a familiar face. None. No one. Not a single one. In my active years I was part of a cohort that was under 40, who have doubtless all moved on, as have I. I am sure some of the older people were there during my years, but I did not know them then.
The priests now are almost all women, which is a definite positive in general. The building is under heavy renovations and wrapped in plastic sheeting, concrete rolled over with new sealant. Donations are clearly up. It is a thriving community of faith. As the hymns began, the woman to my left really owned that music. The woman to my right, one pew up, also. A man came late, and stood right in front of me. 
Garrrgh, I thought. I cannot see anything now. 
He was straight out of Seattle: Central Casting. Middle aged, very late, graying hair still wet from the shower, small earring, silver ring, slim in Patagonia pants. My resentment at his blocking my view evaporated as soon as he started singing. The voice of an angel, on key, singing in perfect harmony. He heard me behind him and angled to face me obliquely, the better to blend the parts. It was electric, even though I hit a few false notes because I don't know the hymnal by heart, yet, although almost every song is familiar to me. We sang three hymns like that. 
The woman next to him apologized after mass for being flat as she sang. 
"Feels like I am sitting in the crypto-choir section," I quipped, leaning forward.
"He's in the real choir," she said. 
"I believe it," I responded.   
"He has the most beautiful smile," she added, glowing.
Seattle makes me feel there are no strangers to me here. And, like a true great love, even though I miss her, I know I am enriched immeasurably, and am the person I am today, thanks to the years I lived in Seattle. She is always with me.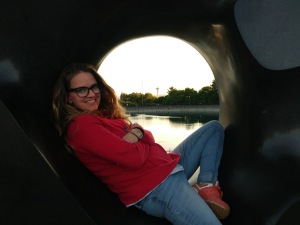 Just me and the Needle at Volunteer Park last night.