Thursday afternoon was toasty. I had been working in my office on Repubblica for hours, without air conditioning, and for reasons complicated to explain here (but I will in another post soon) I was without access to my vending machine of water for all that time. I had been craving gelato, citrusy Italian gelato, cold Italian gelato, for hours. Nothing would deter me. Gelato gelato gelato.
We had made an appointment to meet up with a small group of colleagues and friends on Piazza Sant'Ambrogio. I wiggled my way through the packed streets of centro, cursing as I followed large packs of ambling tourists down Via dei Neri and Borgo dei Greci. I pulled into Piazza dei Ciompi and saw that Procopio was open for business, so parked my bike close to where we planned to have our aperitivo, and walked back to it.
Chilled bliss. I always know eactly what I went, in gelaterie and typically in most other things as well. A young woman stood behind the counter.
"I'll have a small cup," I said, "two flavors. Of limone e basilico and lampone."
"How big a cup?" she said.
"The small cup," I responded.
She held up a small cup. "This cup can only accomodate two flavors."
"I have asked for two flavors," I said, reading the tiny tag again, "limone e basilico and lampone."
"Those are three flavors," she responded. "You cannot ask for three flavors and receive the small cup. The small cup is for two flavors only."
"But I would like limone e basilico and lampone."
"Those are three flavors."
"I am reading the sign for limone e basilico and it is two words on one sign. The store has written the sign."
Inside I am thinking, what a ruse! Name the flavors with two words, and then tell people they cannot have a second flavor. What kind of forced choice is this? You may have one of our combined flavor gelatos for the small cup price only? Because your second flavor is what we count as a third?
Her coworker next to her had been half listening and said, "Ma che scherz'. (What are you on about?) The name of the flavor is limone e basilico."
"Ah, mi dispiace tanto," she said, with a crooked smile. "Hai ragione. It is the heat that is making me unable to think."
She scooped up a generous serving each of limone e basilico and lampone, and squeezed them into the small cup, chuckling. I walked up to Sant'Ambrogio and enjoyed every bit of it.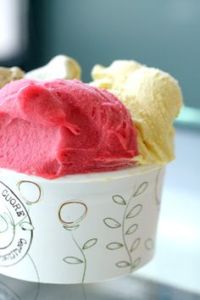 Something very close to this. Bliss.