The sun shone bright blocks onto the uneven flagstones of Via della Colonna. I pedaled my bike as fast and as carefully as I could, trying to not chip my teeth as the bumpy ride got the better of me. I was late.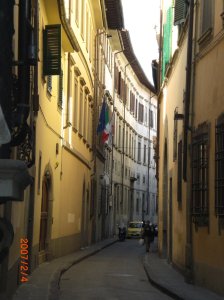 Borgo Pinti, courtesy of Google Images.
Left on Borgo Pinti, down its dark curve, the equivalent of an urban glade. Right on Sant'Egidio, squeezed between ATAF buses, past paninoteche and L'ospedale Santa Maria Nuova where Jason took me last year about this time on a Sunday afternoon, when I had bronchitis. All the way down, the street changes names a few times, until I arrived at San Lorenzo, its unfinished and rough facade hulking over tourists and cheap shoe shops. A quick serpentine through the new barricades that the city has set up in critical places, to guard, as they can, against the current truck-ramming terrorist threat. Around the back of San Lorenzo, past the Capella Medicea, right on Amorino, and parked in a small space front of the New Caffe.
I know this route well because it is how I bike home from St. James Episcopal on Via Rucellai.
Rachael was hanging out the gallery door on Via dell'Amorino, smoking and holding her phone in the other hand.
"Salut, bonjour! I called you and sent you a message," she waved.
I apologized and said I had been stuck behind buses in a sentence I had just rehearsed about ten times.
We went in to the gallery and back to her small classroom. Her partner came in, and walked back to his workshop, where his art seems focused on huge paintings featuring sexy anime women in futuristic red and blue swimsuits.
I whistled him a friendly "Saluuuut!"
Rachael's eyes widened. "Your pronunciation is better than I realized!"
That is probably a word I said one zillion times in Strasbourg, I thought. Mais merci.
She was super-prepared and had created a number of handouts for me in the service of reeducating and reawakening my emotions in French. A week had gone by since the nervous first class, and I had re-centered and refocused my attention on my goals at hand.

Have fun, enjoy a language. Roll around in a language that I have, at one point, felt more or less comfortable in. In which I was proficient. Take the focus of off Italian – it is fine. Strike the target by focusing on the periphery.

And yet over the past week, excavating my layer of language learning, and brushing off dirt, I realized something I had not seen before.
The Spanish accent and vowels are closer to Italian. There is lexical overlap. Certainly.
But French grammar lines up much more tightly with Italian. There is an almost 1:1 relationship. The verbs, the past participles, wow – how did I not see this?
In my anxiety last year, I was reaching for LL1 (my first learned language – Spanish), when I would have been better served reaching for LL2 (the second – French) to assist my LL3 (Italian).
Never mind the brainwreck.
Also, Americans quickly equate Italian with Spanish, because Spanish is our far more common reference. Not that many Americans have a working knowledge of French anymore, selon moi. It is generational. French language learning was ascendant after WWII, the Marshall Plan, and the endless advocacy of Jackie Kennedy, charming Charles de Gaulle on state visits with her handsome, linguistically hapless husband.
But wait! I think I do have some French in here – let me just get it out of this back closet.
Wow – there is so much more French here than I'd remembered. And it totally wants to come out and play.
"T'as fait le devoir?" Rachael hopped to it. Had I done my homework?
"Oui, je l'ai fait." Yes, I did it.
We got out my cahier (notebook) and she took the cap off of her dry erase marker, standing at her board.
Okay, emotions, let's do this. Let's reeducate.
Five basic emotions: happiness, sadness, disgust, fear, anger. These were taken to represent broader categories into which all human feelings fit on a sliding scale.
Ambitious. I like it. A very French exercise, so much culture in one hour. Pascalian in scope and content.
We covered anger, sadness, and happiness.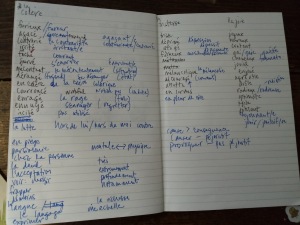 Mon cahier
All human feelings were examined for intensity, judged, and placed on an echelle (scale) on the whiteboard, from weakest to strongest.
We discussed how emotions create feelings, which are progressed emotions and thoughts about emotions, which can give rise to further feelings.
I took notes at high speed, scribbling a few words and expressions that I had not heard in decades. They sounded like old friends in the back room off a poorly lit pub. I loved it.
"Cette conversation me semble presque bouddhiste," I said. This seems almost Buddhist to me.
A smile curled around her cheek.
"You are my most advanced student," she said, "and I think I will also learn from you."
I flushed, clearly hungry for any positive feedback for a language not my own that seems to be originating from me.
"C'est possible," I said. Don't get your hopes up, Paris, and thank you for teaching to my level.
She took a hilarious call from her mother. Les meres sont les memes partout, I said. She laughed and agreed.
Tomorrow we are going to debate universal income and the necessity of work to be happy. I'll need to look up a few words, but this is entertaining.
With my goal at the periphery, I see the target more clearly than ever.
Gotta mix it up.