It's the last day of summer, and Victor has now got three full days of first grade under his belt. He did seem to even out on Friday at some point during the day, because at home that evening he was chillin' on the couch like an undergraduate, playing with his Kindle Fire. I did too, for the record, although that glass of Italian pinot grigio at lunch did help.
There are many new rules in first grade.
The first day of school Victor did not wear a smock. All the other kids had their smocks on and buttoned up.
"How cute," we said to ourselves. "How fashionable. So Italian." Some kids wore a smock in materna (preschool) last year, but it was not required. The teachers in the materna mostly prescribed and attributed smock deployment for overvigilant parents who attired their children in very spendy status labels, and who did not wish those children to come home wearing lunch on their fancy new clothes purchased by their nonni.
On Monday Maestra Alessandra pulled us to one side and said, "Where is Victor's smock?"
"We are not opting for the smock," we told her. We got this, we thought. We are down with the rules.
Her eyes grew wide. "But the smock is obligatory! It is not optional."
I shot a glance at Victor, seated in his chair at the corner desk, and remembered his barbaric yawp on Friday in the foyer, "I hate the lab coat!"
I took a breath.
"We will get the smock," we said.
We rode our bikes up a few blocks to Piazza Savonarola, where the smock store was. Maghi e Maci is adorable, staffed by two women, presumably the owner-tailors, and their little dog, Nana. It was like Etsy on Italian crack. Bars of perfect new clothes lined the walls in sizes from infant to about six or so.
"This is like my mom's alternate universe dream," I murmured as I felt the corduroy jumpers. My mom sewed all our clothes until I was in the fifth grade. She has mad textile skills as befits a thrifty Finnish-American mom with a solid aesthetic.
We explained that we needed a smock for a smallish six-year-old boy, and one of the women immediately pulled it down from the shelf for us.
This smock. I want to wear this smock. Navy blue with white trim. Natty button-up side placket, school crest, cuffs with matching buttons, faux belt at back. This smock means business. It looks like it traveled from 1550 to the present day, and has a surgery to perform scheduled for a few hours from now.
We got ready to pay for the bespoke smock. Then we thought about Eleanor. They might as well go through this Italian acculturation together, we said. It was optional for her, but she likes to dress up. She has spent the past five days voluntarily impersonating a fairy in full costume at home and around town. She might as well start getting used to the smock. We asked the owner for a little girl smock, and were promptly handed a pink-checked wonder with a faintly Elizabethan ruff. It did not seem like 1550, but definitely could have come from the late 18th century.
Their names would have to be embroidered on them, but I knew where to get this done, and the words to do it (ricamo, grembiule). We paid for both smocks and went to lunch.
It had started to rain, and I was on my bike. I had the bag with the smocks in it, and stopped by the embroidery shop a centesimo's throw from the Duomo.
Italians are crazy about embroidery. Every town you go to has at least one, probably two, embroidery shops for homemade gifts that can be monogrammed. They feature antique Singer sewing machines in cast iron painted pale green that look to date from approximately 1930. Typically, a woman is sitting out front with this buzzing bombshell, happily clicking and embroidering up a storm, moving a small knob underneath the table to advance the fabric forward as she monograms. They will often shout out at passersby, "Nome? E gratuito!" and will sew your name on the spot on a piece of paper in a cheery thread color to demonstrate their speed and skill. I have a few of these from Firenze and Assisi.
I explained to the woman what I needed, and carefully wrote the names on a piece of paper for her, since they were English. In a zip she had completed handsome monograms on each smock while I waited. As her machine buzzed, I perused their many handmade items. A very fancy apron with my name on it. All manner of kitchen and baby accessories. Shower mats and slippers galore. All monogrammed.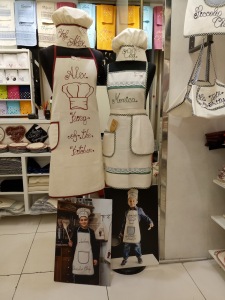 Then I spied a portaciuccio (binky bag). Oh my – I had to get this for Eleanor; the teacher told us that she was asking for a ciuccio during naptime, but did not have one at school. We just brought one that morning, but I actually wondered at dropoff – where is that binky going to be when she is not using it. Now I knew. I took the last pink portaciuccio and asked the sewer to monogram it too. She obliged and zipped out another monogram. As I paid, she complimented me on our choice of school for our children. We hear this a lot in Firenze. I Scolopi carries a certain cache. Prestige was not a factor in our choosing, but it's nice they all know it is a good school.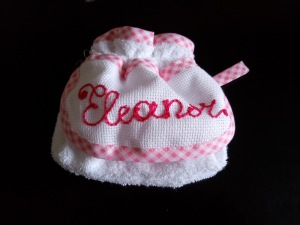 At home that evening, Eleanor was very excited about her new items. She dragged her grembiule around the house a few times, and inspected her portaciuccio in a manner very Pooh Bear (insert ciuccio, look in bag, remove ciuccio, look in bag).
We did not mention the smock to Victor, nor show it to him. I placed it in his backpack to go with him to school the next morning. Before we left his classroom on Tuesday, I told Maestra Alessandra that his smock was in his backpack. She's a professional. They are trained for this. She gave me an approving nod. I left wondering how that was going to go down with Recalcitrant Vic, who, like his father, does not appreciate being treated like some kind of paper doll to be dressed up and cooed over. Victor does not value sartorial compliance.
I did not have to wait long to see the results of Maestra Alessandra's training in action. Yesterday morning his class got to have a sample music lesson, taught by an ebullient and very musical middle-aged woman, to which all parents were invited. I stepped into the classroom, and there was Victor, seated at the keyboard, wearing the grembiule. He did not look too enthused about it, but nor was he tearing it off, shrieking. The kids played three songs the teacher had taught them in about 20 minutes, holding violins, violas, drums, and marimba mallets. Two pairs of boys were seated at each keyboard. I thought my heart would burst.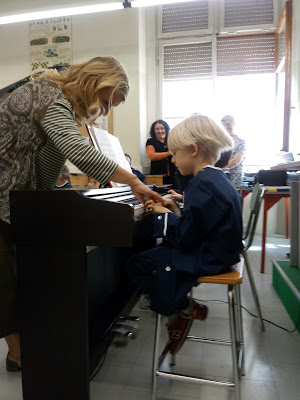 Maestra Gilda instructs a besmocked Victor on the keyboard.
This is how we know a solid education is underway.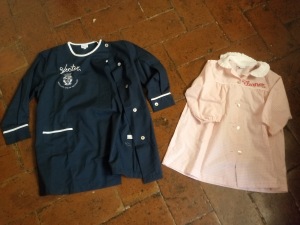 I had a request for a picture of the kids together wearing their school smocks.
Yeah. That is never going to happen. Ever.