Yes, friends, it is no longer funny. Our stretch of poor luck continues.
But before we talk about the bad luck, as though that were the only theme in our lives – which it is not! I will favor moderation by talking about all our good luck too of late. Indeed, we have had large amounts of great luck.
To begin, no one has been sick. School is open for business, and Eleanor began preschool today at I Scolopi, in the same room and class as Victor finished last year, with the same teacher, who was also promoted to direttrice (director of the school) over the summer.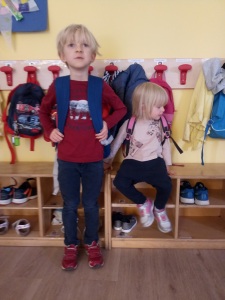 Eleanor with her security detail in piazzetta.
So delighted was Eleanor to finally get this big kid gig going that she kissed Jason and Victor arrivederci, as instructed by the maestra. I stood there unsure what to do – I had been told to be prepared to remain in the classroom with her for up to two hours while she acclimated. Plenty of her peers were shyly holding back and literally hanging on to their mother's skirts. Italians want to make so many accommodations for our Eleanor, reluctant to believe when we tell them the child was born acclimated. I was at the door for all of two seconds; Eleanor did not look back, and gave me a reverse wave while running toward the group of kids – many of whom were Victor's classmates last year, as it is a mixed ages school.
Go, go, go, Sabrina la maestra motioned to me. Just wait in the piazzetta! She shooed me down the hall.
The piazzetta is what they call the small assembly area after the front entrance, and which has become even smaller now that they have added a fourth bilingual class (Italian/English) by popular demand.
I sat in the piazzetta for about ten minutes, watching the other families and parents and children, and, yes, nonni come in – Italian grandparents are a critical component of this equation. Some familiar faces. Lots of new clothes. Very cute backpacks. A few minutes later Sabrina emerged, laughing, and said that Eleanor was having such a good time, I should just go. I reassured her I would be around and about on my bike, and would be back if there was a need. We exchanged telephone numbers, and I was out the door like a flash to hop on my bike and enjoy the cool morning in town.
People. Today is Labor Day. I am finally on a flipped schedule where everyone else is working! and I am not! I can't believe it! The approximate frequency of this is 1:20 where 1 represents my vacation days and 20 represents the vacation days of everyone else in Italy, on Italian schedules, such as my kids and husband. Our babysitter is at home; the kids are happy; the sun is out. It is not roasting and I. Am. Off.
I spent my morning tooling around on my bike, crossing to Oltrarno and stopping off in Santo Spirito for a good half hour to calmly look at every cappelle and picking up a few saint cards, including a Santa Monica.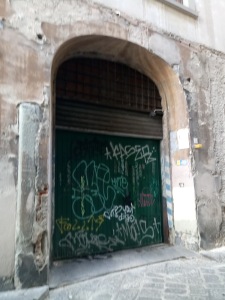 Oltrarno garage
I meandered through the ultra marked-down designer clothing market where I picked up three tops for two euros each! and they're lovely. Wow! Oltrarno! So much to do. Then off to Silathai to make a massage appointment, and to Sugar Blues to pick up some semi-sparkly organic German face powder.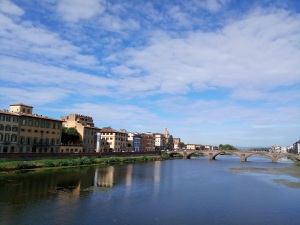 Florence without filter, looking at Ponte alla Carraia from Ponte Santa Trinita
I zipped back to Jason's office on my bike (more good news! not stolen!) and found Victor slouched onto a loveseat, his beady red eyes glued to his new tablet. After some cajoling and a bribe, we headed to I Giglio bar for a snack. I messaged our friend Susan in advance to meet us there.
Victor selected a huge coppetta di gelato, slathered with chocolate syrup and nested into a chocolate covered cone. Yep, I let him eat that before lunch.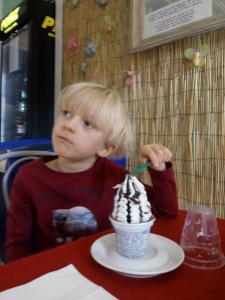 Hmm, looks like pranzo.
I had a macchiato and a small prosciutto sandwich, because, why not. As we sat down to tuck into our giant gelato and mid-morning sustenance, I heard a familiar voice behind me – friends of friends whom we'd met at a dinner hosted by the Dutch family up on Via Bolognese, and whose eldest daughter Delphine will be forever fixed in Victor's heart as his first childhood love.
Eleanor: Victor loves Delphine!
Me: Victor, do you love Delphine?
Victor: (long pause to consider) Yes… I think so.
Delphine remains up on the top floor in materna with Eleanor, but in a different class.
The father and son whom I'd recognized were Cristian and his son Diego, a year younger than Victor. We chatted for a bit, then Susan arrived. Victor by this time was wearing the better part of his gelato. "I'm going to go wash my hands," he announced, standing up. He returned five minutes later to announce that the sink was not functioning. We brought chocolate Charlie Chaplin back to Jason's office, then Susan and I returned to Eleanor's classroom to pick her up.
Eleanor was beaming. She'd received a medal for her first day, and had made a bas-relief seascape out of homemade playdough involving glitter, a whale with red peppercorn eyes, and embedded seashells. She almost fell asleep walking back to Jason's office. We all rode home on the bikes – the two kids on Jason's bike (with the new baby bike seat we purchased for Eleanor), and I on mine, r
iding behind with various bags and ready to pick up anything dropped by the circus bike in front of me.
The afternoon setup in place, I headed back out to Oltrarno on my bike. I consider it a sign of feeling more at home in the city that my routes are becoming more direct and consonant with one-way streets. I stopped for some pictures on the bridge.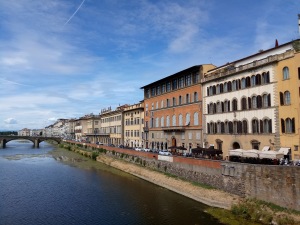 Lungarno – late summer color
Yes, I did return to Santo Spirito, to hang out in Pop Caffe and write, then back to Silathai for my appointment.
It's been a perfect day. My one day a year where I get to drop of the radar and do Everything I Want to Do.
I'll conclude this now as I enjoy my glass of red in our garden. Our neighbor Cassidy has recently purchased a new outdoor seating arrangement.
I can't even remember our bad luck now.
WAIT. I bet Jason remembers it.
Well, we've had a ton of good luck too, and for that, I am grateful.