The longest summer break known to the whole of mankind came to an end yesterday as Victor began first grade today. September 15, people.  By this time in the school calendar I had usually already been at school for a month and had drafted a list of classmates whom I planned to invite to my birthday party.
Victor is continuing into the elementary school in the same school where he completed materna (preschool) last year, at I Scolopi, a mere hop from Jason's office on Via Lamarmora.
(Eleanor began materna two weeks ago, essentially taking Victor's vacated space in the sezione italiana, which is populated by many international families. She is fully adjusted and happy as a clam with Maestras Sabrina e Manuela.)
I hounded the kids last night to get to bed, and set the alarm clock for the factory-whistle hour of 7:15 am. We read The Cat in the Hat Comes Back (Victor is obsessed with all the cats in the consecutively smaller hats, and with the invisible Little Cat Z.) Victor seemed vaguely aware of the imminent start of school. Honestly, it all seems like so long ago to him now. School? What school? There is a thing called school?
I woke up well before the alarm, and lazed until it went off. As Jason is returning today from his ten-day trip, we were all in the same bed. I shook Victor awake and said, Victor! It's a school day! 
He woke up and smiled. He really was excited. Our good Victor ate breakfast and got dressed, playing until Eleanor woke up.
We all got out to the busstop in front of our palazzo by 8 am, with an ample choice of buses (but no 19, sorry Victor!) The packed 6B stopped. "Come on, guys, we gotta get on this," I said, holding Victor's hand and heaving Eleanor onto my hip. We validated our ticket and sardined ourselves in. Grumpy Florentines were giving up no seats in spite of the two little kids. They have this strategy where they stare out the window and refuse to make eye contact.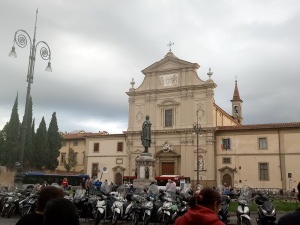 Busy Piazza San Marco morning
At the next stop we moved back toward the middle where I herded the kids into the wheelchair space to watch them. A quick turnaround on San Marco to catch the less-crowded 1B up to school. Eleanor clutched her mini gummi bears in a sweaty palm. They both wore their backpacks like big kids. A friendly grandmother chatted to them on the way to school.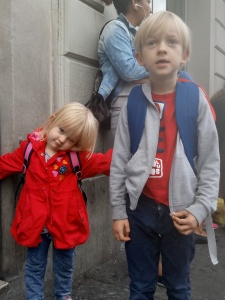 Glad I got this picture early in the morning.
We dropped off a happy Eleanor upstairs (hardly anyone in materna at that hour; she was #4 in) and Vic and I went back downstairs to wait to be let into his classroom. His teacher, Maestra Alessandra, told me on Tuesday that they would wait for all the bigger kids on the floor to get in and settle down, then the youngest ones would go to their classroom.
This is where things began to crumble. The foyer was crowded and hot, and so loud. Victor has a low threshold for tolerance of such an ambient. We see a similar reaction when we try to walk with him to the mercato Sant'Ambrogio. I pointed out the lab coats (smocks). He was not wearing one. He started tearing up. "I don't want a lab coat! I hate the lab coat!" I reassured him that it was optional. "What's optional mean!" he shouted over the din.
It got increasingly louder as parents jockeyed for positions from which to take photos and videos of their little besmocked scholars. Victor was so upset we had to go outside for intervention. Although many of the kids he knows from preschool last year are in his class, he was not interested in talking to them. His new older American friend Izzy with whom he has been playing for the last two weeks blew through the androne on her way to quarta (fourth grade).
Finally the herd started moving upstairs. The scrum continued in the hallway, then, incredibly, in the classroom, as parents continued to take photo and video of their kids like they were sailing off to new homes in South America. Victor did not want to take a seat at first, and by the time he felt he might be ready to sit down, all the seats but a back one at the corner were taken. The noise and chaos went on and on. Eventually a few parents began to filter out.
One of Victor's classmates is on the spectrum, and her helper, whom Victor knows, saw what a hard time he was having so came back to sit with him and talk to him. At this point he had been crying for close to half an hour. This is not like our Vic. I was upset that he was upset.
"This is like prom, this is insane," I growled as the parents continued to take Party Pics and mug for their cameras.
"What's prom?" Victor asked.
"This," I said. "It is in high school, and is a reason to take a lot of pictures."
"What this would be like in English," he asked.
"Probably a lot calmer," I said. "Italians can be so loud." I thought a moment. "This would be a very different situation anywhere north of here."
"I'm glad daddy's not here," Victor sniffled.
"Why?" I asked.
"He would not like this either!" Victor said.
"Yeah, this is definitely a lot of chaos for mommy too."
He sniffled some more and held back tears, but a few escaped. Like anyone, he hates crying in public. The outrage at one's own uncontrolled emotions is worse than the actual situation.
Daniela the helper motioned to me. "It is better if I just go?" I mouthed to her in Italian.
She nodded, so I kissed Victor on both cheeks, made sure one last time he had his lunch ticket in his pants pocket, and left.
Maestra Alessandra followed me out into the hallway.  She reassured me she would look after Vic especially today.
I felt like I needed a debrief. It was way too early for a spritz.
I walked home.
I think to Italians this loud and rambunctious scene feels totally normal. All the parents were motioning and mouthing to me, what is wrong with Vic? I felt like saying (but did not feel like shouting), does this not seem a bit loud and over the top to you? I mean, any reason for a party, but come on. This was like an Italian wedding, minus the buffet. It was like trying to get a few of the freshly laid out fiori fritti di zucca and failing. I could not believe how much Vic and I had gotten jostled and bodychecked waiting in the foyer and trying to walk into the classroom.
I am looking forward to getting my little guy back at the end of the day. I think we could all use a debrief.
This is clearly a day of growth and increasing flexibility for Victor.
And mamma.