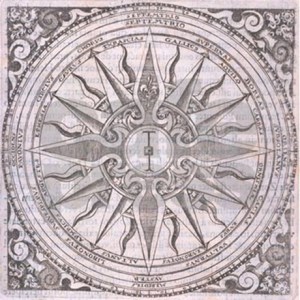 Italian directions for how to arrive at Point B from Point A are amusing.
Jason and I used to always laugh at one particular instruction, from his Arezzo days as a tour guide, to "turn where that huge old oak tree used to be, the one they cut down after the bad storm."
Here is an actual quote for where I was to meet a friend today. She's American, and has lived in Italy a long, long time:
That is adorably Italian to me. There are so many known unknowns, in such a high-context description, packed into those few sentences. A street, a salon, a place she might like but whose name she cannot summon, in a fuzzy relational direction. Thanks to those regional dialect quizzes that burned up the internet a couple of weeks ago, I especially like "kitty corner," which I recently reflected might have an Italian origin as an American idiom in "accanto a."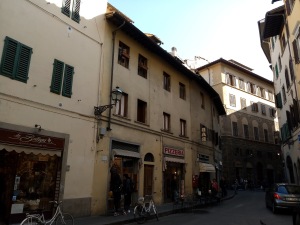 Trying to figure out where my friend wanted to meet me this morning.
One way in which I am particularly American is in my orientation to space. I love a nice compass rose. I like an arrow pointing north. I like to know, in absolute terms, which direction I am facing, and in which direction I should turn to get to where I need to go. Please abstain from referencing trees that fell down decades ago when trying to assist me to get somewhere today, in a place I do not know well, if at all.
I've been complimented before on my general orienteering with a map. I have a good sense of direction. It's helped me feel confident and independent when I was deep in my phase of solo travelling, and I do not mean in an Outward Bound way, but rather in a Wandering the Capitals and Regional Population Centers of Europe and Latin America, 1993-2002.
In Oklahoma, a sense of compass direction was critical, as it is flat as a basketball court, without natural landmarks to help orient the traveler. Look for the sun – it shines 360 days a year – paying attention to the seasons, and if it is skewing north in summer or south in winter. Orient self accordingly. Alternatively, pretend you are a tornado, and track southwest to northeast, until you have flattened everything from Oklahoma City to Tulsa.
In Washington state, the Olympic mountains hulked to the west, and the Cascade mountains quietly echoes their peaks to the east, providing a reliable frame of reference. Rainier always held down the southeastern edge of the sky. The Ship Canal ran east-west, and the bridges that crossed it, north-south. It was often cloudy in Seattle, so if the mountains were not available for spatial orientation, the bright days that they did sparkle with snowcaps on each horizon remained imprinted in my memory, so that the turns and hills of city streets reminded me of specific views even if I was not able to see them in the moment.
Firenze has much in common with Manhattan, in that when I am walking along the street, I do not know which direction I am facing. This fills me with a low-level anxiety. I have an inner need to know the direction. I look around, and I see walls, and buildings, and narrow streets. Even the shadows of the sun are truncated and distorted by the tall, narrow huddle of buildings. Perhaps, down a long line of an avenue, I might see the Chrysler Building, or the Duomo.  But even this is not guaranteed.
[Updated to reflect reality]: The direction I can always rely on is north, but only from Piazza D'Azeglio, because Via Farini runs along the synagogue and due north to the main hill of Fiesole, capped by its own stone clock tower.
Because of the direction of the Arno, which (I just figured this out) runs from southeast to northwest through Firenze, up toward Pisa and out the Mediterranean Sea (ok, I DID know its outlet flows from Pisa into the Mediterranean), directions are even more confusing. Where is the river? That would be a nice point for orientation, but Firenze is flat, in a valley populated by seasonally tenacious mosquitoes, and you can't see the Arno. Also, you are swatting mosquitoes a lot.
I can competently identify, when possible, the tower of the Palazzo Vecchio, and the campanile of Santa Maria Novella. The Duomo's huge dome is, oddly, invisible from street level, except for a famous glimpse down Via dei Servi or Ricasoli. The Badia Fiorentina sometimes pokes her brick tiara up for me.
But generally, I have little idea where I am – where I am, really – in Firenze. My sense of direction is gradually becoming personal and relational – more Italian.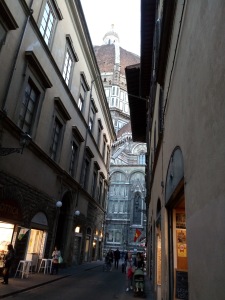 Peek-a-duomo!
Glimpse from Via dei Servi.
However, the other day I realized, after reading a wiki article about Piazza della Repubblica, that the building where I work, next to the arch of Piazza della Repubblica, is the western side of the square. The west! The arch faces west to the Arno! This information comforts me enormously. Because previously, any direction might have been west, with the exception of straight out my window toward the Savoy and Rinascente, because that direction never really felt westerly to me. And Caffe Paszkowski is north! And Giubbe Rosse is south! NOW I am getting somewhere.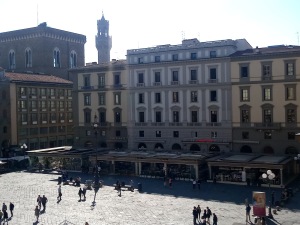 The south side of Piazza della Reppublica!
Palazzo Veccio tower poking up.
On my bike, I am usually too alert to speeding taxis and Instagramming tourists and horse-drawn carriages to care much about compass points. But my relational orientation is growing by leaps and bounds.
Via della Canonica runs parallel to Via dell Oche, and is a much safer street!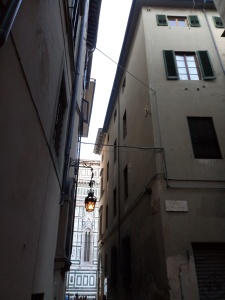 Via della Canonica, just turn right at the light to enjoy 100 feet of bike-safe flagstone!
My new shortcut.
Via della Scala turns into Via Piazzaiuolo, which goes by Gonzaga's favorite trattoria whose name I forget, which is NOT on Via delle Belle Donne, which is instead the street NEXT to it that is not quite parallel to it, but this whole new route gets me from St. James, on the far side of the train station, to my home without having to deal with the mess, fast, loud traffic circle in front of Santa Maria Novella.
Now I am sounding like my friend's message.
Coming down Via Cavour, I can turn right before Piazza San Marco, and zip almost all the way home on Via degli Alfani. No need to pedal around the Duomo unless I feel like it, and the crowds are less, or it is late at night.
I have a few more of these I am recently very proud of determining. I am also grateful for long years of fearless bike riding, tomboy-style, with my two brothers. Without these adult tomboy skills, I'd never be able to get myself around town on any kind of schedule.
At the end of the day, though, the Arno is west through the Repubblica arch, and I am biking much more efficiently around town. This is all that really matters.
But I am so glad I have figured out how the Arno relates to the compass, and the direction it flows through Firenze. You can take the woman out of the American Midwest ….