"Come on," Iris said. "We're having cake in five minutes. In front."
I was sitting in the grand salon of the language school where I have rented office space for over a year – the Sprachcaffe. The classes did not conclude until two, so a room would not be vacant for me to work in for at least twenty more minutes. My favorite is the Aula Gialla, with its French doors and balcony and view of the perpetual bustle down on Piazza della Repubblica.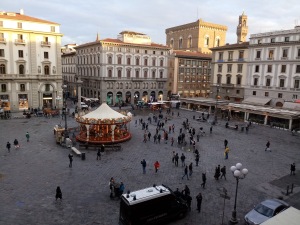 View from my office.
"I have a meeting at two," I said.
"Just come!" she said impatiently.
I went and checked on the status of the party.
I asked Lara the Russian if we were doing it.
"Doing what?" she responded.
"The cake," I said. She looked at me in minor confusion. Maybe they'd already had the cake …
Anca the Romanian scurried through the salotto.
"Come on, we're having the cake!"
My two o'clock meeting was not available and went straight to voicemail, so I went to the front office. The office birthday party is a well-known trope in America, and exists also in Italy. My rented office space brings the additional bonus of casual colleagues who greet me each day as I come in, and wish me a happy evening as I leave. From time to time they come to tell me their minor work woes, or some personal story. They brought me treats on my birthday this year, to the Aula Gialla, in the form of chocolate and a tumbler of red wine. They also invite me to staff events such as evening dinners (haven't been yet) and happy hour (went once or twice), and on this day, a birthday.
You may recall Iris from a post last year, when she offered succor and political comfort on the Black Week after the 2016 elections. Today she was celebrating a milestone birthday.
"Also, I am a Scorpio," she reminded me, which was funny, because she has told me that now at least half a dozen times, and each time she drills me with a death stare.
A large and impressive millefoglie graced the countertop of the reception office, layered with cream pudding, sprinkled with powered sugar, and crowned with an edible flying saucer of significant size, made of white chocolate ganache that said, "Auguroni Iris." As would happen in a US office, Iris was cutting the cake, which puffed and dropped not a little powdered sugar and buttery flakes, and placing generous wedges into white paper napkins.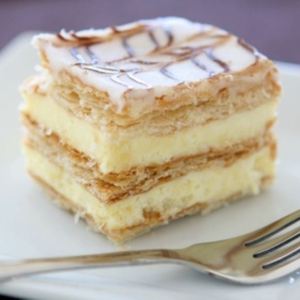 Millefoglie
A note here about cake. Festive cake in Italy almost always means millefoglie and custard; the sponge cakes we bake in the US, and which I know also from the UK, are almost unknown here, except in the form of what they call plum cakes. Even in Italian, they are called plum cakes.
In our house we consume about 15 palm-sized plum cakes a week. There is no plum in the cake, unless it is an amusing direct loan from "plumb cake" – perhaps meaning "just cake." It is a moist vanilla cake, eaten by all of us at all hours. We might go through 20 a week, actually.
I remember a conversation in Arezzo with Massimo at Bar Stefano, years back when I learned there were, in fact, no plums in plum cake.
"Then why do you call it plum cake?" I asked him.
He wiped his hands on his black apron. "No idea, it's just cake."
That was when I thought maybe it was "plumb" meaning "just." Etymologies on the fly are my specialty. I once taught a houseful of Spaniards how to say "plumb tuckered out," and was so sick of hearing it after a few months that I deeply regretted my "Hee Haw"-flavored linguistic caprice.
I do miss the Anglo/American sponge cake format. Every now and then I want a chocolate layer with chocolate buttercream frosting, or a white or yellow cake with coconut frosting. I will never find these pastries here.
Sree made us a huge plum cake for Eleanor's birthday, in a round pan. There were chocolate chips on top. It was gorgeous and delicious but so big I had to give a sizeable chunk of it to Cassidy the artist downstairs. The day I came home from work and she was baking it, on Eleanor's birthday, it smelled so good I could have cried.
I spied a wax 6 and 0 in a plastic cup.
"Oh, e un compleanno importante!" I exclaimed. It's a milestone birthday. Iris blushed through her perma-tan. As most Italian women do, she looks great for her years.
Small plastic spoons were on hand, but everyone gave them a pass as we ate the millefoglie standing in a loose group in front of the front reception desk. The millefoglie was superb, from our friends downstairs and across the street at Pazskowski, which I have often written about and Instagrammed as my home away from home. It did not disappoint.
Lara uncorked a bottle with a pop.
"Opa," I shouted, because I cannot help it when I hear that sound. The Italians chuckled.
It was a bottle of Lambrusco, which until now I have associated with hot summer dinner outside in Mantova, the fizzy chilled red wine the best antidote to stone-soaked heat.
All the Italians thought this was a very interesting choice of libation, The go-to option here would have been prosecco with the millefoglie.

In the US, we would have had a two-liter of Pepsi, or orange juice. Absolutely no alcohol in the workplace. Campus rules.
A young Italian woman whom I did not recognize, and who had arrived late, seemed to have choked up. "Oh! It's Lambrusco!"
We all looked at her. I was evidently not the only one who did not know her.
"I'm from Modena," she explained. "Even just seeing a bottle of Lambrusco makes me miss home."
Italians often greet edible regional specialities with this type of nostalgia. I have seen it more times than I can count. A cheese, a sausage, a wine, a pastry are produced in group or at a meal, and it's like a family reunion if they are consuming it outside of the territorial boundaries. I have especially amusing memories of our friend Alessio from Sardegna misting up when in the company of bootleg mirtillo sardo in a plastic Levissima bottle, or a hard pressed horn of bottarga (salted fish roe), or a line of identical small fileted sea bass destined for the grill one Easter in Oklahoma.
We all lifted our generous pours of Lambrusco, and toasted Iris's good health and continuing years. One of the older teachers asked for a second piece of millefoglie, saying with a wink he had been unable to conclusively ascertain its quality with the initial piece.
I took the rest of my Lambrusco back to the table where I was working, and where a number of instant messages and emails awaited me, mostly notifications that my two o'clock was now ready to meet.
Ah, the soft sound of sweet culture clash.