The seasons are turning at this latitude. Fall has set in, and thankfully it is not as drenched a fall as last year, when we were plunged into a dark and rainy night that lasted for weeks. The summer heat this year thoughtfully retired on the Friday before Labor Day.We had a superb stretch of sunny crisp days, blue sky. The leaves actually changed color rather than just being blown from the trees. I can't stop taking pictures.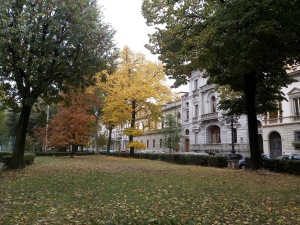 Along with seasonal changes comes the cambio di stagione, which Italians take very seriously. To every season there is a wardrobe. American and German tourists are so easy to spot right now in town because they are still wearing t-shirts, shorts, and flimsy summer dresses as though they had all just deplaned on Ibiza or Corfu. Sandals. Sandals, people. It has been 43 degrees (Fahrenheit, of course) and raining off and on for days now. We are currently in a clear sun break, which I will enjoy, as the light disappears around 4:30 pm. I see it all transition from behind the tall vertical windows of the French doors in my rented palazzo where I work. On rainy days, that daylight is gone by 4 pm, even from the suntrap that is Piazza della Repubblica.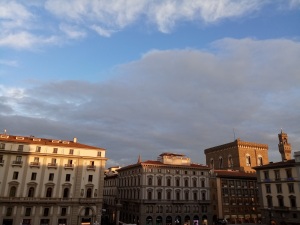 Autumn skies over Repubblica
Our morning transportation from the apartment to school is moving from bike to bus – but slowly, because the kids both love riding on the backs of our bikes. Eleanor and I had an unpleasantly crushed morning on the 6B to Piazza San Marco this week.
If the kids would bundle up more, we might be able to prolong their bike commuter chapter. Victor does alright; he will wear a jacket, a piumino (down-filled coat) and a scarf. Eleanor, on the other hand… I'll just say that we are working on educating her about layers, I finally found a pair of sparkly red fingerless gloves that she likes (now if we could just keep track of them and reliably use them), and for our Lady Eleanor, a scarf is anathema. You might as well ask her to wear a noose.
Yesterday I broke out my wool cashmere peacoat (purchased at market last year for twenty-five euros, and altered on Via Niccolini at the Chinese tailor).  It's a good coat, but requires a serious cashmere sweater layer or two underneath. No kidding.
My long red down coat (purchased last year at Zona Blu, a local outlet) had seen a tiny bit of action already, but it tends to drop tiny feathers on everything, which makes it an unfortunate choice if I am wearing anything other than white weave (which is never, because who can keep up on that kind of laundry here.) It's too bad, because I love it. But it is not well-designed for the coldest of rainy windy days, because it only snaps in front. The wind quickly finds its way in.
My standard go-to piumino which I purchased in Arezzo in 2012 from the lovely little boutique Tesoro di San Michele, run by my friend Teresa, has seen its last winter. Teresa is a petite Italian artist who now makes people look good. The year she dressed me was probably the most fashionable year of my life. Her eye for color and design were superb. She found the piumino for me, and I wore it like a cocoon for years. But now the zipper pull is broken. The snaps have popped off in at least two places. I love the fur-lined hood, but, let's face it, it's probably from a husky/retriever mix bred on a dog farm in China for its pelt, so… that's not cool. Plus, it is just the wrong length for bike riding now – an issue I was not aware of in the hilly town of Arezzo, where I never biked. I didn't even own a bike that year. Here I am typically on my bike 4-6 times per day, and the coat is just long enough that it gets caught on the back end of my bike seat, causing any number of near collisions and wrecks.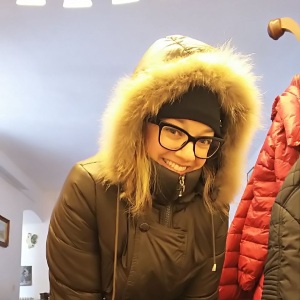 So warm. I will miss this cocoon.
Note my red piumino on hook behind me.
Jason's piumino next to it.
I was literally in the market for a new piumino.
I headed this morning to the Mercato Sant'Ambrogio, and locked up my bike, heading straight to the clothing. I quickly identified a few different piumini I liked. I tried one on. The woman said it was bello, but I disagreed. The extra zipper around the hood made me look as though I was peering from out of the jaws of a crocodile. It was cheap. It looked like I might be selling tissues and umbrellas soon under the arcades of Piazza della Repubblica.
Next. A maroon coat with a belt that I was unable to either fasten or remove due to its special magnetic clip. Its general effect was to make me look as though I had just eaten my way through a week of Thanksgivings. It had a very Finnish/Russian vibe, kind of like a pirakka pastry stuffed into a down coat.
"Go to the mirror, look at it on!" the woman called.
I went to the mirror. An older Italian woman was turning to see from all sides a coat she had on.
"Posso?" I asked.
She grumbled and took a half step to the left.
Yeah, this coat was totally not working for me.
Why is every size in Italy L or XL or more? They say a medium is a small. I almost never see a small, except in the clothes that I bought from Teresa in Arezzo. Seriously, there are never any smalls. The open market seems to be driven by a lack of size indicators, forcing casual shoppers to "just try things on for size," thereby opening the floor for a general chorus of, "fits great! Bello! Buy it!"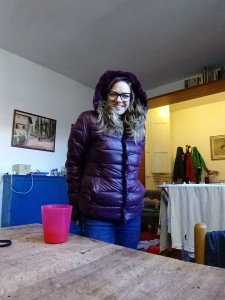 Yeah, I got my new piu.mi.no.
I spied a more fun coat hanging from the ceiling bar. "What's that?" I asked.
"It's sixty euros," she said.
"Can you get it down for me?"
It was dark purple, padded, with an amusing Dr. Seuss-esque fur lining.
She called her husband over, who came with a merchandise crook. He lifted it down.
"Is it small?" I asked.
"Does it look small to you?" she responded.
Sigh. I'll just … try it on.
"Reversibile!" she said.
"Two-faced," her husband said.
I did not even bother explaining double-sided, or his unfortunate faux ami in translation.
I tried it on. Is it possible for a down coat to make one feel twenty years younger, without looking ridiculous?
In Italy, yes. The effect is mandatory.
"Your Italian is good," the woman said.
"Grazie, io provo!" I laughed. Thanks, I am trying.
She explained that her daughter lives in Buffalo with her husband and children.
I said that the winters there were serious, no joke. Good thing the lady was in the piumino business so she could send them some extra coats to combat Lake Effect.
She looked at me curiously.
Did she really have a daughter in Buffalo, and had that daughter really never mentioned winter?
"No zipper!" the husband called. "Snaps! Without snaps, it's not two-faced!"
"I'll take it," I said.
"Sesanta," she said. I did not even bargain. I bet they would have given it to me for 50.
I pulled out a fifty euro note and a five and a ten. I handed her all of them. My fingers were cold.
She handed the five euro note back, saying, too much!
"You're so honest," I said.
"Ma dai!" she protested. "Figurati." Go figure, of course, forget it.
"We live around here, we're here all the time."
"Good!" she said, "I'm here all the time too!"
She was petite, about 70. She had a long down coat on – to her knees.
"I like your coat," I said. "I like the longer ones too."
She beamed. "Me too!"
I walked out of the market humming a tune that I realized was "New Position" by Prince and the Revolution, but I was thinking "New Piumino." (This link to a cover is the only complete version I could find.)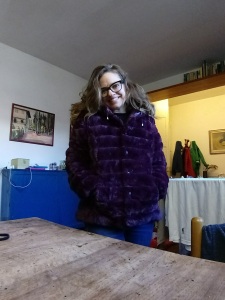 Two-faced!
Now, I look like a stuffed animal.
I think I will keep the fur side in.