The tourist season in Firenze is unceasing. They come at every level of expertise and familiarity with Italian and Florentine culture.
I provide below a brief breakdown of tourist type and level. I have my French class to thank for this, as it is simultaneously reeducating my sentiments while it organizes my thoughts along more reliable Cartesian lines.
Low: Large groups of day trippers disgorged by the huge cruise ships in Livorno and Pisa come to Firenze on coaches to see the city in a day.
Huge masses of Chinese tourists, guided in Mandarin, shopping in stores where the sales associates speak Mandarin, eating in private restaurants off a Chinese menu. This group is solid, voluminous tourism, year round, even when the days grow impossibly short for sightseeing, the clouds are dark and heavy with rain, the uneven flagstones of the piazze in Santa Croce and Santissima Annunziata and Repubblica and the Duomo are filled with long-term puddles the size and depth of fishbowls. (Fetch me my horse and livery at once!)

Doe-eyed student backpackers with that fresh "Hey, I'm in Italy!" glow.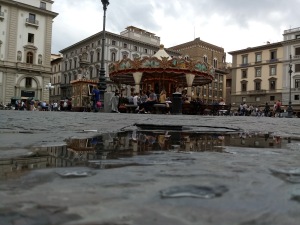 Piazza dell Repubblica after a modest pour of rain.
I need a horse.
Medium: European tourists on weeklong or long weekend jaunts. Germans identifiable by ample Wolfskin Jack accessories, and a general level of wilderness preparedness. French families exclaiming loudly to each other, "ah oui!" "mais non!' A Brit here and there, typically over sixty, with a lockjaw accent reminiscent of Grosse Pointe, Michigan. Anglophone tourist returnees.
High: Italian tourists from other parts of the country. Non-Italian EU expats. The American academic crowd whom we frequently see, populated by many who are familiar with Italy and Italian culture, who love it, and often speak Italian.
Our palazzo is partially rented out on numerous websites, the piano nobile in particular, filled as it is with original art, frescoes, and tapestries, evocative of the Risorgimento of the mid- and late-nineteenth century. I am almost positive that the bed linens are vintage, high-thread count sheets that are washed at the hottest setting, lined dried, and ironed in the tiny laundry room across the hall from us on the landing. The piano nobile is almost never vacant.
A retired Australian couple stays in the piano nobile each year for a month, in the fall. They are about 70, and are from Perth, which is the only city of any size and mention that is not on the east coast of Australia. I know this from years of listening to INXS in the eighties. and then backpacking in the nineties around Europe. People from Perth like to travel out of Perth often, and whenever possible.
The woman is handsome, and wearing her years well. Her name is either Dolores or Mary – the one time she told me, she was with a friend of hers, also from Australia, and they had just gotten their hair done together at a salon in town. They both had beautiful silver and white coifs, stylishly done. I told her she looked like Judi Dench. She blushed, and said that she would tell her husband since he was not a fan of her shorter hair. I've never successfully caught the husband's name, but he looks like he just strolled off a gawf course, in his tweed newsboy cap and Members Only jacket.
They have been very kind to us both years, and the grandma fawns over Victor and Eleanor whenever she sees them. It is clear that she misses her own grandchildren when she is here, but also that their annual month in Italy is a standing engagement, never to be delayed or missed. She always remarks on how well-behaved they are, and how she never hears them. (This is how we know she is not Italian. Italians exhort parents to not discipline their children to make less noise because, as I was actually told at a dinner party in Florence as my children chimped around on the chairs and the floor,  "the sound of children is beautiful.")
One morning on a weekend that I was on my own with the kids, we were walking back to our apartment from the edicola on Piazza Sant'Ambrogio where Victor now sources all of his Pokeman acquisitions. Anyone who has tried to walk anywhere recently with a two- or three-year-old and a six-year-old knows that the distance from A to B is a constant variable, complicated by housefly-length attention spans, thirst, and sore legs, as well as quibbling, complaining, comparing, and general random comments. We bumped into the Australian grandma on the sidewalk of Via Josue Carducci.
"Oh!" she said.
Our chorus of American hellos greeted her and her quiet husband. He held what I call the granny cart – a small metal and canvas carello that is indispensable to successful grocery shopping in Firenze. They were on their way to market at Sant'Ambrogio.
The grandma knelt down.
"How are you, young sir?" she asked Victor.
"Fine," he said, looking at me.
"Do you know where I'm from?"
He eyed me again, cautious of inter-adult trickery. I wordlessly shrugged to reassure him that this was not a fix.
"No," he said.
"I'm from Australia! Do you know where that is?"
I was enjoying this. She is really sweet, and that accent is just adorable. She sounds like she was a cast member in "Tea With Mussolini."
"Australia is a huge island! In the ocean, very far south." She beamed. Her hair did look great.
"Oh," Victor said, assimilating this new information.
"And where are you from?" she asked.
Victor thought. No immediate answer seemed to be springing to his mind, but I could hardly blame him, being put on the spot on the sidewalk like that.
"America," I stage whispered. "We're from America."
Victor repeated, "America."
"America!" yelled Eleanor.
"Oh, that's marvelous!" the Australian grandma said. "Very good. And do you know, America and Australia share much in common? Yes! We both speak Anglish, we are very good friends."
She clasped her hands to her chest. "And whatever America does, Australia agrees with, and Australia helps! Australia always wants to do what America does."
WHOA! Political bells started going off. Where were we going with this? Why is she saying THAT? I can think of many, many American decisions that I do not agree with, and I am American. This had a faintly military whiff about it.
Victor's brow furrowed and he looked back at me.
I was not sure what decade it was, or what might come next out of the mouth of Judi Dench. Was it the eighties? Was she going to go Reaganomics on us, or straight-up War on Terrah? Did she have a military discourse at the ready? I felt a sudden need to protect them from pop-up punditry.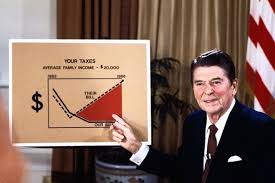 This guy, again? Please tell me we're not talking about this guy.
She said it in such a smoothly enthusiastic tone, it was hard to tell her rhetorical angle. In any case, I am not a fan of lockstep agreements of any sort.

Back out back out back out! my inner field marshal cried. Retreat!
"Ok, well, it was great to see you all!" I said, putting my hands on Victor's shoulders and steering him toward the park.
Eleanor started forward. The Australian grandpa grabbed the handle of his carello.
"Have a great time at the market!" I called. The sun was shining on our side of the street, but not the other.
We walked home past the synagogue, heavily guarded at all times by Italian soldiers packing serious heat, with one always present in the bulletproof glass booth that juts out on the sidewalk, and made our way to the swings.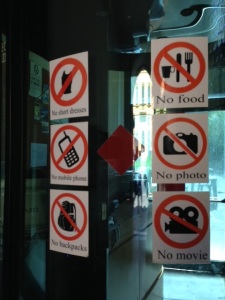 Synagogue side entrance, image courtesy Google Images.