A storm blew through last night and early this morning, pulling cold air behind it, stripping the trees of their fall color, now plastered in a solid sheet over stones and pavement. The Firenze marathon ran today, in the worst of it. I shuddered to consider the cervicale they were all actively acquiring while running in the cold, heavy rain.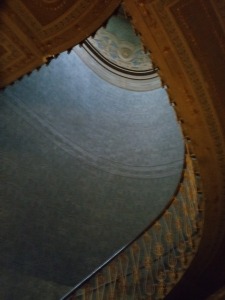 Gloomy staircase in our palazzo this afternoon
gave no hint of the blue sky outside.
Jason took a phone call regarding a student whose medical crisis was first said to be "an organ infection," then clarified as varicella – chickenpox, for which Italy does not vaccinate as in the U.S. Fortunately almost all Gonzaga's 175 students are on an extended Euro trip thanks to the Thanksgiving weekend, thereby limiting exposure in their close quarters on Via Giorgio La Pira.
I've been on hiatus to battle and recuperate from what was anecdotally diagnosed by Gonzaga's private doctor (after hearing details from Jason as to the symptoms) that Eleanor and I suffered as "un virus parafluenzale." I normally require a solid writing download of 1200 words every three days or so to stay sane; in the fevered dreams, body ache, and recurrent nosebleeds (!) of this particular virus parafluenzale, as well as vomiting children and a husband teetering on the brink himself, I was barely tracking days, much less creative output.
The inward turning afforded by the European autumn always puts me back in the mind of autumns before, when I was younger, and much given to solitary, broody journaling while living abroad or traveling through parts less familiar. I think of all the journals I filled with my traveling and expat thoughts at 19, 21, 22 – I still have them all, but not here. They are in storage in Spokane – and how internal that voice was. It was also the early and mid-nineties. People were just starting to freak out about 'zines. The internet was unknown. Jason and I often muse on how we, as GenXers of a certain age, were the last to study and travel abroad with the complete air gap afforded by snail mail and prohibitively expensive phone calls. How we read paper books and wrote paper letters and rationed our words in phone calls as we watched the clock tick minutes by.
Spain? I may as well have gone to Mars that year. My journal reflected that, as though it were a ship's log ("Spain: 1993"). I remember I did photocopy a slew of paper letters I had sent back to the US from Santiago, as they filled in the gaps in my experiential narrative, and I had friends willing to lend them back to me for the purpose.
France? I was slightly more connected, two years later; that was the first year I had an email account, but I was required to reserve ahead my time in their computer lab in the basement of l'USHS in Strasbourg, with its huge, Legoesque monitors, where I would compose and hit send on emails that were easily thousands of words in length. I had saved all those emails on 3.5″ floppy disks for years, but only recently jettisoned them, before we moved back to Italy last year. I figured there was no way to get the data off of them. Probably a mistake. Fortunately, my written record is rich in detail, and barely misses a day or a phase.
Part of the reason I wrote so much then was that I was often lonely and unaccompanied, simultaneously isolated if gently socialized, and I found comfort in the pen and the page. I was also addressing and processing all that I encountered, building my database of continental understanding that continues to serve me well to this day.
It is true that Europe no longer feels foreign to me. The last year that was the case was probably 1996. For all the years after, from 2001 on, each trip accrued a greater familiarity and understanding with Italian culture and sensibility in particular. We said it felt like our backyard, that Europe was no longer strange to us: the outlets and plugs, the funny bathrooms and bidets, the long door handles. The cigarettes and train schedules, the air kissing and meals, hanging laundry to dry, paying first for your espresso and showing your scontrino to the barista before they serve you, unless you were in your regular bar. The expressionless bus drivers, the toddlers dressed in tufted down in cold months. The grocery stores with their plastic gloves and weigh stations that looked like giant calculators. The patient process of making friends, of credentialing our cultural calling cards.
The downside of having written so much in the nineties as a young person living in Europe is just that – it's all handwritten, in journals locked away in storage. I read one of them not long ago, a journal for Strasbourg's wet, dark spring, and a chronicle in particular of a lunch at the restau-U close to Gallia that described the effect on my appetite of being confronted by reconstituted carrot balls floating in cream sauce. Who was that person? I'd be her friend now, if I came across her.
On the upside, I have it somewhere.
On another upside (how many sides to this coin are there?), that I have the written record at all is a boon. Both its representation, my refashioning of it, the formative chapters and those memories that continue to this day as reference points for me, by turns reassuring and startling.
I don't journal by hand much anymore. If I do, it is one of my rare long flights on my own without kids. I take a lot of notes, on things I see and hear, and topics to treat here, in the blog. I have at least 25 in a list right now. I actually prefer the idea of an audience that receives my writing, rather than locking it away in a journal for myself to further spiral into lonely moping, then borne aloft by amused cultural observations.
I might have posted publicly twenty years ago. In any case, then as now, even when I am not writing, I am writing in my mind; I see, and hear, and remember. It's just a matter of staking out the time to write it, to tune into that channel and listen for an hour or so. I'm less self-conscious now than I was then – the sharing triggers far less angst than it did. That's either normal, or I'm lucky. I vote the latter, because everyone likes to be lucky.
I often review my list of writing topics, and prep myself by mulling over topic A, only to switch horses capriciously to topic B once I get my sixty minutes alone for the discrete analog upload.
I had a lot I was going to write about here today regarding Thanksgiving, and being far from the U.S., and our alternative Thanksgiving activities. We took the train to Turin with Flavia and spent two days there, fanning my creative flames again. A minor and short change of scenery is always welcome in this world, especially when the hotel room is huge, nice, and comped (thank you Jason), babysitter is on scene (grazie Flavia), and local guide is knowledgeable and affable (grazie Federico).
I've found my voice in the last eighteen months. The writing is on fire like never before. I simply need to sit down and it's off to the races, never wondering about path or word choice or narrative line. I'm an intuitive writer, and when unblocked – which has been a continuous state for me since May 2016 – it flows, and flows. To tell a story or paint a scene is like walking a path, or mowing a lawn. There is no hem or haw – just f
orward, and onward, driven to the end, reveling in illustration.
I can cover Turin soon, in another 1200 words or so. Or another of my two dozen topics in mental draft should I hop horses again midstream. For the moment, thanks to everyone who is reading, and for joining me for an hour of Sunday Afternoon in Europe: Meditations.
And thank you Eleanor for falling asleep in the granny cart on the way home from Carrefour so that I could, incredibly for a Sunday, sneak in this makeup writing session. She's still in the cart, top flap open, horizontal on the bed, and snoring softly.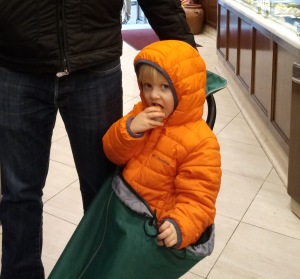 Minutes before she fell asleep getting rolled around town in this thing.