A easy hallmark of an established culture is its historic external structure – why else would sixteen million tourists flood Florence, in every month and every season, to swarm the city's landmarks and fill its restaurants?
Yet an aspect of Florentine culture that often goes unremarked, especially by tourists whose aim is to simply pound the pavement and tick off items as they complete their 72-hour whirlwind, is a culture's internal history. Somewhere among the endless glasses of Chianti the visitors quaff, and countless bistecche fiorentine they can never hope to finish, the quiet contemplation of Florentine culture persists. How do they view the soul, and its wanderings? What of the dark rooms of the mind, the sunny joy of the spirit?
Like a child who shuns the spotlight, I abhor the tourist's lowest common denominator. My impulses abroad skew more toward bookshops, local coffee and food, third-tier churches, random retail, riverfronts, and grocery stores. I create my mental map of the city, making note of street signs and buildings and landmarks. But to go up to the top of a landmark, or inside it? Cliche. To this day, despite having lived in New York and visited more times than I can remember, I have never visited Ellis Island, or the Statue of Liberty, or gone up the Empire State Building or the Chrysler Building. In Seattle, I have never zipped up the Space Needle, or gone to the EMP, or been inside the Wing Luke Museum of Asian Art (that final one particularly egregious since I lived on the edge of Volunteer Park for two years.)
This week I have been working on what counts as my short list of Florentine attractions. I've been coming to the city since 1995, and first lived here in 2005, then in proximity in 2012 and 2013, from summer 2016 to the present. And, in Firenze, I had never been up to the top of the Duomo, or in the battistero, or to the terrazza of the campanile. I had not seen Orsanmichele.
Incredibly, I have done all of those this week. My experiential knowledge of Firenze is now on par with exhausted tourists.
Monday: the church of Orsanmichele. Looming over Via del Calzaiuolo, its Gothic windows framed in pale stone with twirled columns, I have stopped to admire its reproduction statues represneting the fourteen Florentine guilds more times than I can remember, on the path between by office on Piazza dell Repubblica and one of my favorite pranzo destinations, I Due Fratellini (panino numero 28, small plastic cup of red wine). I have stopped in the church on hot days to sit and breathe the cooler air in its candlelit sanctuary. But on Mondays, it is free to go up the stairs to the first floor and the second floor of Orsanmichele. The first floor contains all the original statues which, in past centuries, looked out over the Via del Calzaiuolo and toward Piazza della Signoria. In person they look huge, at floor level. The vaulted ceilings and rib arches in red brick add to the feeling of time travel, natural light flooding in through the enormous windows.
Jason and I did a quick inventory of the patron saints. I was especially glad to greet St. James.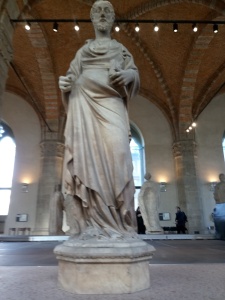 'Sup, Jaime.
We climbed the long stair to the second floor (American third floor,) and emerged into a sun-filled loft with views in every direction that took my breath away. Every steeple, every tall building, was etched in the landscape and against the skyline in high relief, the snowcapped peaks of the Apennines glittering to the northeast. The familiar arch of Piazza della Repubblica now rendered as a child's wooden block, my office window easily discerned from a distance.
There are only small statues in wall niches on the top floor, whose ceilings are easily fifty feet high. The floor is bare save for a series of rough-hewn benches that recall a Rinzai Zen monastery. In every direction you look, there is light and sky, landscapes and the tightly packed clay roof tiles paving the top of the city to its edges. The street-level cares seem to fade into the surrounding air. You can go here, and just sit. No one will ask you to leave. I mean, eventually, they probably will. But a see the man calmly reading on the bench? I am going to put this on my list of once a week, meditative mini-retreats.
Amidst the "more is more" gilt and royal blue and red and purple fleur-de-lis of Florence, here is a space for reflection and contemplation, a church atop a church. Even as you look out, you are invited to sit and look within.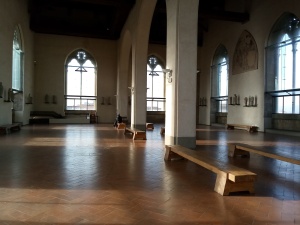 Wednesday: Hurray, another sunny day! We climb the Duomo at first light! Ok, ten a.m. FINE they're running late, so more like 10:30. We stood in line for at least forty minutes, in the cold shade of the north wall of the cathedral. Many tourists came to us when we were in the capolinea position to complain about the delay (they were running about half an hour late): was this really the line, they had a reservation, do either of us speak Spanish, what time was our reservation for, etc. The museum official reappeared from the wooden door, thoughtfully labelled "Gateway to Heaven" in large brass Latin capital letters, and muttered, "This schedule is always a feckin mess, ugh." He took our tickets and we began the climb.
This climb is no joke. Have you seen the Duomo? It is super tall. 463 steps. I had my work backpack with me, which Jason insisted on carrying around step 100. We climbed and climbed, until we were at eye level with the frescoes on the inside of the dome, and the people on the marble floor below looked like fleas.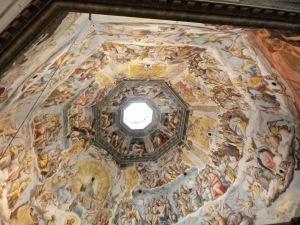 Bird's-eye view of cupola frescoes.
Up more steps, until we reached the top. I stepped out and immediately felt vertigo. Even from below, I always mock the cupola scalers, crowded around on the circular fence.  Up top it is tight. Views in every direction, on another insanely sunny day. I felt a bit like the Archangel Gabriel clinging to a steeple weathervane. From this vantage point, you are the master of all you survey, if only for a few moments. Firenze looks small and manageable; logical, even, and a far cry from the web of shadowed and narrow medieval streets through which I scurry each day. All her landmarks are laid out and easy to discern.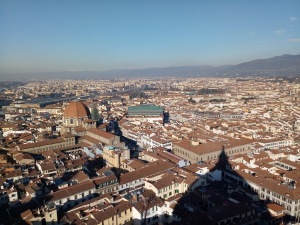 From the tippy top, the dome of San Lorenzo, the Mercato Centrale, and Stazione S.M.N.
Climbing the duomo is a crowd-pleaser; the nonstop line to scamper (or wheeze) up the stairs is a testimony to this fact. There is no reflection or contemplation in this item, however, aside from the question "is it really going to be worth it to climb all these stairs." Answer: on a sunny, clear day, yes.
Today: It's winter solstice, but making up for shorter days by more bright white light of mid-December. Jason was off to take his Italian driving exam (again – oof. He might need to guest in a post here about that), and, after I dropped Eleanor off at school, I walked down Ricasoli to the Battistero. Like the duomo and all my other A-list landmarks, I have probably, easily, passed by the Battistero 3000 times. Today, on this cold early morning, I walked up and right in. The ticket scanner was broken, and the official at the door just looked at me and waved me in, where a couple other officials gave me a very bored once-over for security.
The Battistero is under renovation, but none the less splendid. I am not sure if they still do baptisms here, but for centuries it was the only place for a Florentine to be baptized into the faith. It reminded me of basiliche I have seen before in Ravenna and on the Adriatic coast, Byzantine jewel boxes in gold mosaic. Its eight sides represent the seven days of creation plus eternity (if eternity is ineffable, it may as well be a big marble wall). I sat in a pew and admired the ceiling, which tells the entire story of the Old and New Testaments in mosaic. The altar looks straight from the ninth century with a square cross. The tools of the workers on the scaffolding behind me whizzed and whined. Hardly anyone was in the building. An enormous Christo Pantocrator sat throned over the altar, his feet marred by circular black nail holes.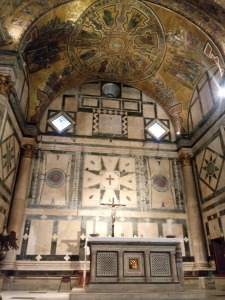 Altar
It was beautiful, and I did regret waiting so long to see it. I am realizing now that it is more my nature to be tucked into a contemplative space, than to climb atop something to look at and crowd and feel elevated. I prefer an enclosed, low-light, glittering, space covered in the mosaics of dreams and the collective memory. This may also explain my predilection for Benedictine retreats – a topic for another day.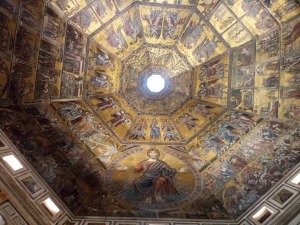 Mosaic dome to jog your memory of Western Civ and cultural heritage 
The morning was sunny, and still early. I was saving so much time by not standing in lines, so I decided to use my ticket (valid for 48 hours) to see the Giotto campanile too. I trotted over to the campanile (bell tower), which I ride by on my bike dozens of times a week, and found a door I had never seen before. There is also a gift shop staffed by grumpy Italians who do not want to peddle this crap!
No line at all to climb, so I walked in and up the 414 steps. It is less claustrophobic than the duomo, as it is largely open air at each of the three terrazze before you reach the top. Also, the signage is better, and of course I read all of it, since I like to learn as I exert myself toward silly, cliched goals. I was glad for my sweater, piumino, scarf, hat, gloves, and furry hood as the wind blew through screen covering the openings.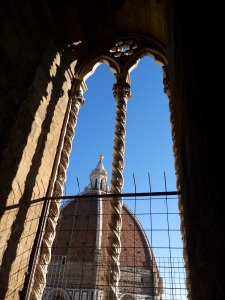 Oh! Ciao, cupola del duomo! You look familiar.
On the top terrazza the views spread out, as from the Duomo, with the added bonus of seeing the top of the duomo from the top of the campanile. After the three landmark climbs this week, I have a solid grasp of Florentine geography, and wish I had done it sooner to really understand how the Mercato Central and San Lorenzo fit in with the city, since you can never see them unless you are on top of them, or accosted by leather sellers in the Mercato San Lorenzo.
So, a quick summary of yin/yang tourist attractions:
Orsanmichele: yin and yang. Outer view plus inner reflection.
Duomo and campanile: yang all the way. Climb, endure, enjoy macro views, feel like a conqueror. Catch breath, get down, one and done.
Battistero: pure yin. Come be enclosed in Florence's golden heart, reconnect with our enduring stories, and enjoy the silence and weight of history.
I'd go back to Orsanmichele and the battistero. I won't feel the need to climb those towering heights again, unless some mountain goat comes to visit and really, really wants to do it, and promises to take me to Caffe Paszkowski after for a caffe macchiato and a cornetto vuoto zuccherato.