Saint James and I have been friends for years.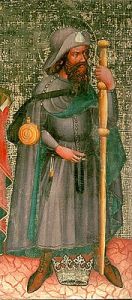 Meet my personal patron saint.
Almost 25 years, to be precise.
I first met him at nineteen, when, as an unchurched Protestant Midwesterner, I found myself in the the middle of Santiago de Compostela in January 1993, the clouds socking in the city so that none of the surrounding hills were visible, rain pouring down in buckets by the hour, rendering umbrellas useless and jeans that stayed wet for days.
I was on a study abroad program, in the spring semester of my sophomore year in college, and I had arrived alone. I was rocking that pilgrim gene hard. I am pretty sure I walked down to the church in my first day or two on scene, to feel the worn marble at the foot of the tree of Jesse, to eyeball the enormous bota fumeiro used to stream incense high above the pews at high mass and on feast days, to meander among all the chapels, and to duck into the crypt of the saint.
Santiago means "Saint James" in Spanish, and it is in the crypt of the cathedral that his relics are buried. Martyred in 44 CE, his followers were forbidden to bury him. Nine centuries later, it is said that his remains were found. In various fantastic stories, he is pulled on a ghost ship made of stone from the Holy Land, and a white steed leaps form the foam to pull him to land in Galicia. The name Compostela itself alludes to the star in the countryside which some shepherds followed until they arrived at the granite barge (sound familiar…) His remains received a proper burial almost a millenium after his martyrdom, and Santiago de Compostela was branded thenceforth as Saint James of the Starry Countryside.
A bit of sloppy internet research just revealed that the town may have been called Compostelum in the Roman era, referring to the camp of stars – the orienteering by astronomy that led pre-Christian pilgrims to its rainy northwestern corner.
In any case, Santiago was the third top medieval pilgrimage destination, after Jerusalem and Rome, and while Jerusalem is a tourist destination as well as a pilgrimage destination, and Rome the same, they are large cities, giants on the historical landscape. Santiago, in turn, is a small town of under 100,000 tucked into the Spanish countryside, yet it has bloomed in popular imagination as a destination for those undertaking some sort of personal visionquest, grappling with midlife, or any number of reasonable justifications. I think the hot thing now is to fly to Peru and trip on ayahuasca, but the Camino provides a more natural, even blistering, mortification of the flesh that also leads to insight, transcendence, and epiphany.
Note that, in the medieval era, a pilgrimage to Santiago could be meted out in court as penalty for some severe crime, since the highway robbers along the route were so fierce that hardly anyone would be surprised if the convict was thrown off a stone bridge to his death well before he saw the cathedral sires from the peak of Monte de Gozo, outside the city limits. Pilgrims who did return home often took a name to denote their survival, much in the way that Muslims today append Hajj or Hajji after their name to convey their successful hajj to Mecca. Pilgrim groups to Compostela elected a leader from among the group, whom they called King, and today many people, especially Catholics, who are named Rey or Del Rey or King or Le Roy or Leroy carry the traces of this family history.
1993 was an Año Jubilar Jacobeo, meaning the city was streaming with pilgrims who had made the journey, or part of the journey, on foot to receive a Compostela – an indulgence for the forgiveness of sins. They often looked like they had paid handsomely for those sins on the trail, as they limped in with staffs topped by scallops, their ginger hobble betraying blisters upon blisters, shin splints, and general wear and tear. They walked in groups or in lines down the Rua do Franco, named for the medieval tax, or frank, that pilgrims paid to enter the city. (Not Francisco Franco, as a teenaged me naively assumed for months after I arrived.) "Franco" derives from the same Latin word that gives us English "franking," which today, as far as I know, is only used to in congressional contexts, such as when US senators and representatives sign or rubber stamp an envelope with their signature in lieu of a stamp. In the last 25 years, the Camino de Santiago in in its many routes has been increasingly popular, the subject of a film by Emilio Estevez and his father Martin Sheen, numerous books, and general wide entry onto bucket lists, regardless of religious affiliation.
I have never officially "done" the Camino – in today's understanding, this means the Camino Frances, although there are many others. In 2005 on my own (Jason was working in Italy – we were engaged then), I did realize huge parts of it on the narrow-gauge FEVE train system of northern Spain, as I worked my way from Bilbao, backtracking to San Sebastian, then across the northern coast through Lekeitio, Castro Urdiales, Cudilleiro, Santander, Viveiro, Padron, Oviedo, and back into Santiago. I met many pilgrims on the train who were taking a day break from walking or biking on the FEVE routes that wound through the forests of oak and birch that cover that part of Spain. It is still on my bucket list, but now even college groups of students complete the Camino in whole or in part in groups with faculty leaders.
In 1993, I was intrigued by the idea of travelling with the Compostela passbook, getting my various stamps at the pilgrim refuges along the past, eating simple meals in refectories with strangers. Then, as one completes the Camino and arrives at the Porta da Gloria, the completed passbook is presented, all sins are absolved, and there is also a cute gift shop where one can buy bookmarks or paperweights to commemorate one's newly immaculate soul.
In any event, my introduction to St. James and the pilgrim culture took hold all those years ago, and has stayed with me to this day. I identify strongly with the pilgrim archetype, a traveler with a purpose, even if a distant one, and one so far-flung from home that trips are measured in years, or even decades. Even now, every time I see a scallop, or a cross of Santiago, it is like seeing an old friend, feeling his welcome handclasp.
In Florence especially, just before the Ponte Santa Trinita, at Chiesa Santa Trinita, there is a statue of San Giacomo in an alcove, hat jauntily propped, scallop on his shoulder, staff topped with a gourd for water, missing a hand. I smile involuntarily every time I pass by there, whispering a warm, "Hi, James."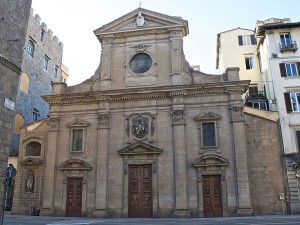 Basilica Santa Trinita
Credit: Archdiocese of Florence
Note St. James in alcove on far left
And, even more coincidentally, he is the namesake of the American Episcopal church in Florence, where I have been singing in the choir for over a year now. St. James Episcopal has welcomed us a family in a way that particular to Florence, indicative of the many aspects of expat support in the city.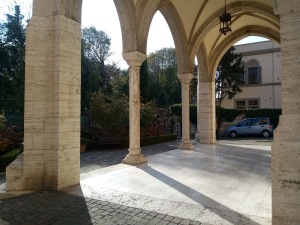 St. James Episcopal Church – portico
Yes, St. James has come full circle for me, as the friendly saint of my first year in Europe has reappeared again as the welcoming patron saint of travelers and pilgrims (and Spain) here in our new life. My pilgrim gifts (and welts) are welcome in St. James, which was founded in the nineteenth century by a rather Gilded Age cohort, led by none other than JP Morgan himself. The foundations he endowed for St. James thrive today, and provide a solid ground for the many programs of outreach that we do. St. James welcomed me by allowing me to warble on in their choir alongside professionals from the Opera di Firenze and the Opera di Livorno, as well as freelancers with incredible gifts of voice and music, and Riccardo, our Buddhist organist and pianist who can sit down to play any piece with a natural ease and fluency that takes my breath away. In March, I came onto the vestry – their governing body for the parish – and soon agreed to secretarial responsibilities for the group. In May, I trained to serve as an LEM (lay eucharistic minister), and have served the wine from the chalice at a half-dozen masses or so since then. I love that the leadership within our church weights in favor of women, and woke men. I cannot count the many opportunities St. James has given me to more fully become a contributing member of the community. As we are here for the long haul, that is a high priority for me.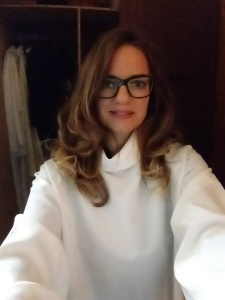 In the vestry, fresh off mass this morning.
It's a truly diverse congregation, comprised of all walks of life, class, origin, nationality. It gives me the deeply transnational American experience that I so craved in Arezzo five years ago, and in Oklahoma in general. (Funny side note – in Arezzo I used to lurk at the southeast asian market just to buy curry ramen or seafood udon and or masala in small tin cans, to be among a mix of people, so homogeneous did Arezzo feel with its scores of well-heeled, well-bundled bourgeois Italians trotting up and down the Corso d'Italia in their new shoes every evening at the passeggiata.)
St. James, I am glad we met when I was so young, and am more grateful still for our evolving friendship, and the many ways you continue to surface in my life, reaffirming my recurrent themes and challenges.