In a prior post, I briefly sketched a few details about a concert I went to see last Sunday with Sophie, the new assistant choir director at St. James Episcopal. Sophie is professional musician and excellent company.
I had seen the pubblicità for the concert on Via della Dogana, a small side street next to Jason's office where the tourist buses stop to disgorge their day-trippers. The high stucco wall that forms the back of San Marco is often papered over with posters for all kinds of events. I usually check them, either on my bike, or on foot, or the bus, because they change frequently. (Old school technology ftw.) There is always so much going on in Florence that it would be impossible to aggregate a calendar. So, my eyes and ears are always open for any event that might be even remotely possible for me to patronize, given family schedules, life, and a craving for music and high art.
In any case, here is the pubblicità, in an image I snapped to send immediately to Sophie, now that I have a music-minded friend whose schedule, when she is not traveling to perform, seems significantly less complicated or compromised than mine, what with our small children and germs flying about.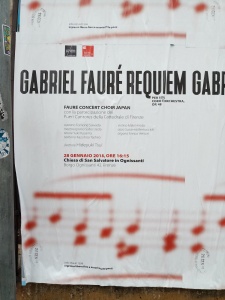 A free concert in Ognissanti, on a Sunday, with a visiting choir from Japan, singing pieces I actually knew. No way was I going to miss this, if I could help it. We had just recently sung "In Paradisum" for mass, and I love it. Seriously, if you feel a little stressed out right now, just take a listen. It will transport you. And the lyrics will make you teary.
In paradisum deducant angeli
In tuo adventu suscipiant te martyres
Et perducant te
In civitatem sanctam Jerusalem
Chorus angelorum te suscipiat
Et cum Lazaro, quondam paupere
Aeternam habeas requiem
The day of the concert arrived, and I was fresh off a morning of singing at St. James. I have already detailed my grief with the repeatedly flat bicycle tire, so will spare the retelling of it here. Fortunately it was a truly gorgeous day, sunny and warm, perfect for a stroll down to Ognissanti from Piazza D'Azeglio. I rarely walk on foot the whole way to anywhere in town, as I tend to speed around, late for everything, on my bike, being occasionally scolded by high-minded Italian nonne whose job it is to correct the errant behavior of members of the public for infractions that barely register.
Sophie wanted to meet first for an espresso. I put together the Florentine layout as I walked, since I am never on this route. Oh, so this is Vigna Nuova – oh, and so it connects here to Goldoni – oh, so now I am just one block from Ognissanti. 
Everyone loves Ognissanti. It is renowned for the Westin Excelsior and its rooftop bar (still have not been there), the French Consulate, with the Alliance Française and Librarie Française, a spacious piazza protected from traffic, a large sculpture in the middle, benches scattered about, and to crown the whole, Ognissanti herself holding regal court from the lower end of the piazza, looking out over the Arno to her friend for centuries, Santa Maria de Carmine. The late afternoon sun of winter bathed the stone in a warm glow.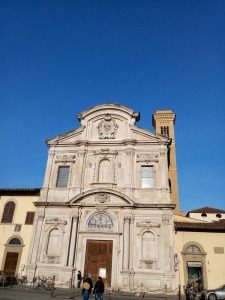 Ognissanti
I went to the entrance of Ognissanti and poked my head in to look around. Plenty of room, pews for miles, no problem. After a few confused exchanges, the usher said the doors were to open at four, and to come back in a bit, asking me as I departed if I spoke English.
I walked up and down the street a few times unsuccessfully searching for the caffe where Sophie had said to meet. It was closed this Sunday, as it happened, and shuttered into anonymity. We finally caught up with one another, and ducked into an empty restaurant where a lone barista shrugged and said he'd be happy to pull us two shots – for a premium price, as we learned when we finished. We chatted about an upcoming opera production she is helping to produce, and her regret at planning to leave the Ognissanti concert early to catch a headliner conductor at the Palazzo Pitti.
Back at Ognissanti, at four o'clock, the church had filled in a matter of moments. Where had all these people come from? I was reminded of a particular train in Croatia in 1995 at dawn (a story for a different time). Many Japanese attendees, the likely relatives of the dozens of choristers, patiently waited.
Sophie and I walked up and down the aisle trying to find to spots together, on any pew. We finally scooted into a pew where someone had strewn their personal belongings, in an attempt to save seats for the free concert.
"Are these your things?" we asked the nonna.
"No, who knows whose things those are? They're not ours." She squinted at the jacket and the bag.
We left the things in the middle of the pew, between us and the nonna.
More and more people trying to find seats stopped to ask us about the belongings on the pew.
"Are those your things?" they asked us.
Nope, that purple Members Only windbreaker was still not mine.
"Who does that?" the nonni asked us. "Who?"
We shrugged. Who knew who does that? I didn't know, I was just here to see the concert.
Soon a bald man with fashionable glasses came and sat down between us, moving the purple jacket to the floor.
No one came for the jacket or the bag.
Another couple came and sat on the pew.
The original nonna, closest to the aisle, now began to feel crowded, and tapped the shoulder of the woman in front of her.
"You know, these pews are meant to hold five people each, and your pew has just four people on it."
Nonna #2 looked at nonna #1 and held her gaze for a moment, then nodded in agreement and moved over to let nonna #1 move up a pew.
Sophie and I suppressed snickers.
This was such a portrait in miniature of Italian culture, and Come Si Fa in Italia, and the public discussion of what is expected and acceptable. I actually like that, in Italy, one can publicly ask these questions about abandoned personal items, or the correct number of people who can fit in a pew, and the civil discussion continues. No one blows a gasket, or even thinks about pulling out a gun (these last five years or so in Oklahoma really scarred me with respect
to firearms.) Simply civil discourse, completed. I am so overdue for a civil retraining.
The concert was late to start, which was surprising, since the Japanese choir was, well, Japanese. But then, they were in Italy. Finally the 130 choristers filed in, the organist took his bench, his page turner next to him. The soloists came in last.
Sophie received a text that the other concert she had planned to attend in Palazzo Pitti was sold out, and that her friend and our fellow chorister Tabitha would be joining us at Ognissanti. By now attendees were sitting under the altars in the chapels lining the sides of the sanctuary, and leaving against their marble plinths.
The sound was amazing. From the first note, it filled the sanctuary with perfect tone and reverberation, first the Vivaldi, then the Fauré. None of the soloists were miked, and they sounded great. Halfway through the Fauré an angelic voice floated down, and I looked and looked until I saw it was a treble – a boy soprano – aged about 11, Sophie and I thought, singing like a bird from the pulpit. I now understand the seventeenth-century rage for castrati like Farinelli – the sound truly is otherworldly, and with what grief they must say goodbye to that training when their voices change. Many people stood to take video when he sang.
I checked the history of Ognissanti on my phone, today a Franciscan church, but originally built by the Brothers of Humility (not sure what they are called in English). You can visit the tombs of the Vespucci there, as well as Sandro Botticello, Signore Nascita di Venere himself, who receives homage to this day from visitors in the forms of notes and flowers in thanks for the enduring legacy of art he left.
The concert concluded and we returned to the fresh evening. The purple windbreaker remained on the floor.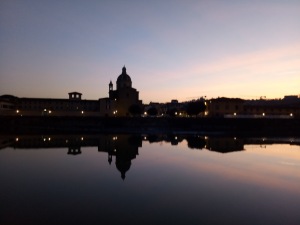 I feel so fortunate to be bringing music back into my life, as a singer, as a musician, as a performer, as a patron, and one who truly appreciates music. I miss my days in school choirs, and voice lessons and recitals, and subscribing to the Seattle Opera, but I love this chapter where I am singing in a choir in Florence, and understanding more deeply how and why music plays a role in our lives. It is such a true point of entry into Italian culture, and Florentine culture in particular. Gifts will surface when we need them.