The stables were freezing, the violinist said.
There was no way they would be able to play for an hour and a half, straight through without intermission. Their hands were cold, and even more importantly, their period string instruments were strung with gut to do justice to the Baroque music.
The steel or nylon wires, she said, would not have been impacted at all by the temperature, but the gut strings would have to be re-tuned every twenty minutes or so.
How this was going to be possible, it simply was not clear.
Plus, how were they expected to wear concert attire? I listened carefully and nodded. I am not string musician, but her concerns made sense to me. I too am always freddina – freezing. That condition, thankfully, is coming to a conclusion soon here in Florence.
The quartet was lodged downstairs in the palazzo, in the basso mezzanino, which I had never seen before, but looks every inch a set for a period film by Merchant and Ivory. Two bedrooms look out from large windows onto the capacious and blooming garden behind the palazzo, with rows of small frescoed barrel vaults for ceilings. The furniture is nineteenth century, with tiny desks and chairs and metal beds. They were there for the week for rehearsals for a festival production of Gluck's "Orfeo ed Euridice," to be performed in the stables of the Palazzo Corsini by a young cast, with a forward-thinking director and producer.
I am friends with the producer, Sophie; she was also singing Euridice. She works with the choir at St. James, and as is often my way, I had fallen into conversations with her about ground logistics and creative solutions, given their performance dates in different cities and needs. That is how the quartet came to stay for a week at the palazzo we call home.
We had tickets to attend the performance on Thursday, and were going with Claudio and Francesca, who are our landlords, neighbors, and friends. I was glad they were accompanying us because I had no idea where the Palazzo Corsini was, and plus, Claudio had offered to drive us all. Francesca knows the Corsini family, and asked me what the address was for the performance.
"It's in the Palazzo Corsini!" I said brightly.
"Yes, I know, dear," she replied patiently. "What number? I don't even know how many numbers that palazzo has, between their doors and the gardens."
I looked up the palazzo on my phone, but the street it gave wasn't even right.
Francesca went back upstairs to get the poster the quartet had dropped off for her before they left.
"I know where it is," she said, "it's the scuderie (stables) address."
We headed downstairs to the piazza where Claudio was waiting for us with the car.
Driving from one location in centro ZTL (zona traffico limitata) to another is a bit like space travel – you must go out to a ring road to come back in, so a trip that would take me 10-15 minutes on a bike will easily take 30-45 in a car. Plus some swearing and dry gargling.
Claudio, however, as an unflappable Italian gentleman, gamely remained calm throughout the navigation, his beret jauntily perched atop his head as he manned the wheel of the tiny town car, telling Jason with a laugh on Liberta, "I am never quite sure which was to go here," and, later, backing the car out of a wrong turn he'd taken at the snake of an intersection currently strangling the main train station. I was plenty impressed with his aplomb.
We parked in a space that looked to me like it might have just barely fit a crate of clementines, and walked around to the palazzo. In front of the Hotel Medici, Francesca lamented the large paved apron in front of the hotel, saying, "There used to be the most beautiful fruit trees here." As far as I can tell, about 35 years ago someone who hated mature, urban fruit trees, such as used to crowd around many properties in Florence, began to rip them all out, and did not stop until they were almost all gone.
We arrived at the Corsini stables and walked in, through a huge door, then past car after vintage car that seemed ready for a period drama like "Downton Abbey." I am no car buff by any stretch, but these old Fiats and Aston Martins were gleaming. Claudio and Francesca had been to exhibits in the scuderie before, and were pleased to return. We checked in at will-call and wedged our way into the small crowd that was waiting to enter. It was a festive group, but I couldn't move. The venue was intimate indeed. Francesca immediately began to spy a few of her friends, and slipped through the packed people to exchange buona seras. Jason and I stood around and watched a cluster of girls on an ancient settee devour a giant bowl of popcorn.
Soon a petite older woman with a booming voice came through.
"Georgiana!" Francesca brightened. "It's Signora Corsini. Let me introduce you to her."
Signora Corsini was all business, and leaned in to hear my name, and Jason's, while Francesca generously introduced as their friends and affiliates of Gonzaga, as opposed to the rambunctious tenant family in their grand palazzo on the opposite side of town.
Signora Corsini asked me if I had had any refreshment yet.
I said no, I couldn't get to it, gesturing to the packed bunch of people.
She looked shocked. "Of course you can arrive at the refreshment! You must! Allow me."
She parted the crowd with a deep, "Permesso! Permesso, signori!"
At a back table I had been unable to see stood two huge urns, one of mulled wine, the other of a concoction I understood to be a combination of beef broth (?), Red Bull (??), and, possibly, vodka (!?!). I do not know which observation alarmed me more: the possibility of such a drink, or the sad state of my Italian comprehension.
Unable to clarify the contents of this second urn in the roaring, tiny space, I said, "I would like the Gluhwein."
Eh?
"Err, the vin brulee."
Eh?
"Il vino," I said, pointing.
Signora Corsini dispensed a small cup of the steaming wine and handed it to me. "E lui?"
Jason politely declined.
The doors to the stable swung wide, and Georgiana invited "people of a certain age" to come first. Francesca looked at me and shrugged. "Of course, we're just going in." I followed her lead and we quickly found chairs. Jason had a standing post in the horse stall behind us, and neighed good humoredly. I saw a number of people I knew from St. James on this, the last night of the production, concluding their Italian tour. I noted a small group of women who seemed like they knew the place, and who all looked like each other, and assumed they must be the Corsini sisters. The daughter of one of them, aged about ten, had an enormous bowl of popcorn, and was sitting on the floor eating it with such gusto that bits and pieces were flying onto the rugs covering the stones, and dropping all over her sweater, adding a touch of farcical Wes Anderson to the whole scene.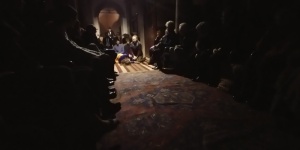 Povere Euridice. Will she come back to life?
Spoiler alert: in the Baroque version, YES.
There were maybe a hundred people total in the audience, tops. The orchestra was at the far end of the stable, under a handsome ston
e statue of San Eligio, patron saint of horses and their caretakers, and under that, a smaller statue of the Virgin. The sound in the space was optimal, for the stables were a bit like a stone chapel, and filled with the music as the orchestra began to play. The Corsini were a historically well-placed family indeed as I counted sixteen stalls in our space, all bordered by stone columns. It looked like a horse chapel.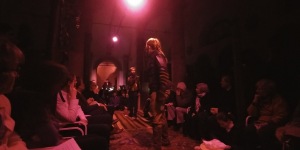 Orfeo baragining successfully with Amor to restore to life his beloved Euridice
The quartet did have to pause periodically to re-tune their strings of gut, I noticed, but they did it so quickly as to be almost unnoticeable, and in any case the handsome cast was a transparent distraction. Gluck, as a Baroque composer, had the resource of castrati countertenors at hand, but in this opera, Orfeo was sung by a beautiful, tall woman, whose face was scrubbed clean, her hair wound back in a tight braid. It took me a while to figure out she was Orfeo. I mistakenly thought at first she was the shadow Euridice – perhaps a dream Euridice – in any case, I worked it out, and the singing was beautiful, as the chorus and soloists were inches from us at full volume. 
The costumes were amusingly tongue-in-cheek – Amor was an Elvis impersonator, Orfeo an RAF pilot, Euridice's skirt and bodice looked like they came from last year's Feria Sevillana, castanet-ready. Moving forward, I would love all live entertainment to be that close to me; it is so much more striking than watching an opera on stage form a box, and everything looking like an animated postage stamp.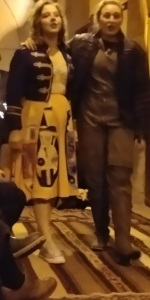 Euridice and Orfeo are reunited!
The young girl continued to eat the popcorn with her mother and aunties. I tried to avoid direct eye contact with the singers so as not to fluster them. Since this production was an adaptation, and not the entire work, it was about an hour and a half in length, but none the less for it. (Good news for Jason in the horse stall.)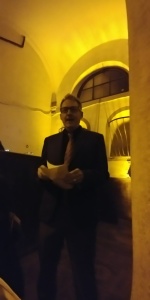 Oats and opera, anyone?
The finale finished to much shouting of brava, bravo, bravi. The conductor thanked everyone for coming, and outlined the next festival productions scheduled in the gardens of the Corsini for late August and early September.
"Che meraviglia!" a Corsini sister breathed from a stall across the aisle. 
We finally squeezed out of the stables back into the entry corridor where all the vintage cars silently gleamed. In the warm evening, Francesca outlined for me the many talents and accomplishments of Georgiana, clearly a woman of much fuoco e spirito.
Driving home, Jason and Claudio debated the Gluck revision of the Orfeo and Euridice myth, agreeing at the end that Gluck was under pressure from his patrons in the royal court to make an ending more piacevole (pleasing), since the original plot is a tragedy, as Euridice perishes and Orfeo descends into an eternal grief. We also covered the casting, and the history of castrati, agreeing that the opera would have become vanguard indeed had it been edited to star Orfea and Euridice.
I can't wait to see their late summer productions of Tchaikovsky, Shakespeare, and Mozart. Perhaps I too might be able to dine in the Corsini gardens with other guests …