Sophie had first mentioned it in a fairly offhand way.
"Can you come to a concert on Monday? It's free."
"Sure!" I said. The timing was perfect for my workday, and the Palazzo Tornabuoni is just around the corner from my rented office space on Piazza della Repubblica.
Sophie asked me if I would like to invite Jason too, along with Claudio and Francesca, our upstairs neighbors and the genteel owners of our palazzo.
"Yes, I would like to invite them," I said, but given logistics and perpetual prior commitments, they were very likely unable to attend, or worse, would confirm first but then have to bow out the day of, with short notice. "Let me just come," I said. "I can promise I will be there."
"Superb," she said. The Palazzo Tornabuoni is next to the Bulgari shop, across from Palazzo Strozzi.

"I know it well," I responded.
I have come to learn that Firenze is first and foremost a city of constellations, with the large piazze interconnected stars, and the smaller piazze (Peruzzi, Pier Maggiori, as examples) and named palazzi smaller dotted stars among them. D'Azeglio, Liberta, San Marco, San Giovanni, Repubblica, Signoria, Indipendenza, della Stazione, then Santo Spirito and Tasso in the Oltrarno. Donatello, Michelangelo. And on and on. The streets change names so frequently, every tiny block or so in some places, that it is easier on my bike and on foot to simply plan my route by piazza-hopping.
The day of the concert was Pasquetta, literally "little Easter." The Monday after Easter that is a federal holiday in Italy. All Italians were off work, strolling on sunny streets and eating gelato in the warm air. I was not eating gelato in the warm air; like an American schmuck, I was holed up in my second-floor office overlooking the festive piazza, watching the world swan by. But I was sustained by the prospect of a live concert. My singing with St James has quietly opened up for me a network of live music and musicians, dilettante though I might be, and I find myself here and there about town for performances as they come up, which I love. They are most often classical music with vocals and a few instruments. I do not think I am truly a symphony or philharmonic type, or even grand opera. Give me a small venue, let me feel the chords in my chest, let the singers hit their notes in close proximity. I need to be tucked as solidly into the middle of the music as possible.
At the entrance of the Palazzo Tornabuoni I realized it was a hotel managed by the Four Seasons, and a timeshare. Hundreds of such entries exist in Florence, and you never really know what they are until you are invited and can legally snoop. A liveried doorman stood at his podium, "Nome?" and let me in after confirming I was on the short list.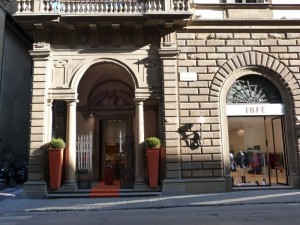 A palazzo? A timeshare? A luxury hotel?
A locale of historic operatic import?
All four.
Lost to Florentine history are a few political events and turns of fortune in the 14th and 15th centuries that resulted in families changing their names so as to ensure a fresh start on the PR – what some of our less savory political families in the US might prefer to be called, and in two or three generations, no one would remember the crimes of their antecendents, in fact believing the conceit of a positive-sounding last name. (Think of Javanka renaming their kids "Goodpeople" or something like that.) When I find the original name of the Tornabuoni, I will post it back here, because I remember this was a very funny fact.
I bumped into Sophie's parents, visiting from England, in the elevator, and we made our way upstairs into a grand salon where we were immediately offered flutes of prosecco by the hostess, an ebullient blonde Brit with a beautiful piega (I always notice, and Italians do too). Her mother and I caught up on the month prior when I had last seen her, in early march
Sophie's parents and I all settled into the leather-upholstered furniture and admired the space as more and more people trickled in. As it happened I knew quite a few people at the event, so the small talk did not induce in me its normal anxiety. Despite being a social person, small talk gives me hives, as I am thoroughly allergic to disinterested, prescriptive banality. Sophie was nowhere to be seen, but I did meet her amiable pianist, Martyn, also from England, and out of central casting (see: Young Musical Prodigy).
The high ceilings were covered in bookcases, a hearth glowed with candles in hurricane lamps, and we remarked on two urns so oversized as to be vulgar, and possibly stash holes in plain sight for contraband and people. A well-groomed bartender was busy pouring more prosecco.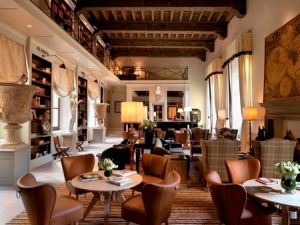 Lovely venue for an after-work prosecco. The bar in Palazzo Tornabuoni.
Check out those urns. Got anything to hide? Better be big.
"You know," Sophie's mother said sotto voce, "the Four Seasons got in a heap of trouble with the commune after they remodeled the space, because they scraped it down to the stones and boards."
I looked around, and agreed with the comune. The space did carry more than a whiff of Restoration Hardware and Pottery Barn, especially with those gigantic cement urns, which seemed so out of place. There was very little of the dusty, formerly brightly painted woodwork that is so often seen in historic palazzi here in Florence.
The hostess came back and brightly announced that it was time to come through to the recital hall. I trotted in with the group, which also included, as I came to know, many residents of the palazzo, also out of central casting (see: Well-Heeled August European Petty Nobility), offered cultural events in the palazzo by the Four Seasons by way of in-house Florentine entertainment.
I gawked at the symbolic hat of the Belgian woman, worthy of the Windsor Derby, a huge ivory affair held to her forehead with a headband, and her giant owlish glasses with ivory frames. She was accompanied by an older gentleman, and a younger man with a waxed handlebar mustache over a three-day beard, clad in kneesocks and knickers.
I took a seat in front of Sophie's mother, who thanked me for doing so, as we are roughly the same size. The room glittered in glass and white marble, and a photograph of the larger hall through the doors behind us gave the impression of an even larger space. The hostess welcomed everyone, and noted that we were in the same room where the first opera was performed eve
r, in private – "Dafne," by Jacopo Peri.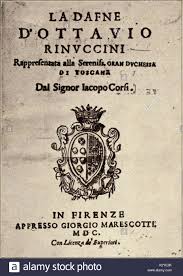 Copy of original program for Dafne.
Sophie and Martyn came out and set to making their music. Mozart and Poulenc filled the air first; then Martyn owned that priceless grand piano as he furrowed his way thoughtfully through Chopin's "Raindrop" – "Prelude in D Flat Major" (breathtaking).
Sophie came back and sang more! Debussy, a beautiful operatic excerpt from Charpentier's "Louise," and finished with a round rendition of "Tonight," with a nod to the appreciate Yanks in the salon.
I remembered the accomplished pianists I have been lucky to know in my life, and though of how glad I am to be in the presence of our Riccardo when he plays at St. James, sweeping down the aisle after with his sleeves billowing behind.
The hostess returned to applause, and invited the appreciative private audience back into the bar for further drinks and what is called an "aperitivo abbondante." I partook as I was able, but then had to slip out to get back home to Jason and two children with sniffles.