A cultural observation? If I may.
Italians love to consider problems in groups. They absolutely love it. It is a birthright.
My new office space is a recently renovated palazzo, formerly Trenitalia. It has had a lot of work done. There are finishing touches taking place now – painting fresh murals on walls, putting in light bulbs that look like 1920, adjusting air conditioning. This has all been happening around me as I work in the new space this week.
Every problem, even the smallest problem, requires at least six to eight Italians to consider it and bring it closer to a point of resolution. I do not know if the problem could be solved with just one Italian.
Is this a union thing?
A vent was malfunctioning in my new space yesterday. Eight Italians came to look at it and talk about it. One man held something that seemed like a precision instrument, to measure air flow. The other Italians looked up and made comments.
Comments included: crap; this makes no sense; why, what are we going to do; who knows what to do. Et cetera.
The man holding the precision instrument seemed not at all confused, nor did he seem to be consulting any of the other Italians in the group. He calmly measured, squinted, looked up a few times, jotted down some numbers, and left. The other seven Italians trailed out after him. I would wager they all went to get an espresso.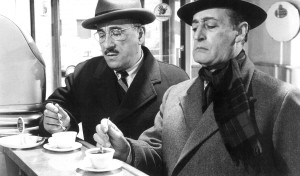 We're not done here. There's more to say.
I mused a bit.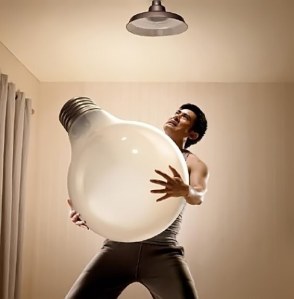 The American way.
Do it yourself. Work with no one else. Suffer. The job is probably too big.
Do it anyway.
This would be like eight cable guys in the U.S. coming to your house to hook up your cable, or to resolve a cable issue. One guy's got the needle-nosed pliers to fix the thing, and the other seven guys are all standing around talking about the NFL draft or pre-season, and how silly their employer is. One is saying to the other, hey, I like those pants, the flat-fronts are flattering. Other dude is stroking his sideburns. Afterwards, they all leave together in three trucks to go do it again.
Where two Italians gather, let there be more. And as they solve the problem in front of them, let them suggest further unrelated problems which they might easily resolve, on macro- and micro-levels.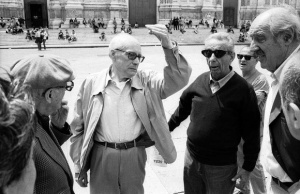 This. Pretty much. Every day. Your civic right to public debate
with family, colleagues, friends, and strangers.
C. Oliver Stegman Photography