We are in La Rosiere, a small burg just over the Italian border crossing the Col St. Bernard. Yes, the namesake big dogs are native to these mountains, their steep ridges and dark valleys still treacherous in the winter months, roads closed from November to May or June.
Eleanor calls them "doctor dogs," recognizing their wooden barrel, and the shield of Savoy, which resembles both the Swiss flag and the Red Cross emblem.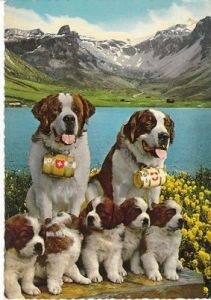 The next largest town is Bourg Saint-Maurice, visible from our balcony on the valley floor below, flooded in sunshine. Mont Blanc and Montrose are in this chain of peaks, still snowcapped in the second week of August.
La Rosiere is small and incredibly safe. The front door to our apparte-chalet has never been closed or locked since we arrived. A scattering of businesses address any need: pain au chocolat, gin, baguettes, aspirin, slingshots, stuffed St Bernards. The town must have as many bars au vin as hotels. Everything is well connected by paved pedestrian paths. It's a bit like Bend, OR, but in the Alps. There are hiking paths everywhere. An intermittent stream of semiprofessional cyclists round the bend and come over the hill into town, high on that Tour de France feeling. La Rosiere was the finishing point for the eleventh day of the Tour de France this year, and all the signage is still up.
We arrived on Saturday night, on the eve of Les Clarines (cowbells), their annual celebration of traditional culture. Starting Sunday morning, femmes savoyardes (local women) filled the street wearing peaked velvet headdresses that resembled Cruella de Ville. There were multiple bouncy castles and Saint Bernard puppies and plenty of wooden clogs. The local PTA sold cotton candy (barbe a papa) and hosted a "learn how to milk" cow that was a hit with Vic and Eleanor.  We watched sheep eat a fresh salad for some time in a pen that had been erected onto the street, the farmers at a card table next to it selling fresh Brebis cheese from a cooler underneath. We join the long tables of French families and tucked into a Sunday dinner of steak and polenta, local cheese and apple tart, red beer and redder wine.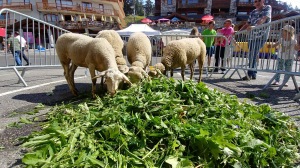 Where French cheese begins, tout vous.
We are very glad for it.
I maxed out on a carb binge on Saturday and Sunday (a little too excited about the patisserie and boulagerie nooked into a dark corner of the wooden arcades across the street) so have switched to French eggs, butter, fromage Beaufort, and dark green mache leaves for the last three meals running.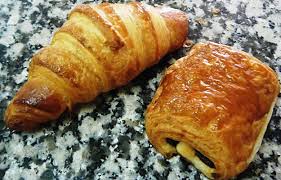 We really ought to limit ourselves to a few of these a year, not five or more per day.
Our balcony faces west. I have commissioned it as my morning office as this is a working vacation for me. I managed two three-day weekends in succession, but have been otherwise engaged in my remote work as Eleanor attends the French kids' club (she loves it), Jason takes his bike up to the Col Saint Bernard (ditto), and Vic hikes with whomever is available to accompany him. Our good friend Flavia is here with us, installed in the second floor of the apartment with sweeping views of the valley and a set of bedding that seems transported from a Heidi scene.
Speaking of scenes out of Heidi (which was, I will confess, one of the first novels I ever read that made me yearn to go abroad, to go to Europe, to be elsewhere under wide skies), there is an actual farm underneath this balcony. The first two days I thought I was hearing things, but then realized that those were actual bells on actual sheep who were grazing on the green pasture below. A very steep pasture, I might add. Are these velcro sheep? We ran into another flock of sheep last night in a pen next to a terrasse (the much nicer term for a small shopping center – the Alpine version of a strip mall), hunting for Pokemon with Victor. Eleanor fell in love with the lambs, and refused to come away from the fence, sniffling and cooing about how cute they were and how they loved her.
My heart swells to hear French again, and have it spoken to me, and to be able to comfortably respond in kind without missing too many beats. I am grateful for the added dimension that French has brought to my life, in spite of the fact that its initial undertaking in 1993 seemed excessive, and my year in Strasbourg two years after that was haphazard at best. Still, here they are, those little French language skills, dusty tools tucked away in a kit, ready to be used as soon as they are called forth. And it is true: the moment I hear a familiar French word or expression, a door opens in my mind leading to a tumble of useful linguistic bits and bobs. Oh, this! Hey, I forgot about that!
Exposure is the better part of language fluency. This is the reason Italian still feels at times like a stranger to me: I simply haven't heard the word, the verb, the expression, the structure, before. I lack Italian exposure. I'm hearing these Italian words for the first time now, at 44. Whereas French was an intensive three-year slog of Extreme Language Acquisition from 19 to 22, and I leveled up more quickly and more deeply than I had imagined possible. Parents: forget the half-hour lesson, the daily lesson, the weekly lesson. Immersion, whenever and wherever possible, makes the imprint.
Also, kids' club and Saint Bernards.