Following is an account of perhaps one of my most bizarre personal care product anecdotes ever.
"Here," Jason said, one November evening. He'd just returned from Poland, where he travelled with two hundred students for a cultural side trip on the weekend. They visited Krakow, and Auschwitz and Birkenau, and gone inside the famous salt mines at Wieliczka.
He held out a cylindrical bottle of golden lotion. It was a clear bottle with black pump. It was not a large bottle.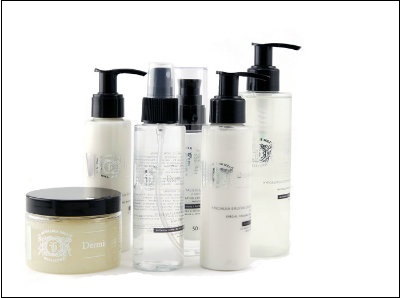 I'd been to Krakow before, and Auschwitz and Birkenau, as a young traveler. I would have liked to have seen Krakow again, with a bit better budget. I took to its medieval squares and mead halls, its perplexing post office and rattling electric trams, the inexpensive milk bars where I slurped pale potato dumpling soup with a dozen Lech Walesas. The red brick remains of the concentration camps and the ashen ponds did not need a second viewing; they were seared into memory for life.
I was there in October, when the frost was thick on the windows in the morning, and our breath puffed out in small white clouds. The Polish deep freeze present even in early October astonished us, even as the sun flooded through the plane trees that lined the tram tracks. My friend and I shivered in the youth hostel, wearing extra wool sweaters to sleep. The cold draft
slipping its chill over forty thin gymnastic mattresses in the large hall was a slim excuse for a hostel, but we had no choice, really. Who goes to Poland in the fall? It was after my birthday a few weeks earlier. I was at the tail-end of twelve weeks' worth of backpacking, and had all but run out of money. Jess and I sat on a park bench and thoughtfully brushed our teeth with toothpaste and a bottle of Sprite. I can do this, I thought. I can make do.

"I bought you this lotion, and soap," Jason said, snapping me back to the moment. "Here."
I took the items and looked down at them. The soap was a generous block, flecked with blue lavender. The lotion bottle contained detailed Polish instructions on its label.
Hmm, lotion, how hard could it be to understand and use. I unwrapped the soap from its brown paper sleeve, and recycled the cream cardboard box that the lotion had come in.
That night in the shower, I used the lavender soap. It was normal. I'd had plenty of soap like that before.
I toweled off, and took the lotion bottle in hand to again scrutinize its intended use and instructions.
"Warming emulsion," it read. Well, how warm could it be, honestly.
I pumped out a bit of the lotion and rubbed it into my legs. Nothing. So I pumped out some more and rubbed it into my arms. Ok, not much happen…. OH MY GOD what is this stuff. I felt like I had contracted radiation poisoning, or been in a house far with a collapsing tarpaper roof. I was ready to jump out of my skin. I accidentally rubbed an eye – OH MY GOD now my eye was streaming and I was blinded on one side. What was the active ingredient in the warming emulsion? Was it yellowcake uranium? What color was yellowcake uranium, anyway? The searing sensation lasted for hours. I decided maybe I would not apply the Polish warming emulsion anytime soon again to my skin. Maybe never again. In any case, I would not create an invisible body stocking layer of warming emulsion (active ingredient: Novichok?). I put it away.
In the deepest darkest cold of the Florentine winter, however, the warming emulsion called to me from a well-stocked cosmetic cabinet in our bedroom. My base layers, meant for Alpine off-piste skiing, needed a boost; even my wool maglia della salute needed more warmth, somehow. What could provide this warmth? Did I have anything on hand, perhaps, that might be, I don't know, warming…?
I took out the plastic pump bottle, handling it carefully. I wondered if it was as hazmat as I remembered. Carefully, I pumped out a few squirts and applied it to my legs. Nothing on the arms, nowhere near my face, even if a dozen mosquitoes were to suddenly land on my cheeks and forehead. No, no, no – no touch. I pulled on my base layer leggings, the woolen undershirt, the base layer top, and zipped into my fleece sleeping bag under our two duvets.
And you know what? It was perfect. The warming emulsion found its proper use: legs at night, in bed. It gently tingled against my muscles like gentle invisible heating pads, or maybe a plug-in pair of electric pants, if such things exist. I went on to regularly apply the warming emulsion on my legs only during our coldest weeks here, and it has been a true boon. All comfort, no further Silkwood-style calamity.
So, dziękujębardzo, Poland. I'll not slight your warming salt emulsion again. Your faithful busha in her kitchen cooking up this idea had the right idea, no doubt in the middle of a Polish winter, which is many levels colder than a Tuscan winter (I suspect the Poles maintain better home insulation and heating in Poland). I now have another tool in my kit for coping with our Florentine winter.