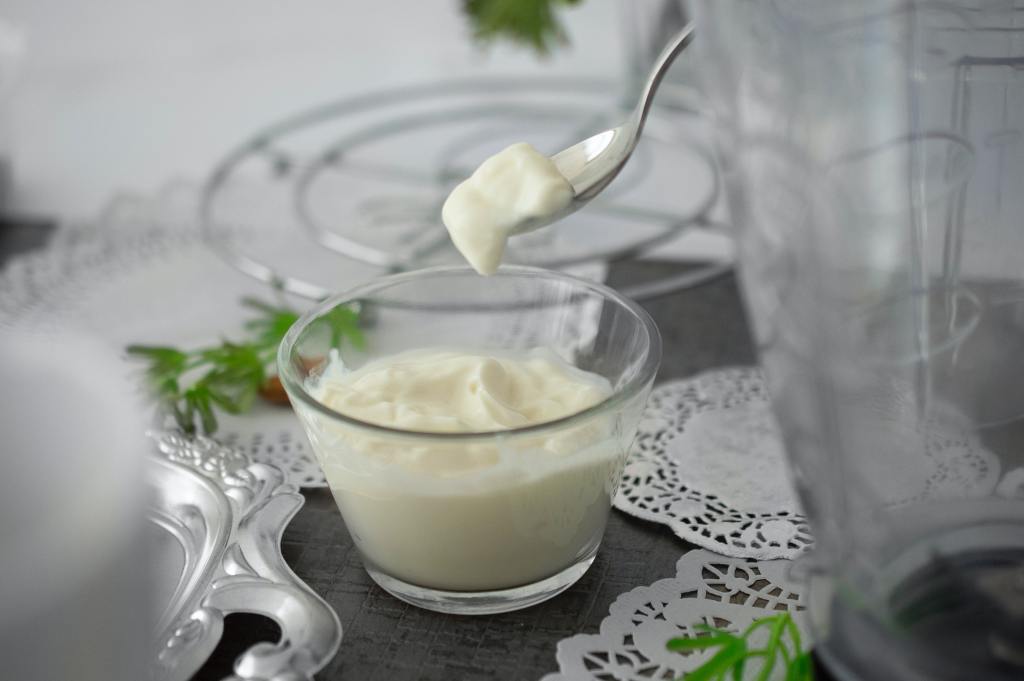 I adore fresh mayonnaise, its velvet texture, a pinch of salt, a whisper of garlic, made with good French red wine vinegar. Fresh eggs a must. It has always been my favorite condiment, even when I was a child and only knew about Miracle Whip. A ramekin of fresh garlic with your steak et frites or oeufs à la mayonnaise with a glass of red wine, and you are suddenly the patron of a reliable Parisian bistro with a solid reputation. Homemade mayonnaise makes frozen French fries forget their humble proletarian identity. Let the kids eat store-bought ketchup. I will pass on the red stuff every time. There is something so simple, so basic, about the care involved in making a fresh condiment that it makes everything taste better, and full of love.
I never went to the Cordon Bleu, nor fancied myself an aspirant chef. Lately though I have taken to wearing a canvas apron most of the day, because in quarantine and quasi-quarantine I am often in the kitchen, or thinking about going there, or coming from cleaning there. Mayonnaise is like a small party amid all the pedestrian tasks. And yet my efforts to make mayonnaise are pretty hit or miss. The internet had some tips for me that work occasionally, but not always. This results in frustration. In the garden the other day I was chatting with Maria about my mayonnaise tribulations.
"My mother is very careful with her mayonnaise," she said. "She whips it slowly, by hand, in a specific pattern. Otherwise the mayonnaise, as we say, si impazzisce." The mayonnaise becomes insane. The mayonnaise will throw a tantrum.
You cannot change direction of the whisk. You must whisk as though you were a liveried butler at a diplomatic dinner. Phlegmatically, calmly, with a refusal to budge or register frustration. Whisk, whisk, whisk, or it will stubbornly remain separate. The lipids refuse to cohere. You will end up with a runny mess. Do you try another tip or trick to save your mayonnaise? Two teaspoons of boiling water, perhaps, or sacrifice a yolk of yet another egg in this hopeless quest for homemade condiment? The dirty dishes pile up. Multiple runny messes are tipped into the organic refuse bin in the kitchen. It's just not worth it to waste perfectly good eggs on a condiment that won't set. I could have made, for crying out loud, a delicious coffee crumb cake with two eggs. No hit or miss about it! But I fear the manual whisk! It seems so iffy. So very Brillat-Savarin, minus the gin lemonade and buttered toast points. The mayonnaise preparation works a small fraction of the time with an immersion blender. Maybe I should keep wasting eggs and taking my chances with the electric appliance?
I think you are way too upset about mayonnaise, Jason said. He sipped his glass of box wine. Try to think less about it.
Box wine is very good in Italy, excellent in Tuscany, necessary as our movement is restricted while flowers bloom, glass and wild oats grow, the leaves on the plane trees spread their veins until they are as wide as a child's face.
We have had some gorgeous sunny days here recently, surely a prelude to a sultry summer. Italy continues to take tentative steps with maximum precaution. Unlike the rest of the EU member states, public schools in Italy (and Spain, for that matter) will not even attempt to reopen until the fall term. Italy is slowly opening bars and restaurants for takeaway only. We can go on walks outside. Meanwhile countries up north – Germany, Denmark, Netherlands, Finland – are reopening schools with safety distance measures, weekly test swabs, reduced class size, and rotating schedules.
Whisk, whisk, whisk. Whisk slowly so that your condiment coheres. Do not enrage the mayonnaise. Who can keep buying fresh eggs like that, only to tip them away into the bin?