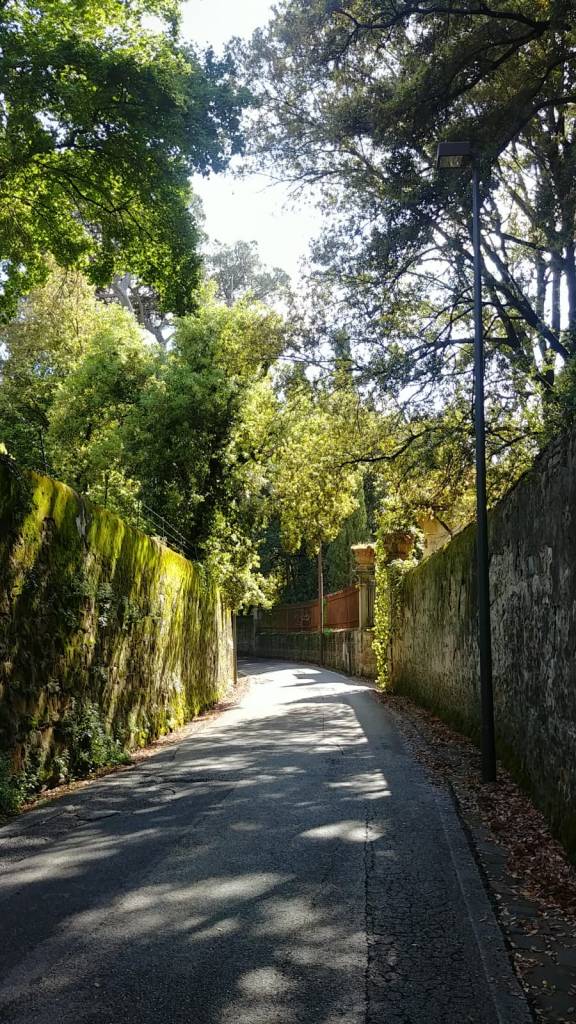 A brief update from the desk of Normal Life. Jason and I took a stroll yesterday together, our first time away from the home without the kids since February 25.
That particular day was our wedding anniversary and we had reserved one of the tiny four tables at Cibléo on Piazza Sant'Ambrogio for an elegant prix fixe cena. Alas, the occasion was somewhat marred by the fact that Jason was outside on the sidewalk taking a series of solemn, nerve-wracking conference calls. Later that night, Gonzaga University decided to bring home their students in Italy. What was meant to be a relaxing spring break for students and university faculty and staff turned on a dime. Oh how the wheel of fortune turns! I sipped the rosé on my own and ate Jason's dessert.
Last week as Italy began to slowly, slowly open up again, our regular sitter returned. She is on a contract with us and has been paid for each week of the lockdown as well, but we missed her and she was ready to come back too. So she started last week on a twice-weekly schedule, on Tuesdays and Thursdays, just a few hours in the afternoon. Yesterday Jason and I realized we could take a walk! I advocated initially for my urban circuit. No, Jason said. Let's ride our bikes to Le Cure, and walk up to San Domenico. So we donned our masks and found our bike keys.
The viale was well-trafficked. People seemed safe. We wheeled up to Le Cure and locked our bikes on a pole at a major intersection, close to our old apartment from 2005, next to the stairs where we saw a young man shooting up heroin one night under the streetlamp. Past the caffè where we sat dumbfounded the morning that the London bombs happened, balancing our cornette alla crema and cappuccini on the metal table outside. The stairs are all cleaned up now and paved with fresh concrete. The latticed rail around the caffè is overgrown with vines like a displaced ruin. That corner building has been branded Il Giardino, long since smoothed over with stucco, developed into oblivion, and sold off in small parcels. Elderly Italians continue to pick their way carefully along the sidewalks close to the walls.
We began the climb up and out of Le Cure. A couple in front of us was unmasked, the man gabbing away on his cell phone. I kept my mask on. The trick to exercising (or walking briskly) with a mask on? Do not open your mouth, ever. Even if you think you have fresh breath, it is not sufficiently fresh to breathe through your nose in an enclosed space. The sunlight filtered through the trees; the wet leaves on the ground were perfumed from that morning's rain. Walls of white star jasmine tumbled over the stones just on the cusp of first bloom. We passed a few dog walkers, and stopped here and there to read plaques and names of villas along the road up in that secluded part of Florence. Villa Stella. Villa Forbici (don't run on the grounds!). Villa Corbezzolo. A university campus. Olive groves. Low forests of scrub oaks. The meandering song of birds in the afternoon.
We decided to not go all the way to San Domenico, and did a U-turn onto Via Forbici (Scissors Way). The views spread out over the city, the Signoria, the Duomo, Piazzale Michelangelo, all visible from the point opposite. We passed more villas; many seemed vacant, their gravel drives sprung with straggling weeds. Some had no name at all, even though they seemed very grand and surrounded by fine property. Others stared blankly out from broken windows, their silent stables walled off from the street.
It was only two miles, but gave us bliss for just a bit. On the plus side, Jason did not have to take any stressful work calls. When we arrived at the intersection where we'd locked our bikes, a trio of Italians was struggling to speak loudly from behind their masks, next to the overgrown caffè. I plan to make a walk like this for as many days as it is possible.
The seven weeks of quarantine would have certainly been mitigated by daily walks like this, had they been allowed. I bear no grudge that they were not. But our quarantine was very different, much more severe, than any quarantine in most other countries, with the exceptions of Spain, France, and China. I keep wondering how the rest of 2020 will unfold. I might guess.