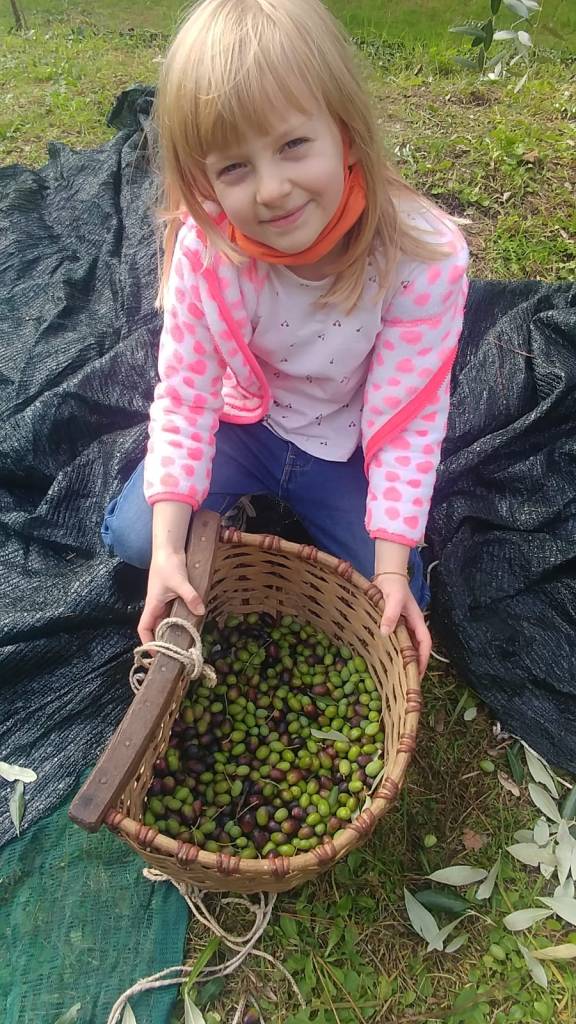 The November chill wraps gently around us, as though to say, remember me? Cold weather? I am back.
Our summer months gave us something close to normal for weeks on end. The majority of Florentines kept their masks on. We took careful vacations. Jason and I worked in offices. The kids started attending school on September 7. We've been very impressed with in-school safety measures.
Now that we are headed into a winter season of uncertain circumstances thanks to the pandemic, I decided to start posting here again. (Plus I renewed all my WordPess fees and domain name, so…) I find myself unmotivated to blog when life feels normal, but as soon as time fractures and splits, freedoms are limited, and hopes run high, I find myself back here wanting to tell you the story.
Italy is now taking measures to close down for the second time this year. The authorities have said that they will keep it a priority to maintain the normal activity of schools, at least for the youngest children. I really hope this is possible, but circumstances may dictate otherwise. Victor has a fine new laptop that he has been using for robust nonstop gaming, and very little homework. He has been repeatedly warned not to break it as he will need it for didattica a distanza (DAD) if his class goes remote again. Something already happened to his charger which we seemed to have fixed for now. Plus the in-house IT support team (me) fixed his internet issue.
Many times people have told me that they look forward to the vaccine. I hardly know how to respond to this, so usually say something anodyne like, me too.
Eleanor turned six yesterday. By a happy twist of fate our friend Antonella who lives on an estate in the countryside harvested her olives this weekend, and who should also be helping gather olives but a classmate Matteo from school. We all gathered our courage and raked, picked, and beat the olives from the silvery trees. "Can't hurt the trees," the lone blue jumpsuited professional on the team told us, with a knowing smile. A few of the dads climbed ladders to rake and pick, and from time to time a branch heavy with fruit flew down from the sky to be stripped clean by flying fingers on the grass. Twigs and branches were cast over a small bluff to join a growing pile that will be burnt when dry, perfuming the air with that particular and acrid olive wood smoke that characterizes the Tuscan autumn. Eleanor and Matteo followed Antonella's two German shepherds, killing them with clumsy kindness and endless juvenile embraces. Victor pouted for the middle innings but then rallied and helped.
After some hours of labor, Antonella called it a day and we all repaired to a side garden for a casual lunch. The dogs called in their chips of patience with the kids and ate their fair share of prosciutto and schiaciatta. Antonella brought out two dolci, and we all sang happy birthday. Eleanor opened some present we'd brought. We had hoped that the fresh air and sunshine would speed their respective recoveries from a tenacious cold that has kept them both down for most of the past two weeks. Their pink cheeks and smiles told the true story.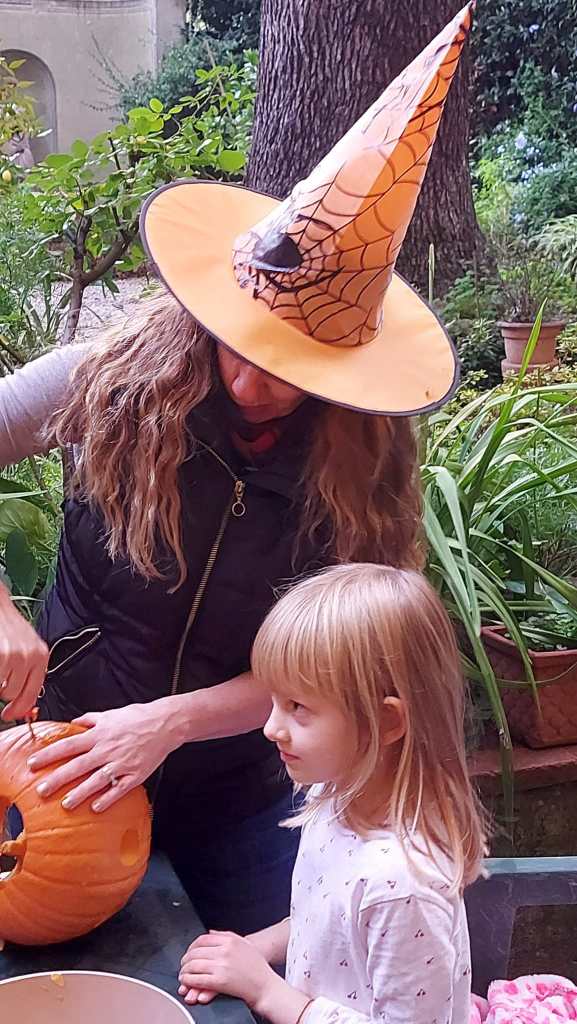 Eleanor fell asleep in the backseat on the way home, and we had to rouse her for her twilight garden birthday party. All the kids associated with the extended family in our palazzo came to carve pumpkins with us, rewarded by a sugary, buttercream American cupcake from the localest of ovens. I roasted the seeds from six pumpkins after the party and before dinner, which quickly felt like an unrecorded test of Hercules. But they were delicious. I love pumpkin seeds. I sent some small bags of them upstairs to the family dinner. I didn't get feedback so I hope they liked them! Either that, or I only confirmed the strange customs and habits of Americans, tucked into the New World for three centuries and emerging with glibness and treats.