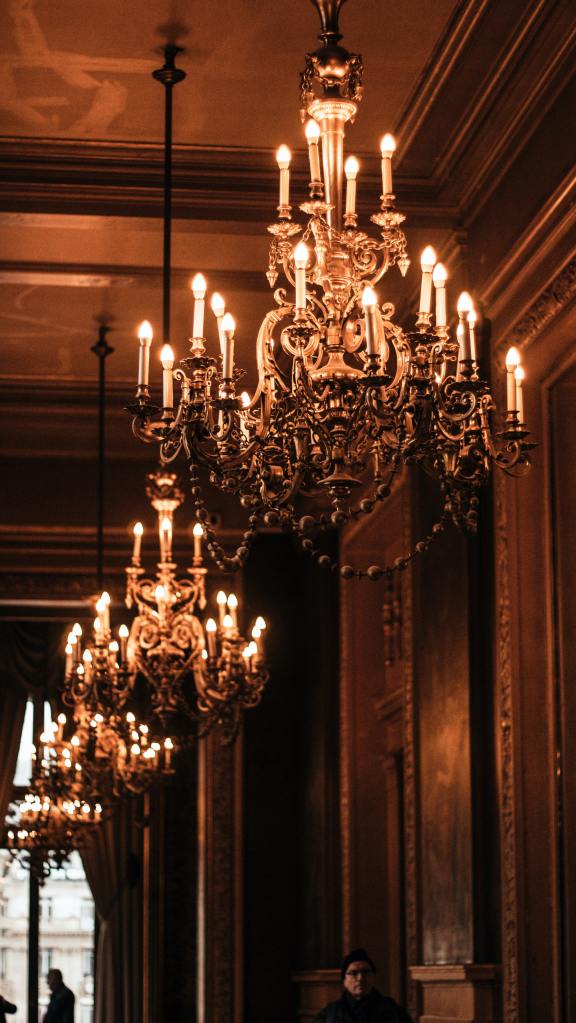 Paris in the mid-nineties instantly felt like home. The international milieu, the wide streets, the plain logic of the arrondissements fanning outward like a snail. She had arrived first to France on a ship, savoring the vintage transport method and vibe, boarding a regional train from Roscoff to Rennes, then climbing aboard the sleek TGV bound for the Gare de Montparnasse. The wheatfields flew by in a blur, washed white by the August sun. It all felt so orderly, so familiar. She had no explanation for it. She had never been the type to dream about Paris, to put herself in its mise en scène.
In the Paris train station the escalator smoothly brought her down to the ground, all white enamel and steel and primary colors. Fresh, clean, new. Waiting. She stayed longer in the city than she'd planned, never mind the questionable hygiene of the auberge de jeunesse where trim young men binged beer in the courtyard garden. She was pleased to put her French to use, cobbled together in less than two years. The locals, to her astonishment and contrary to all warnings, were kind. Complimentary, even. C'était incroyable, votre français, sans accent, they said. But they shook their heads when she told them her final destination. Strasbourg? Dommage. It is so … Gérman. She laughed. They were obviously wrong. Strasbourg would be magnificent, the literal crossroads of Europe since the heyday Roman Empire. She was going to love it. She did not hold their judgement against them. They were, after all, Parisian, and had been unfailingly kind to her. This was in August.
But their words rang in her head after her first few months in Strasbourg. It wasn't that it was so German. It was rather that it blended the most difficult components from each culture whose artificial border it straddled, the blue Rhine slowly flowing as wide as the Mississippi. The city was cold, the collective identity scarred by centuries of conflict: 1870, 1918, 1945. The years like a chain around an invisible neck. People were guarded, closed, reserved. They spared no time, and never smiled. Oui, Place Kléber was grand, and indeed, the new tram slipped by silently on electric rails. But Alsatian greetings were delivered with tight lips, narrowed eyes. By November – November! – she had to hand it to the Parisians. They were right. She wanted to tell them they were right.
At night when she slept she dreamed of sun-filled corners of the country where people were friendly and smiled, whose energy was not stunted by a long memory of war and betrayal, of rations and blood-soaked battlefields. She dreamed of the mountains, of the Mediterranean provinces perfumed by rosemary and lavender, of the south with its Roman ruins. Of the wild western coast where her ship had docked and gently handed her onto land in Bretagne.
She vowed to return to Paris as often as possible. Forget this grey, gravelly city, with its dark evenings and endless rain, bureaucrats and closed doors. The train ticket, when purchased in advance, was inexpensive. She was accustomed to travelling on her own, finding her way and places to stay. She returned to the city once a month during the year she lived in Strasbourg. It never disappointed. It was hers each time from the moment the train stopped in Gare D'Austerlitz and she stepped down to the platform.
In March, she stayed in a different auberge de jeunesse that featured a family of bedraggled rabbits in an enormous plexiglass cage in the middle of the building. She planned to visit the Rodin museum and the Musée D'Orsay. And on Sunday, before she returned home on the train, she would dine at the Closerie des Lilas on Boulevard de Montparnasse. Steeped in the Lost Generation for years, it would be glorious to eat where Ernest and Scott themselves may have drunkenly argued over the bill. La Closerie des Lilas!
The maitre d' showed her to a table by herself, a row of four one-tops lined up against a long leather bench. She took a deep breath and sat down. He opened the menu and placed it in front of her. Ceiling fans twirled lazily overhead. The lights were low. All the other diners looked very calm and comfortable, tucking into raw oysters and steak frites. The prices were much higher than she had expected. She took another deep breath and went for a classic order. It was fine; she could put it on credit. Never mind the balance.
When the immaculate waiter arrived, she ordered a glass of wine and a steak with a gratin. She people-watched for a while. Sons with elderly mothers, august couples, les grandes dames at lunch. The kitchen was taking its time, so she pulled a blank book from her bag and slowly began to write down a few ideas.
The waiter returned with her glass of burgundy and steak. It was grilled just so, à point, the gratin perfectly melted.
He raised his eyebrows at her as she rushed to close the journal and place it on the bench.
"Writing, eh? That's great. That's great. No one comes here to write anymore. Oysters all day long, mon Dieu." He cleared his throat. "Bon appétit, mademoiselle."
An older gentleman next to her on the bench was also dining alone, in a tailored Sunday suit and a neat silver haircut. He cut his steak neatly, placing each piece in his mouth and carefully chewing. She had felt his eyes on her when she was seated. His interest increased after the exchange with the waiter about the journal. He leaned toward her.
"Writer?"
"Student."
"Ah. You've done well to come here. Bon appétit."
She carefully cut her steak and chewed it with precision, savouring the reduction with which it had been lightly dressed. The gratin was a dream of perfectly unctuous, premium dairy. She saved the bitter side salad of frisée and vinaigrette for the end, having learned this good habit since she'd arrived: that the purpose of the salad is to cleanse the palate, and it should therefore be sequenced after the meat. You had to hand it to the French. They'd thought of everything. The way they fitted together the pieces of the world to make a coherent whole was admirable.
The meal exceeded her expectations, likely due to the continuous wishes of bon appétit. She resumed her people-watching over the empty plate, sectioning a seeded bun from the silver basket on the table and spreading it with pale butter. Les Closerie des Lilas. She could hardly believe she was here, eating. Why, you could feel the history, sense the past. She wondered what Ernest and Scott would have been arguing about, exactly.
The waiter returned. "Tout va bien?"
"Oui," she responded, wiping the corner of her mouth with the napkin.
"Espresso? Dessert?"
Her mind raced. Really, a hundred and fifty francs was what she budgeted for this. She really wanted the dessert. French pastry! But she employed resolve and limited herself to just an espresso.
"Really? Just an espresso? You do not even wish to see the carte des desserts?"
"No, no," she smiled, "just the coffee." She hoped she had not offended the waiter. God, she must seem like such a barbarian! Passing on dessert! On the Boulevard de Montparnasse for Sunday lunch, on her own! She looked down at her hands in her lap and, from the tail of her eye, saw the older gentleman gesturing. He was waving farewell. "Au revoir, mademoiselle," he told her gently, "and keep writing." He motioned to her journal and winked. "Never skip dessert."
"Merci," she responded, sitting up straighter, "merci, monsieur. Vraiment." She watched the maitre d' help him into his overcoat, hand him his hat, then his umbrella.
Looking down she noted the journal had changed direction. That's funny, she thought, reaching down for it.
The waiter returned with her espresso in a miniature red cup and saucer. "Mademoiselle," he nodded curtly.
She brought the journal onto her lap and looked down. From the top of its pages protruded four fifty franc notes, appearing as though in a magic trick. She blinked. Looking up, she saw the gentleman turn around the corner, repeatedly tossing his umbrella into the air by the handle and catching it.
"Monsieur! Monsieur!" she called out to the retreating waiter. "I'd like the dessert too, please!"